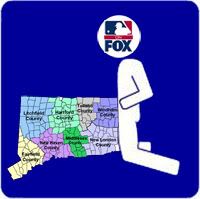 Apparently the fine folks who run the programming department at FOX 61 in Hartford, CT didn't see the latest Quinnipiac Poll that said the people in the state of Connecticut are split between the Boston Red Sox and New York Yankees.
Because we as Red Sox fans in CT will be stuck watching the Yankees take on the Dodgers on Saturday night.
It's already happened once this year when the Yankees were taking on New York Mets back on May 22nd. And yes, FOX 61 does get to select which game they want to air.
Yes I know the Yankees are taking on their former manager Joe Torre and the Los Angeles Dodgers in Los Angeles. Yes I know the rivalry dates back to when the Dodgers were in Brooklyn. But why on God's green earth do I give a flying f*** about that. I just want to watch the Red Sox play.
When you look at the demographics from the Quinnipac Poll shown below, the markets were the Yankees are the top team, the cable providers there have both FOX 5 from NY and FOX 61 from CT. And if you look in the markets where the Red Sox are the top team, they have FOX 61 from their cable provider.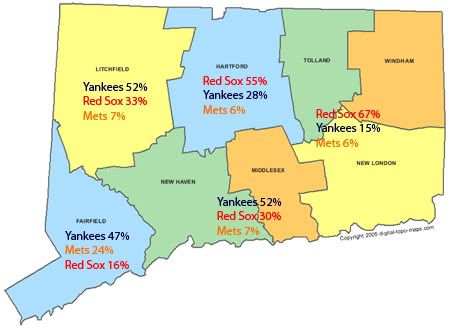 So why couldn't FOX 61 choose the Red Sox game when half the state will already be getting the Yankees game? If FOX honestly didn't have some good shows, I'd boycott them. As a Red Sox fan, this is a complete and utter outrage. Once was okay, twice is not.
And remember the last time this happened, Daisuke Matsuzaka almost threw a no-hitter against the Philadelphia Phillies.
The only thing we can do is complain to FOX 61 by lighting up their phone lines at 860-727-0082, fill up their fax machine at 860-293-0178 or send them an email complaining.
So unless something changes, I'll be listening to the game with Joe Castiglione and Dave O'Brien on the Red Sox radio network.
And now that my rant is over for now, here's how the MLB on FOX games for 6/26 breakdown:
New York Yankees at Los Angeles Dodgers, 74%
Announcers: Joe Buck, Tim McCarver & Ken Rosenthal
MARKETS INCLUDE: Albuquerque, Atlanta, Austin, Baltimore, Birmingham, Buffalo, Charlotte, Cleveland, Columbus, Dallas, Denver, Detroit, Fort Myers, Greensboro, Greenville, Hartford, Houston, Jacksonville, Kansas City, Las Vegas, Los Angeles, Memphis, Miami, Nashville, New Orleans, New York, Norfolk, Oklahoma City, Orlando, Philadelphia, Phoenix, Pittsburgh, Portland, Raleigh, Richmond, Salt Lake City, San Antonio, San Diego, Seattle, Tampa, Tulsa, Washington, West Palm Beach
Chicago Cubs at Chicago White Sox, 16%
Announcers: Kenny Albert & Mark Grace
MARKETS INCLUDE: Chicago, Cincinnati, Dayton, Indianapolis, Knoxville, Louisville, Milwaukee, Minneapolis, St. Louis
Boston Red Sox at San Francisco Giants, 9%
Announcers: Dick Stockton & Eric Karros
MARKETS INCLUDE: Boston, Providence, Sacramento, San Francisco
Thanks to Ken from Fangs Bites for passing along the press release.