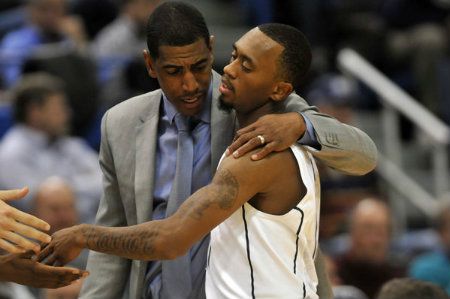 It looks like it's going to be one of those seasons where the UConn Huskies men's basketball team plays down to the level of their opponent.
UConn came into Thursday night's game with a record of 5-1 while the New Hampshire Wildcats were 2-3 and had lost their last three games. Obviously given the records you'd expect UConn dominate.
But that wasn't the case as the Wildcats stayed close throughout the game before UConn would eventually go on to a 61-53 win in front of 8,705 at the XL Center in Hartford, CT.
UConn improves to 6-1 while the Wildcats fall to 2-4.
Ryan Boatright led the way for the Huskies with 19 points and four assists. Freshman Omar Calhoun kicked in 16 points, eight rebounds and three steals. DeAndre Daniels led the Huskies with 10 rebounds to go along with his seven points.
Ferg Myrick paced the Wildcats with 20 points and had seven rebounds. Chris Pelcher had a double-double with 16 points and 12 rebounds. He also had three blocked shots.
As I said above this looks like how the season is going to go for the Huskies.
Without a big man stepping up right now, the Huskies have no inside game. Shockingly, this was the first time they outrebounded their opponent (43-40). That's not something you expect to see from a team that is 6-1.
And if there is no inside game, the guards are going to need to pick up their games. With Shabazz Napier having an off night shooting, Boatright and Calhoun picked up the slack.
But until an inside game develops, expect to watch a lot of jump shots from our Huskies squad.
New Hampshire Wildcats @ UConn Huskies 11.29.12 box score
Here are the postgame quotes from UConn head coach Kevin Ollie as well as some of the players.
Here are UConn's postgame notes.
Follow Ian on Twitter @soxanddawgs. And be sure to like us on Facebook as well.
photo credit: mark mirko – hartford courant (no. 12 in gallery)