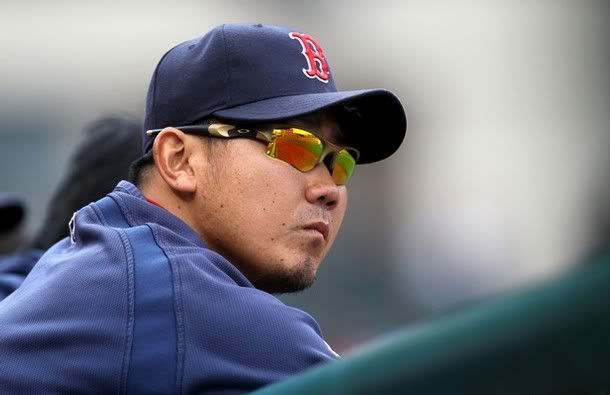 As we all have seen the Boston Red Sox starting pitching has had an amazing turn around over the last week and a half. On April 14th with the team reeling they got a rain out against Tampa Bay and then had the following day as a scheduled day off. With the unscheduled two-day break manager Terry Francona and pitching coach Curt Young worked to re-arrange the starting staff. In doing so, they skipped a John Lackey start and pushed back Daisuke Matsuzaka who had been rocked by the Rays only a few days earlier.
Little did Francona and Young know that after a Friday night loss to Toronto, who is now managed by the Red Sox former pitching coach John Farrell, that the their little plan would have such an effect on a team and possibly a season. Clay Buchholz started that Friday night game and struggled saying he couldn't get comfortable on the mound all night. He only turned in five innings and allowed three earned runs on three hits with three strikeouts and five walks in what was only a so-so performance.
But the next day when Josh Beckett took the mound something happened. It was the start of an entire staff turn around and it would set the tone that lead to the current stretch of nine games in which the starters have turned in eight quality starts (when a pitcher pitches at least six innings and allows three earned runs or less).
To continue reading, click on the read more button below if you're on the home page.
In the next nine days the Red Sox as a team would go 8-1 only losing a 5-0 decision to Oakland in which Lackey was really good going six innings and allowing only one earned run on four hits while striking out three and walking one.
In the eight wins by the club, the starting staff has earned seven of those wins. The only non-decision coming on Thursday night in Anaheim when the team won 4-2 in 11 innings but Beckett didn't figure in the decision.
The only start of the nine that wasn't a quality start belongs to Buchholz who went 5.1 innings against Oakland while earning a win as the club won 5-3. Buchholz gave up six hits and four walks but allowed only one earned run while striking out two.
Since Beckett's no decision on Thursday the starters Jon Lester, Matsuzaka and Lackey have not allowed an earned run over 20 innings in three games. Over that span the starters have only allowed 11 hits and six walks while striking out 23 hitters.
In this streak the staff break down is as follows:
Buchholz 1-0 5.1 IP 6 H 1 R 1 ER 4 BB 2 K 1 HR 1.68 ERA
Beckett 1-0 15 IP 6 H 3 R 3 ER 4 BB 14 K 1 HR 1.80 ERA
Lackey 1-1 14 IP 10 H 1 R 1 ER 3 BB 9 K 0 HR 0.64 ERA
Lester 2-0 12 IP 10 H 1 R 1 ER 5 BB 14 K 0 HR 0.75 ERA
Matsuzaka 2-0 15 IP 2 H 0 R 0 ER 4 BB 12 K 0 HR 0.00 ERA
Staff Totals 7-1 61.1 IP 34H 6 R 6 ER 21 BB 50K 2 HR 0.88 ERA
I don't know how much longer the starters can keep doing this but there comes a few times over the course of a long season when one aspect of the team seems to carry it. Sometimes the hitters are hot and they carry the weight and other times it's the pitchers turn. Right now the pitchers, especially the starters, have been wonderful now if they can only get some of the bats going a little we will all see what everyone has felt that this team is capable of.
Photo credit: Getty Images