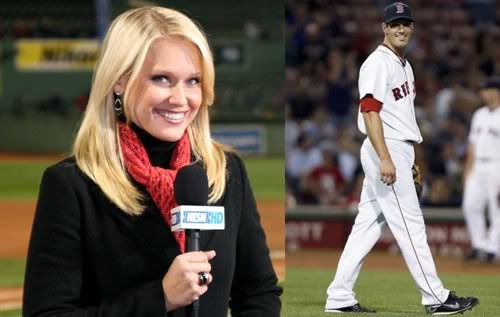 Earlier in the season, there was a rumor going around town that Boston Red Sox utility infielder Nick Green was knocking boots with NESN's Heidi Watney. Since then things had been quiet on the who is Watney banging on the Red Sox front.
Well the girls at the Inside Track are reporting that Green and Watney are still swapping spit and probably other bodily fluids.
Red Sox stud Nick Green and NESN Fenway honey Heidi Watney putting on a major display of PDA while out to dinner with Jacoby Ellsbury and his S.O. Kelsey Hawkins at Maggiano's
Since coming to Beantown, Slutney's been rumored to have banged Red Sox catcher Jason Varitek, NESN's John Carter and former Red Sox grounds crew member Paul Williams.
Green's made a few big errors this season for the Red Sox but this seems to be his biggest of all. When they break up, who will Watney be going from third base to a home run with?
Update 9/17: Apparently Slutney was on the radio in Boston yesterday issuing a denial. Barstool Sports has the audio (link has a cuss word in it so be careful at work).
Thanks to Fang's Bites for the link.