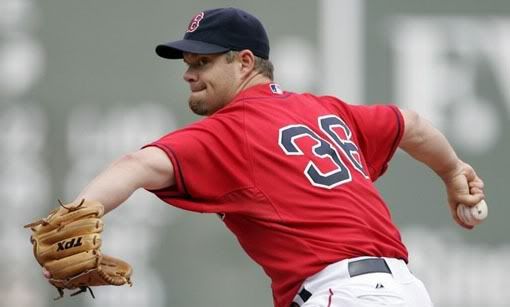 The Boston Red Sox got a solid pitching performance from Daisuke Matsuzaka in his return form the disabled list. Tonight, they'll look to make it 2 in-a-row over the Los Angeles Angels of Anaheim as they go for their seven straight win.
The game tonight is scheduled to start at 7:10 p.m. and the game will be televised on NESN in the Red Sox television market. If you live in the Angels television market, you can catch the game on Fox Sports West. If you live out of either market, you're in luck as well as tonight's game is also on ESPN. And if the television isn't your cup of tea, you can catch the game on one of the many affiliates of the Red Sox Radio Network.
Paul Byrd makes his fourth start in a Red Sox uniform this season after ending his semi-retirement in early August. In his three previous starts, he is 1-1 with a 6.08 ERA. He pitched a lot better in his last start after getting rocked in his second one. Byrd has made nine career starts against the Angels and is 4-2 with a 4.94 ERA. He is unbeaten in his last three Fenway Park starts dating back to 2008.
Joe Saunders has made 27 starts this season for the Halos and sports a 13-7 record with a 4.81 ERA. He is 4-0 with a 1.85 ERA in four starts since returning from the disabled list. He's faced the Red Sox once this season and took the loss back in April when he allowed four runs in seven innings. He's made seven career starts against the Red Sox and is 4-1 with a 3.25 ERA. He is 3-0 with a 2.75 ERA at Fenway.
Another chance for Byrd [Extra Bases]
Youkilis on his injury [Extra Bases]
No 'caution flags' for Buchholz [Extra Bases]
This and that [Extra Bases]
Papelbon tweaks back [Clubhouse Insider]
Wakefield on track [Clubhouse Insider]
Youkilis talks back spasms [Full Count]
Red Sox Have the Kind of Starting Rotation That Makes Duck Boat Parades Come True [NESN.com]
Is it time to be excited yet in Boston? [Batter-up with Bruno]
Here are the starting lineups for tonight's game:
86-58

85-58

1. Chone Figgins
3B
1. Jacoby Ellsbury
CF
2. Erick Aybar
SS
2. Dustin Pedroia
2B
3. Bobby Abreu
RF
3. Jason Bay
LF
4. Vladimir Guerrero
DH
4. Mike Lowell
3B
5. Torii Hunter
CF
5. David Ortiz
DH
6. Kendry Morales
1B
6. Rocco Baldelli
RF
7. Howie Kendrick
2B
7. Jason Varitek
C
8. Juan Rivera
LF
8. Casey Kotchman
1B
9. Mike Napoli
C
9. Alex Gonzalez
SS
Joe Saunders
SP
Paul Byrd
SP
And here is how the hitters have fared against tonight's starting pitchers: