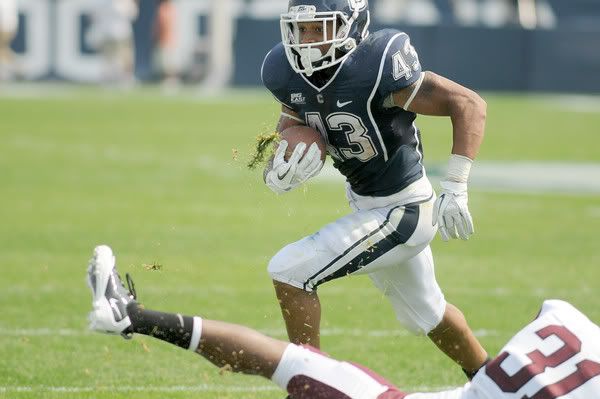 After Hurricane/Tropical Storm Irene ravaged the state of Connecticut last weekend and forced the UConn Huskies football opener from Thursday, redshirt freshman running back Lyle McCombs did some damage of his own to the Fordham Rams on Saturday afternoon.
McCombs ran for 141 yards and four touchdowns to help the Huskies to a 35-3 win over the Rams in front of 34,562 at Rentschler Field in East Hartford, CT to give Paul Pasqualoni his first win in his first game as head coach at UConn. Pasqualoni is also the first UConn coach since 1922 to win in his first game as a UConn head coach.
The big story we were looking for in Saturday's game was who was going to be the starting quarterback between Scott McCummings, Johnny McEntee and Michael Nebrich. The "winner" was McEntee although McCummings and Nebrich also saw some time behind center. And while most reports had Nebrich as the favorite, after the game it appears that McCummings and McEntee might be the two best right now.
McEntee was 8-of-12 for 113 yards and no touchdowns. Nebrich was 3-of-8 for 60 yards while McCummings only pass of the day was good for 55 yards to Ryan Griffin. McCummings was the second leading rusher of the day behind McCombs with 23 yards while Neibrich ran for 11.
As a team, the Huskies ran for 206 yards behind their offensive line. This should have happened given the big size advantage over Fordham's defensive line. It was thought that D.J. Shoemate would start but an ankle injury forced him to sit out. And after McCombs big afternoon, Shoemate may be relegated to backing him up when he returns from injury.
Sure it was only Fordham but UConn defense is as advertised.
Kendall Reyes is an absolute beast out there and Sio Moore was all over the place. You could see the difference with defensive coordinator Don Brown's defense. They were bringing pressure on the offensive line all day long and no one could really stop Reyes at all. The defense held Fordham to just 20 yards rushing and 169 yards of total offense.
Overall though, I wasn't throughly impressed with the Huskies. There are definitely somethings to work on.
I wasn't a big fan of the rotating quarterbacks at all. I know Pasqualoni wanted to get them all some time in this game and rightfully so since this was no more than a glorified scrimmage. But it just seemed to me that none of them could get into a rhythm at all. And that can't make it easy on the offense line either especially when you look at the film and see some of the missed blocks on pass protection.
The one big play that the defense allowed came on miscommunication between Jerome Junior and Harris Agbor. From what we've heard, you know Brown will lay into them as well. The little mistakes that the defense made can't happen going forward as better teams will eat them alive if that continues to happen.
It's a start though and if one of those three can pull ahead of the other in the quarterback race (personally I think it'll be McCummings), the offense could turn out to be better than expected.
The Huskies will now use the week to get ready for a matchup with the Vanderbilt Commodores next Saturday night on the road.
Scoring:
| | | | | | |
| --- | --- | --- | --- | --- | --- |
| Team | 1st | 2nd | 3rd | 4th | Final |
| Fordham Rams | 0 | 0 | 3 | 0 | 3 |
| UConn Huskies | 7 | 14 | 14 | 0 | 35 |
1st quarter
CON – 06:57 – Lyle McCombs 2 Yd Run (Dave Teggart Kick)
2nd quarter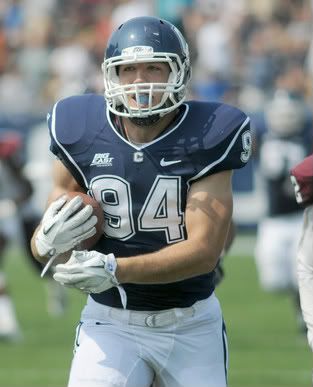 CON – 09:48 – Lyle McCombs 1 Yd Run (Dave Teggart Kick)
CON – 08:08 – Ryan Griffin 55 Yd Pass From Scott McCummings (Dave Teggart Kick)
3rd quarter
CON – 07:22 – Lyle McCombs 5 Yd Run (Dave Teggart Kick)
CON – 04:09 – Lyle McCombs 1 Yd Run (Dave Teggart Kick)
FOR – 00:24 – Patrick Murray 28 Yd field goal
4th quarter
NONE
To continue reading, the Fordham Rams vs UConn Huskies recap, click on the read more button below if you're on the home page.
Offensive Player of the Game:
This really should come as no surprise at all but I'm going with Lyle McCombs who ran for 141 yards and four touchdowns. He also caught two balls for 17 yards.
Defensive Player of the Game:
While Jory Johnson led the Huskies with 11 tackles, I was more impressed with the play of Sio Moore. He was back in pass coverage a bunch of times and broke up two passes including one that lead to an interception by Byron Jones. Moore also finished with seven tackles (three solo, four assisted) and one of those went for a loss of a yard.
Turning Point(s) of the Game:
There's no real turning point in this game as we knew Fordham would be outmatched by the Huskies.
Offensive Notes:
Johnny McEntee got the start and passed for 117 yards. Scott McCummings threw his only pass for 55 yards and a touchdown. He also ran for 23 yards. Michael Nebrich was just 3-of-8 for 60 yards and threw an interception. Lyle McCombs ran for 141 yards and four TD's while also catching two balls for 17 yards. Ryan Griffin led all receivers with three catches for 97 yards and a touchdown. Isiah Moore had two catches for 42 yards while Geremy Davis also had two catches for 33 yards. Kashif Moore's only catch of the day was good for 25 yards.
Defensive Notes:
Jory Johnson led the Huskies with 11 tackles (five solo, six assisted). Yawin Smallwood and Teddy Jennings both had eight tackles (two solo, six assisted) while Sio Moore had seven. Trevardo Williams had the only sack for the Huskies and Byron Jones had the only interception.
Special Teams Notes:
Cole Wagner had five punts for a total of 149 yards (29.8 per punt). The telling stat though was that none of the five punts were down insided of Fordham's 20. Dave Teggart hit all five PAT's and is now 101-for-101 in his career. He's now also tied for the UConn career record of 259 points with former Husky Matt Nuzie. Nick Williams returned four punts for 28 yards and one kickoff 32 yards.
Injuries:
There were no injuries for UConn during the game that I saw.
D.J. Shoemate missed the game due to a sprained ankle suffered in practice on Thursday.
Officials:
Referee: Jeff Maconaghy; Umpire: Jim Eckl; Linesman: Tommy Walsh, Jr.; Line judge: Tod Reese; Back judge: Mark McAnaney; Field judge: Ben Vasconcells; Side judge: George Liotus
Game Notes:
Fordham Rams @ UConn Huskies 9-3-11 box score
Here are some quotes from UConn head coach Paul Pasqualoni and his players.
Here are some quotes from Fordham coach Tom Masella and his players.
Pasqualoni is now tied with Virginia Tech coach Frank Beamer with 108 wins as a Big East coach.
Pasqualoni is also the first coach to win his debut since 1923.
Here are the starters for UConn on Saturday:
OFFENSE
WR 6 Moore, Kashif
TE 89 Delahunt, John
LT 71 Ryan, Mike
LG 70 Bardzak, Gary
C 57 Petrus, Moe
RG 63 Masters, Adam
RT 77 Friend, Kevin
QB 18 McEntee, Johnny
TB 43 McCombs, Lyle
FB 39 Hinkley, Mark
WR 83 Moore, Isiah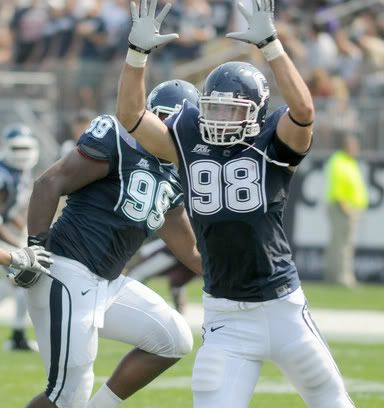 DEFENSE
DE 48 WILLIAMS, Trev.
DT 4 MARTIN, Tywon
DT 99 Reyes, Kendall
DE 98 JENNINGS, Teddy
SLB 3 Moore, Sio
MLB 33 SMALLWOOD, Yaw.
WLB 28 Johnson, Jory
CB 7 Gratz, Dwayne
S 15 Junior, Jerome
S 25 Agbor, Harris
CB 5 WREH-WILSON, B.
Big East Games and Results:
Thursday, September 1
Murray State 9
Louisville 21
North Carolina Central 0
Rutgers 48
Wake Forest 29
Syracuse 36
Saturday, September 3
South Florida
#16 Notre Dame, 3:30 p.m.
Buffalo
Pittsburgh, 6 p.m.
Austin Peay
Cincinnati, 7 p.m.
Sunday, September 4
Marshall
#24 West Virginia, 3:30 p.m.
Things to Work On:
Obviously Pasqualoni needs to figure out who will be QB1. One of the three really needs to step up in practices this week. While no one really separated themselves today, I think right now it's McCummings job to lose but that's just me.
The defense needs to fix the little mistakes it made. A good team will eat them up.
Stay healthy. Hopefully Shoemate's injury was just a one week thing. They can't run McCombs all the time and having Shoemate who is experienced would definitely help them.
Up Next:
The Huskies head to Nashville, TN to take on the Vanderbilt Commodores next Saturday night at 7:30 p.m.
Follow Ian on Twitter @soxanddawgs. And be sure to like us on Facebook as well.
Photo credits: Tia Ann Chapman – Hartford Courant (No. 10, No. 22, No. 13, No. 14, No. 11)