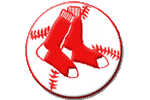 Here is some Red Sox news for you on this icy and snowy Valentine's Day morning here on the shoreline of Connecticut.
The official reporting date for pitchers and catchers is on Friday. So far we have seen Jon Lester, Jonathan Papelbon, Daisuke Matsuzaka and Josh Beckett are among the many players already in camp. Julio Lugo may even be in camp on Thursday.
While the pitchers and catchers are reporting to camp on Friday, Wily Mo Peña has a plane ticket booked to be in Phoenix that day. Why you ask? The Red Sox and Peña still have not reached a settlement on a contract yet and Friday is the day that his case will be heard by the arbitrator. Josh Zeide, Peña's attorney had this to say:
"The ball's in their court, if they want to make Wily Mo feel part of the team. The last thing we are looking for is any kind of adversarial relationship."
The two sides are about $475,000 apart right now.
J.D. Drew is still not officially on the 40 man roster yet. Strangely enough, I had read somewhere that he was. Are the Red Sox thinking about making a trade and just waiting so they can fill the spot with Drew? Expect David Pauley, CT native and Yale alumni, Craig Breslow or Kason Gabbard to be removed from the 40 man roster if no one is traded shortly.
Here is a timeline of Matsuzaka's moves during his workout yesterday.
12:01 PM: Arrive in Escalade
12:31 PM: Walk out onto the field and tour the grounds
12:35 PM: Stretch
12:40 PM: Jog
12:46 PM: Put on his glove
12:47 PM: Play catch with George Kottaras
Besides Japanese being spoken in camp now, the other new sound you will hear in Red Sox camp is the clicking of cameras chronicling Daisuke's every move. Really, do we want to see him stretching?
All I have to say right now is that I wish I was in Florida at spring training right now instead of having to deal with this lovely weather. So if you have some extra $$$$ and a press pass laying around, send it my way. I will gladly go down to Ft. Myers and do some blogging from Red Sox camp.
Technorati: Boston Red Sox, Daisuke Matsuzaka, Jon Lester, Jonathan Papelbon, Josh Beckett, Wily Mo Pena, J.D. Drew