STORRS, Conn. (Feb. 25, 2011) — The University of Connecticut football team will play an exciting seven-game home schedule, highlighted by four BIG EAST Conference games at Rentschler Field, as the 2011 Husky schedule was announced on Friday.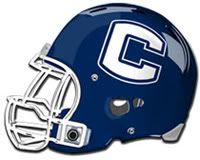 UConn will play host to one Thursday night and one Friday night game in 2011 with the other five games on Saturdays. The seven home games include BIG EAST Conference contests against USF, Syracuse, Louisville and Rutgers. Three of these BIG EAST opponents won bowl games last season – USF (Meineke Car Care Bowl Champions), Louisville (Beef `O' Brady's Bowl Champions) and Syracuse (New Era Pinstripe Bowl Champions).
In addition, the schedule features two other teams that played in bowl games – Pittsburgh (BBVA Compass Bowl Champions) and West Virginia (Champs Sports Bowl).
The 2011 UConn football schedule currently features three national television appearances with broadcast plans for the other nine games to be announced at a later date.
"We are looking forward to the upcoming 2011 season and the debut of our new head coach Paul Pasqualoni," says Director of Athletics Jeffrey Hathaway. "Our home schedule at Rentschler Field features a great mix of exciting matchups featuring four great BIG EAST Conference games. The growth of our football program to the point where we played in a BCS game last season has resulted in more enthusiasm for our program than ever before. We encourage our loyal fans to order their season tickets now. Last year, we were undefeated at Rentschler Field and, and as we get ready for 2011, we look forward to maintaining the great home field advantage which our fans provide."
UConn's BIG EAST schedule will begin after it plays all five of its non-conference games. The Huskies will visit West Virginia on Saturday, Oct. 8 and open the home portion of the league schedule the following Saturday (Oct. 15) playing host to USF for the annual Homecoming game. UConn will then return to action when it travels to Pittsburgh on Wednesday, Oct. 26 for an ESPN nationally-televised game at 8:00 p.m.
Following the Pittsburgh game, UConn then plays three-straight home conference games. Syracuse visits Rentschler Field on Saturday, Nov. 5 followed by Louisville on Saturday, Nov. 19 and Rutgers on Saturday, Nov. 26.
The regular season concludes at Cincinnati on "Championship Saturday", Dec. 3. That game will be televised nationally by either ABC, ESPN or ESPN2.
"I think that we have a very competitive and exciting schedule for our football team in 2011," says Pasqualoni. "Our non-conference schedule features teams from the SEC and the Big XII. In addition, we are excited to have seven home games this season. We appreciate the tremendous support from our UConn fans, who will continue to make Rentschler Field one of the best home environments in the country."
Pasqualoni and his Huskies will begin the season on Thursday, Sept. 1 against Fordham. UConn hits the road for the first time on Saturday, Sept. 10 against Vanderbilt of the Southeastern Conference. Iowa State of the Big XII comes to Rentschler Field on Friday, Sept. 16 for an 8:00 p.m. game on ESPN or ESPN2.
The non-conference games conclude with a pair of contests against teams from the Mid-American Conference – at Buffalo on Saturday, Sept. 24 and home against Western Michigan on Saturday, Oct. 1.
Season tickets for the 2011 home season are now on sale. For more information, visit UConnHuskies.com or call 1-877-AT-UCONN .