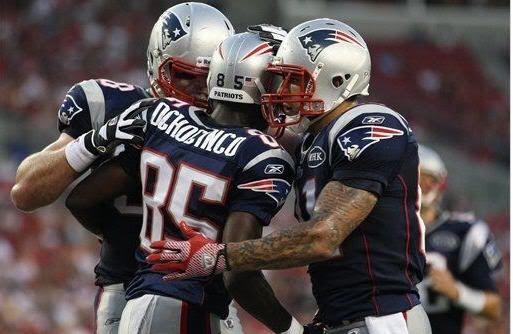 Some much for lines on preseason games huh? This one was the Tampa Bay Buccaneers giving two points to the New England Patriots. The only problem was New England didn't need them as they scored plenty of their own in their Preseason Week 2 win 31-14 over Tampa Bay at Raymond James Stadium.
Most of the starters played in the first half including reigning MVP Tom Brady who threw a pair of TD passes, one each to Aaron Hernandez (16 yards) and Chad Ochocinco (8 yards). BenJarvus Green-Ellis ran for a pair of one-yard TD's and Jerod Mayo who played on the outside had a pair of 1st half sacks, both on the blitz.
Hernandez had 3 catches on the night for 42 yards and a TD, Wes Welker grabbed 5 for 56 yards and Ochocinco had a pair of catches for 14 yards and 1 TD.
Danny Woodhead had a big 1st half as well rushing 5 times for 63 yards with runs of 29, 14 and 12 yards. Green-Ellis ran the ball 11 times for 51 yards and the two scores.
New England outgained Tampa Bay in the air (124-79) and on the ground (117-8) and outscored them in the half 28-0.
To continue reading, click on the read more button below if you're on the home page.
Tampa Bay QB's were under a lot of defensive pressure the entire half and Andre Carter who was pretty much unblockable created a lot of it.
Not all was good for the Patriots in the first half as LB Dane Fletcher got hurt on the second play of the game and did not return with a thumb injury. DB Bret Lockett hurt his thigh or groin and was carted off the field after covering a Zoltan Mesko punt.
In the third quarter rookie Ryan Mallett replaced Brady, who was 11 for 19 for 118 yards and 2 TD's, and he promptly threw a pick 6 to DB Elbert Mack who went 69 yards for the TD to cut the New England lead to 28-7. Mallett even got leveled on the play.
Mallett was off all night, even his completions they weren't sharp but the coaching staff wanted to see how he would respond to a tough situation. And they were able to do that Thursday night. Mallett finished the night 9 of 14 for 71 yards and 1 INT.
Rookie RB Stevan Ridley, who last week had three TD's, lost a fumble, but other than he had a good performance rushing for 84 yards on 14 carries.
Late in the 3rd quarter Stephen Gostkowski converted on a 51-yard field goal to make it 31-7 and close out the scoring for New England. It was his 3rd made field goal of the preseason all from more than 40 yards.
Brian Hoyer saw limited time at QB playing two plays in the first half, relieving Brady and then temporarily relieving Mallett in the 3rd and coming back in for a bit at the end of the game.
The Bucs cut the lead to 31-14 with 9:28 to play when they mounted an 84 yard, 12 play drive that was capped by an Allen Bradford TD run of 2 yards.
Woodhead was returning punts in the second half in the 4th quarter he got lit up pretty good by Devin Holland and he was wobbly coming off the field. The team trainers took his helmet from him and he didn't see any further action on the night.
Defensive New England was very good all night. CB Kyle Arrington had an interception and 3 tackles, newly acquired LB Niko Koutouvides had a sack and 3 tackles, Mayo had a pair of sacks and 5 tackles and LB Tracy White had 5 tackles.
As a team the Patriots were 8 of 16 on 3rd down and 0 for 1 on 4th. The three quarterbacks combined for 21 of 37 for 183 yards, 2 TD's, 1 INT and 2 sacks. The team rushed for 200 yards on 36 carries, last season they ran for 200 yards twice in 16 games both against Buffalo.
Next week the Patriots play in Detroit when they take on the Lions on Saturday at 8 p.m. during a nationally televised game on CBS.
Follow Steve on Twitter @djstevem
Photo credit: AP Photo