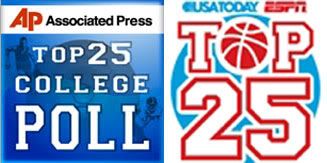 After spending the past eight weeks as the number two team in women's college basketball, the UConn Huskies have returned to the top in both polls after the former No. 1 Baylor Bears lost last Saturday. With the loss, the Bears slipped to No. 3 while the Stanford Cardinal, the only team to beat UConn this season, moved up to No. 2.
Joining the Huskies in the top ten from the Big East are the No. 8/7 Notre Dame Fighting Irish. The DePaul Blue Demons are ranked No. 7 in the AP Poll but are only No. 11 in the coaches poll.
The other Big East teams ranked in the top 25 of both polls are the Georgetown Hoyas (18/19), West Virginia Mountaineers (19/18) and the Marquette Golden Eagles (24/22).
The St. John's Red Storm are the only team from the Big East in the other receiving votes of both polls. The Louisville Cardinals, Syracuse Orange and Rutgers Scarlet Knights are among the others receiving votes in the coaches poll.
To see both polls, click on the read more button below if you're on the home page.
AP Top 25

ESPN/USA Today Coaches Poll

RK

TEAM

REC

PTS

PREV

RK

TEAM

REC

PTS

PREV

1
Connecticut (37)
26-1
997
2
1
Connecticut (30)
26-1
774
2

2

Stanford (3)

24-2

953

3

2

Stanford (1)

24-2

737

3

3

Baylor

24-2

914

1

3

Baylor

24-2

699

1

4

Tennessee

25-2

892

4

4

Tennessee

26-2

693

4

5

Texas A&M

22-3

819

5

5

Texas A&M

22-3

649

5

6

Xavier

23-2

808

6

6

Xavier

23-2

630

6

7

DePaul

25-3

705

10

7

Notre Dame

22-5

543

8

8

Notre Dame

22-5

688

8

8

Michigan State

24-3

520

10

9

Duke

24-3

681

7

9

Duke

24-3

515

7

10

Michigan State

24-3

652

11

9

UCLA

22-3

515

9

11

UCLA

22-3

631

9

11

DePaul

25-3

501

11

12

Miami (FL)

23-3

539

13

12

Florida State

22-5

444

12

13

North Carolina

22-4

534

12

13

Green Bay

25-1

366

14

14

Florida State

22-5

482

15

14

Miami (FL)

24-3

363

16

15

Maryland

21-6

404

16

15

Oklahoma

19-7

354

15

16

Oklahoma

19-7

397

14

16

North Carolina

22-5

297

13

17

Green Bay

25-1

370

17

17

Maryland

21-6

293

17

18

Georgetown

20-7

255

18

18

West Virginia

21-6

210

20

19

West Virginia

21-6

236

21

19

Georgetown

20-7

205

18

20

Kentucky

20-7

214

19

20

Kentucky

20-7

155

19

21

Marist

24-2

130

24

21

Marist

25-2

134

24

22

Georgia

20-6

108

NR

22

Marquette

20-6

87

21

23

Gonzaga

24-4

95

25

23

Gonzaga

24-4

85

NR

24

Marquette

20-6

90

22

24

Iowa State

19-8

71

23

25

Iowa State

18-8

76

20

25

Houston

22-4

53

NR

Dropped from rankings:

Dropped from rankings:

Penn State 23

St. John's 22, Penn State 25

Others receiving votes:

Others receiving votes:

Penn State 63, Iowa 60, Texas Tech 56, Houston 50, Georgia Tech 35, Louisiana Tech 21, Temple 19, Ohio State 9, Brigham Young 7, Boston College 5, St. John's 3, Princeton 2

St. John's 45, Texas Tech 29, Louisiana Tech 26, Iowa 26, Georgia 14, Georgia Tech 11, Penn State 9, Northern Iowa 8, Louisville 4, Syracuse 4, Rutgers 3, Kansas State 1, Middle Tennessee 1, Toledo 1