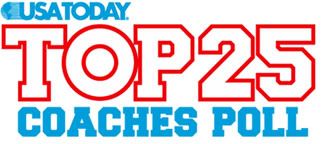 Just like the final men's basketball ESPN/USA Today Coaches Top 25, the women's poll features a non-unanimous No. 1 team. Texas A&M, who beat Notre Dame in the women's finals on Tuesday night, received 29-of-30 first place votes in the final poll. One coach didn't vote and the other voted for the UConn Huskies, who finish the season as the No. 3 team in the land.
Joining the Huskies in the top 10 from the Big East are the runnerup Notre Dame Fighting Irish (No. 2) and the DePaul Blue Demons (No. 10). Other Big East teams in the top 25 are the Georgetown Hoyas (No. 14), Louisville Cardinals (No. 19) and the Marquette Golden Eagles (No. 25).
The West Virginia Mountaineers, Rutgers Scarlet Knights and the St. John's Red Storm were among the others receiving votes.
To see the full poll, click on the read more button below if you're on the home page.
ESPN/USA Today Coaches Poll

RK

TEAM

REC

PTS

PREV

1

Texas A&M (29)

33-5

748

8

2

Notre Dame

31-8

714

7

3
Connecticut (1)
36-2
682
1

4

Stanford

33-3

672

2

5

Baylor

34-3

626

3

6

Tennessee

34-3

599

4

7

Duke

32-4

548

6

8

Gonzaga

31-5

479

19

9

Green Bay

34-2

434

11

10

DePaul

29-7

411

12

11

Xavier

29-3

394

5

12

North Carolina

28-9

381

14

13

UCLA

28-5

364

9

14

Georgetown

24-11

349

21

15

Oklahoma

23-12

312

20

16

Miami (FL)

28-5

282

10

17

Ohio State

24-10

276

22

18

Michigan State

27-6

230

13

19

Louisville

22-13

229

NR

20

Florida State

24-8

225

15

21

Marist

31-3

200

17

22

Kentucky

25-9

139

16

23

Maryland

24-8

118

18

24

Georgia

23-11

104

NR

25

Marquette

24-9

94

23

Dropped out:

Houston 24, West Virginia 25

Others receiving votes:

Penn State 32, West Virginia 29, Georgia Tech 18, Rutgers 13, Houston 12, St. John's 10, Temple 8, Iowa State 7, Northern Iowa 4, Dayton 3, Iowa 2, Louisiana Tech 1, Middle Tennessee 1