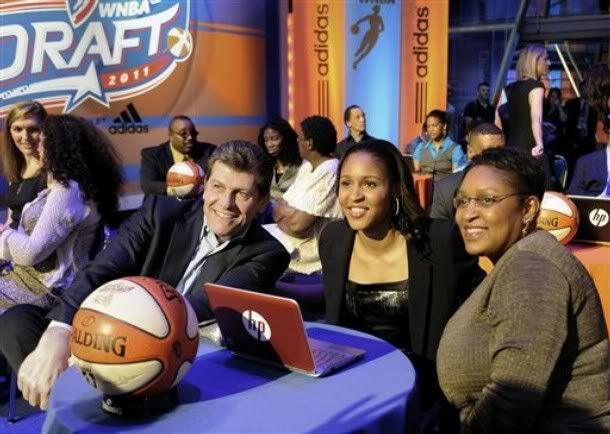 BRISTOL, Conn. – University of Connecticut senior forward Maya Moore has been selected by the Minnesota Lynx with the No. 1 pick of the 2011 WNBA Draft on Monday afternoon at ESPN Studios in Bristol, Conn.
Moore is the 12th Husky chosen in the first round of the WNBA Draft and the fourth UConn player in history to be selected as the No. 1 pick overall joining Diana Taurasi (2004), Sue Bird (2002) and Tina Charles (2010).
Moore finished her career UConn's all-time leading scorer, with 3,036 career points. She also ranks second in school history in made three-pointers (311) and rebounds (1,276). In 2011, she averaged 22.8 points, 8.2 rebounds, 2.3 steals and 4.0 assists.
Moore led UConn to four straight Final Fours and two national titles, while serving as an integral part of her team's historic 90-game win streak that spanned three seasons. Her team won 150 of the 154 games it played during her career. She is a four-time Academic All-American and was honored as the Capital One University Division Academic All-American of the Year in each of the last two seasons.
Moore is the 23rd Husky selected in the WNBA Draft since the league's inception in 1997. UConn has now had a player selected in the WNBA Draft 12 times in the past 14 years. Connecticut did not have any seniors on its roster in 2003 or 2007.
Photo credit: AP Photo