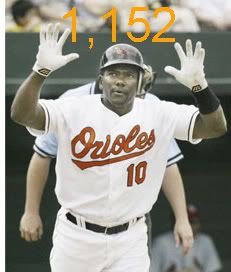 Records and streaks are meant to be broken but at some point they have to come to an end. I am pretty sure that this wasn't the way Miguel Tejada wanted his consecutive games played streak to end.
After being hit with a pitch on Wednesday by Padres reliever Doug Brocail, Miggy tried to play in Thursday's game. All he was able to do was to try and bunt. He was then removed from the game by Orioles interim manager Dave Trembley. Then the rumors started. Was it going to be end of the longest active consecutive games played streak? Miggy wanted to try and play thru the injury.
But after further testing was done, it was determined that he had a non-displaced fracture of his left wrist and was placed on the disabled list today by the Orioles, thus ending his consecutive games streak at 1,152 games. The last game Miggy missed was back on May 31, 2000. He had a long way to go to break Cal Ripken's record of 2,632 games.
Given the Orioles plight right now, Miggy could have been possibly moved to another team. But being out for an undetermined amount of time, nothing will probably happen with that until after the season.
Juan Pierre now takes over as the active leader at 344 games.
Top 5 All-Time:
1. Cal Ripken – 2,632 games
2. Lou Gehrig – 2,130 games
3. Everett Scott – 1,307 games
4. Steve Garvey – 1,207 games
5. Miguel Tejada – 1,152 games