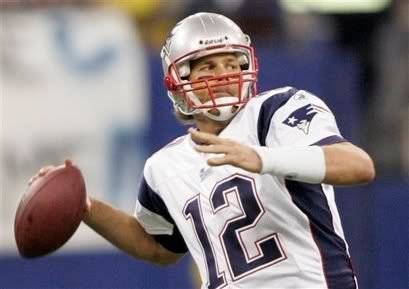 According to Christoper Gasper and Shira Springer of the  Boston Globe, injured New England Patriots QB Tom Brady should be ready for the start of the 2009 season.
Tom Brady is progressing on pace in his rehabilitation from reconstructive left knee surgery and is now dropping back and throwing passes, according to a medical source familiar with the Patriots quarterback's case. No additional surgical procedures are planned, according to NFL and medical sources.

The medical source who has been consulted about Brady's injury said Brady is "on track to be fine for the opening game of the season.

"Based on anybody else doing an ACL rehab, he's going right along. He had a shaky start, but he's caught up," said the source.

The source added that Brady, who suffered torn anterior cruciate and medial collateral ligaments in the Patriots' opener against the Chiefs Sept. 7 and had surgery to repair both ligaments Oct. 6, is throwing, running, doing his skill drills, and getting in shape.

Still, the sources acknowledged that Brady has "laxity" in the MCL and some stiffness in the joint. Additionally, sources said Brady has not regained full range of motion, though it is not unusual for patients who have undergone ACL reconstruction to have lingering range-of-motion issues, especially in cases of infection.
If the report is true, this is great news for the Patriots and the fans. The question remains though what they will do with Matt Cassell should this be true.
I know it's going to cost the Patriots some money but I'd like to see Cassel back with the Patriots next season. He proved himself worthy of the starting job for years to come but would also provide the Patriots with a capable backup should Brady not be ready or get hurt again.
Of course if Brady is healthy enough come April, the Patriots could do a sign-and-trade with another team as well. I just don't see the Patriots letting him walk away without compensation.