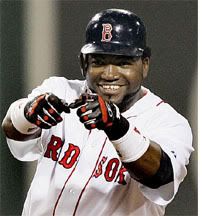 David Ortiz is having a rough week. Last night, he is hit with a lawsuit and during the game he strains his shoulder. But that's not the worst of it. Earlier in the week, Big Papi found out his best friend had been living a lie.
Known as Edwin "Monga" Garcia, Felix Leopoldo Marquez Galice was arrested on 3 counts of identification fraud upon his return from the 2007 MLB All-Star Game.
Beginning in 2003, Marquez allegedly submitted a series of applications to the Registry of Motor Vehicles in which he claimed to be a US citizen named Edwin Manuel Cotto Garcia, of Puerto Rico, according to a criminal complaint charging him with fraud and misuse of visas, permits, and other documents; fraud and related activity in connection with identification documents; and false claim to US citizenship.
Big Papi met "Garcia" when he was a teenager back in the Dominican Republic and was the one who introduced Big Papi to the Mariners scout who signed him back in 1992. "Garcia" is free right now on $10,000 bail.
Big Papi's only comments were "I don't know anything about it."