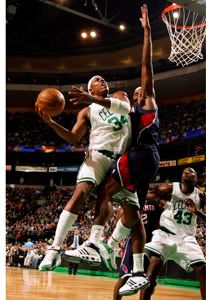 The Boston Celtics improved to 4-0 on the young season as they beat the Atlanta Hawks at the TD BankNorth Garden 106-83 behind Kevin Garnett's 4th double-double of the season as he knocked in 27 points, swept the boards clean 19 times, chipped in 6 helpers and had 3 swats.
Captain Paul Pierce added 23 points and Eddie House had 19 points off the bench. Former UConn star Ray Allen contributed 14 points and has now scored in double figures in 102 consecutive games.
Atlanta was led by former Celtics first rounder Joe Johnson and this years 3rd overall pick Al Horford who each scored 16 points.
The Hawks stuck close in the first quarter and had the score tied at 24-24 early in the second quarter but the Green pulled away were up 14 at the half 55-41 and never looked back as they shot 61% from the field.
Celtics head coach Doc Rivers left the team after the game to fly back to Chicago for the funeral of his father tomorrow morning. His plans are to be in New Jersey and coach the team tomorrow night against the Nets.
It will be interesting to see how the Celtics play in Jersey tomorrow night it will be their first back-to-back games of the season.
James Posey missed the game with back spasms and the Celtics lost Brian Scalabrine with a possible concussion in the 4th quarter.
Boston Red Sox manager Terry Francona was at the game tonight, he and Rivers are close friends. During a break in the action "Lucky" the Celtics mascot trampoline jumped over Francona to dunk the ball.