Welcome to Carl Everett's Crazy Hall of Fame. You have to be absolutely bat shit crazy to get inducted. The offenses must have occurred on the field of play so arrests for DUI, dog fighting and other things aren't eligible.
Here are the members:
Carl Everett – Well you had to figure the guy it's named after is in it right? Carl head butted and basically went mental on an innocent umpire while arguing about his foot position in the batter's box.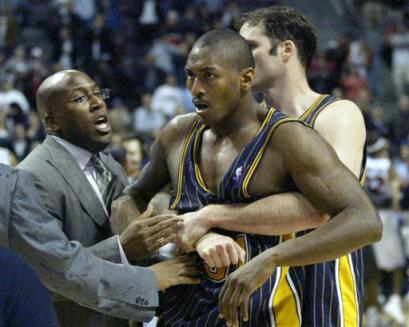 Ron Artest – You could have almost named it after him instead. Maybe someday it will be the Carl Everett/Ron Artest Crazy Hall of Fame but for now he just has to be happy with being inducted for his part in a brawl in Detroit in which players went into the stands.
Mike Tyson – Yet another bat shit crazy heavyweight. The guy who has an effin' face tattoo bit part of Evander Holyfield's ear off during a fight. I'm surprised he didn't try to kill Jimmy Kimmel in shower scene for the 2007 ESPY Awards.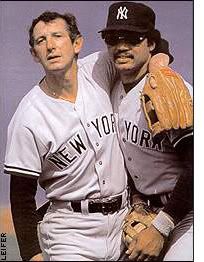 The next inductee is actually a duo. Billy Martin and Reggie Jackson – Martin pulled Jackson off the field in the middle of an inning for "dogging it" and they practically came to blows in the dugout on national television. Only Yogi Berra and Elston Howard prevented a beating. Personally I think Martin would have killed Reggie.
Juan Marichal – Took a bat to catcher John Roseboro when he thought Roseboro's return throws to the mound were buzzing his head.
Todd Bertuzzi – Nearly killed Steve Moore during an on ice altercation in which he hunted him down, hit him from behind and drove his head into the ice as he beat him.
Roberto Alomar – Spit in the face of an umpire after being ejected for arguing balls and strikes.
Frank Francisco – Decided he couldn't take the heckling in the bullpen from Oakland A's fans and beat a woman with a folding chair.
Albert Haynesworth – Stomped on the unhelmeted head and face of Andre Gurode while he was laying on the ground defenseless.
Jose Offerman – Attacked pitcher Matt Beech and catcher John Nathans with a bat on the mound after he was hit by a pitch during a minor league game.
Carlos Zambrano and Michael Barrett (Courtesy of Texy) – Our second dual induction. After getting hammered during an inning of a game at Wrigley Field Zambrano decided to take his fury out on Barrett's pitch calling. Barrett then told "Z" to look at the scoreboard because he was the one throwing the pitches. Zambrano took offense and began a beat down of his catcher in the dugout. After they were separated they somehow ended up unsupervised in the clubhouse where Zambrano once again kicked his catchers ass requiring stitches. Shortly there after Barrett was exiled to San Diego to cuddle up with David Wells.
[Editors Note: Head over to the pages section and click on the link that says Carl Everett's Crazy Hall of Fame, where we have taken this post and made it into a page so that we could add more craziness for you guys.]
Nominations are always open. We just need someone to go ballistic on the field of play.