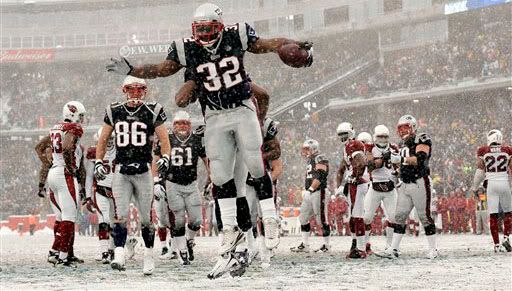 Result
The snow was falling in Foxboro this afternoon and that usually means good things for the New England Patriots as they kept their playoff hopes alive with a 47-7 thrashing of the Arizona Cardinals at the Razor. The win moves the Patriots to 10-5 and with the Dolphins winning today as well, they remain tied for first place in the AFC East. The Jets are currently playing the Seahawks in snowy Seattle.
With the snow falling and the field covered, it was expected that both teams would run the ball most of the game. The Patriots did that rushing for 183 yards in the game while holding the Cardinals to 44 yards on the ground. The big difference though was the fact that Matt Cassel was able to throw for 345 yards leading the Patriots to scores on 8 of their first 9 drives to put this game out of reach by halftime.
This was a Cardinals team that is already headed to the playoffs due to the ineptitude of the other teams in the NFC West. But they didn't play like a playoff team at all as they were definitely affected by the elements. They made some fundamental mistakes allowing the Patriots to get some clean hits on Kurt Warner and just couldn't get anything down until a garbage time touchdown pass from Matt Leinart to Larry Fitzgerald.
There's not much more really to say as it was a complete domination by the Patriots of the Cardinals. Let's hope the Seahawks can give the Patriots some help tonight and make the Patriots control their own destiny instead of having to rely on help from other teams.
Scoring Plays
| | | | | | |
| --- | --- | --- | --- | --- | --- |
| CARDINALS | 0 | 0 | 0 | 7 | 7 |
| PATRIOTS | 14 | 17 | 13 | 3 | 47 |
1st Quarter
NE – LaMont Jordan 1 yard run (Stephen Gostowski PAT)
NE – Jordan 3 yard run (Gostowski PAT)
2nd Quarter
NE – Kevin Faulk 15 yard pass from Matt Cassel (Gostowski PAT)
NE – Wes Welker 11 yard pass from Cassel (Gostowski PAT)
NE – Gostowski  38 yard field goal
3rd Quarter
NE – Randy Moss 76 yard pass from Cassel (Gostowski PAT)
NE – Gostowski 35 yard field goal
NE – Gostowski 24 yard field goal
4th Quarter
NE – Gostowski 30 yard field goal
ARI – Larry Fitzgerald 78 yard pass from Matt Leinart (Neil Rackers PAT)
Offensive Player of the Game
Matt Cassel was 2o-of-36 for 345 yards and 3 touchdowns
Defensive Player of the Game
The entire New England defense.
Turning Point(s) of the Game
The snow falling at Gillette Stadium. The Cardinals hadn't played a game in the snow since 1983 when they were in St. Louis.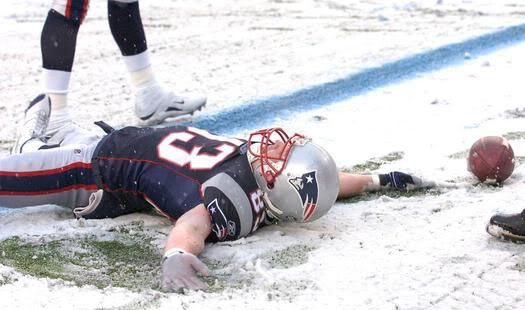 Offensive Leaders/Notes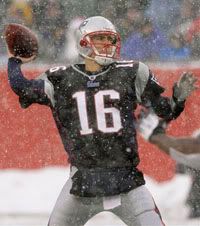 Besides Cassel, Sammy Morris had 15 carries for 88 yards, Lamont Jordan had 20 carries for 78 yards and 2 touchdowns, Jabar Gaffney had 5 catches for 90 yards, Randy Moss had 2 catches for 87 yards and a touchdown and Wes Welker had 7 catches for 68 yards and a touchdown.
2nd/4 ARI 26 – Sammy Morris runs for 9 yards
2nd/5 ARI 15 – Morris runs for 10 yards
3rd/goal ARI 1 – Lamont Jordon rushes in for touchdown
2nd/11 NE 44 – Matt Cassel passes to Morris for 42 yards
2nd/10 ARI 44 – Jordan runs up the middle for 9 yards
2nd/goal ARI 3 – Jordan runs 3 yards for touchdown
3rd/2 ARI 49 – Jordan stopped for 1 yard loss
1st/10 ARI 50 – Jordan stopped for 2 yard loss
2nd/12 NE 48 – Cassel hits Jabar Gaffney for 37 yard gain
1st/10 ARI 15 – Jordan stopped for no gain
2nd/10 ARI 15 – Cassel hits Kevin Faulk for 15 yard touchdown
2nd/6 NE 35 – Jordan rushes for 12 yards
1/10 NE 47 – Cassel sacked for 4 yard loss, flag on the play. Arizona called for illegal contact. No play and Patriots accept the penalty
3/10 ARI 48 – Cassel hits Gaffney for 19 yards
1st/10  ARI 29 – Logan Mankins called for holding
4th/11 ARI 30 – Cassel runs for 16 yards
3rd/7 ARI 11 – Cassel hits Welker for 11 yard touchdown. Welker called for unsportsmanlike conduct penalty for excessive celebration for making snow angels.
1st/10 NE 29 – Cassel hits Gaffney for 14 yards
3rd/9 NE 44 – Cassel hits Gaffney for 16 yards
2nd/10 ARI 40 – Cassel hits Welker for 20 yards
2nd half – 1st/10 NE 24 – Cassel hits Moss for 76 yards and a touchdown on a screen play
1st/10 NE 31 – Cassel hits Heath Evans for 28 yards on a screen play
2nd/9 ARI 44 – Cassel hits Moss for 11 yards
1st/10 ARI 29 – Morris runs for 10 yards
2nd/7 ARI 16 – Cassel hits Welker for 10 yards
3rd/goal ARI 5 – Cassel sacked for 12 yard loss
3rd/8 ARI 47 – Cassel hits Welker for 13 yards
1st/10 ARI 23 – Cassel hits Welker for 12 yards
Defensive Leaders/Notes
Jerod Mayo and Junior Seau both had 7 tackles and Brandon Merriweather had 4 tackles, a sack and a forced fumble.
1st qtr – 3/4 ARI 23 – Mike Vrabel stops Tim Hightower for a 3 yard loss
2nd/9 – ARI 27 – Jarvis Green stops Hightower for no gain
3rd/9 – ARI 27 – Mike Wright and Richard Seymour combine on 7 yard sack of Kurt Warner
4th/1 NE 31 – Patriots force Warner into a bad pass to give the Pats the ball
2nd half – 1st/10 ARI 21 – Vince Wilfork and Vrabel stop Hightower for no gain
2nd/10 ARI 21 – Vrabel called for offsides
3rd/7 ARI 27 – Brandon Merriweather sacks Matt Leinart for 12 yard loss and forces fumble that is recovered by Jarvis Green at ARI 15
2nd/10 NE 45 – Ellis Hobbs picks off a Leinart pass at his 37
Special Teams Notes
1st qtr – Wes Welker returns a punt 28 yards to give Pats the ball at Arizona 33 on their first drive
Coaching Decisions
On 4th/1 at the Patriots 31, the Cardinals decided to go for it and called a pass play which was incomplete as Mike Wright put pressure on Kurt Warner
On 4th/11 at the Cardinals 30, the Patriots decide to go for it and Matt Cassel runs 16 yards for a first down.
Injuries
Richard Seymour was shaken up in the 2nd quarter and walked off under his own power. It was announced he had a back injury and his return was questionable but he didn't return to the game.
The Officials
The referee was Dan Leavy.
Game Notes
Inactive players for the Patriots today: ILB Gary Guyton, RB BenJarvus Green-Ellis, S James Sanders, ILB Tedy Bruschi, OL Dan Connolly, OT Wesley Britt, OL Billy Yates, QB Matt Gutierrez (3rd quarterback)
Inactive players for the Cardinals today: RB J.J. Arrington, DE/LB Travis LaBoy, OT Brandon Keith, DT Alan Branch, WR Anquan Boldin, TE Jerame Tuman, OT Elliot Vallejo, Brian St. Pierre — 3rd quarterback
Note: The third quarterback can still enter the game at any time, but if he does so in the first, second or third quarters, the team can no longer use its top two quarterbacks the rest of the game.
Offensive starters for the Patriots:
QB: Matt Cassel
RB: Sammy Morris
WR: Randy Moss
LT: Matt Light
LG: Logan Mankins
C: Dan Koppen
RG: Stephen Neal
RT: Nick Kaczur
TE: Benjamin Watson
TE: David Thomas
TE: Russ Hochstein (lines up as fullback)
Defensive starters for the Patriots:
DE: Ty Warren
NT: Vince Wilfork
DE: Richard Seymour
OLB: Mike Vrabel
ILB: Jerod Mayo
ILB: Junior Seau
OLB: Rosevelt Colvin
CB: Ellis Hobbs
CB: Jonathan Wilhite
S: Lewis Sanders
S: Brandon Meriweather
The Patriots won the toss and elected to defer.
This was the first game that the Cardinals had played since 1983 when they were based in St. Louis.
The Patriots have won five straight against the Cardinals and 15 straight regular-season games against NFC teams
The Patriots are now 10-0 in franchise history when snow is falling at the start of the game.
With his four field goals, Stephen Gostowski now holds the Patriots record for field goals in a season with 34. He broke Tony Franklin's club record of 32 set back in 1986.
The 78 yard touchdown pass by Matt Leinart to Larry Fitzgerald was the longest of his career. The reception was also the longest of Fitzgerald's career.
The Patriots scored on 9 of their first 10 possessions.
Randy Moss is now tied for 6th place all-time with Marshall Faulk with 136 touchdowns.
The Patriots' LaMont Jordan, who scored twice in a quarter for first time in his career, had his first multi-touchdown game since 2005.
Arizona's Kurt Warner threw for a season-low 30 yards (previous low was 192, Week 3 at Redskins).
The Cardinals are first team since the 1961 Raiders to trail 28-0 or worse at half in consecutive games. They're also the first team in NFL history to trail by 30-plus points at halftime twice, and still make playoffs that season (trailed 34-0 at Jets).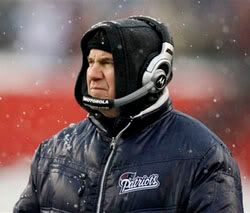 Post Game Press Conferences
Listen to what Patriots head coach Bill Belichick and quarterback Matt Cassel had to say about the game.
Post game press conferences via patriots.com
Things To Work On For Next Week
Another perfect game plan to keep their playoff hopes alive
Next Week's Opponent
The Patriots will travel to beautiful Buffalo to take on the Bills in the final regular season game for both teams. Kickoff is scheduled for 1 PM.