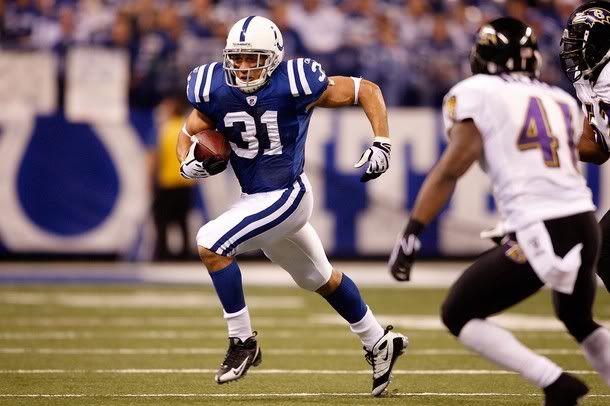 Here's a press release from the UConn Sports Information department about former UConn Huskies running back Donald Brown who will be playing in the Super Bowl with the Indianapolis Colts.
STORRS, Conn. – Former University of Connecticut running back Donald Brown will become the third Husky to play in a Super Bowl when his Indianapolis Colts take on the New Orleans Saints in Super Bowl XLIV on Sunday, Feb. 7 in Miami.
Brown, a rookie with the Colts, gained 18 yards on six carries in the Colts' NFC Championship Game victory over the New York Jets on Sunday. Brown had 78 carries for 281 yards and three touchdowns during the regular season.
Brown was selected by the Colts in the first round of the 2009 NFL Draft, becoming the first UConn player to be picked in the first round. He was the leading rusher in the NCAA FBS in 2009 and was the BIG EAST Offensive Player of the Year.
UConn will also be represented in this year's Super Bowl by two players on practice squads. Keith Gray, who started 31 games for UConn at center through 2008, is on the Colts' practice squad while former quarterback Tyler Lorenzen (2007-08) is a tight end on the Saints' practice squad.
Nick Giaquinto, who played at UConn from 1975-76, was the first Husky to play in the Super Bowl. He played in Super Bowl XVII in 1982 for the victorious Washington Redskins and in Super Bowl XVIII in 1983 that Washington lost.
In addition, Brian Kozlowski, who played at UConn from 1989-92, played in Super Bowl XXXIII (1999) for the NFC Champion Atlanta Falcons, who lost to the Denver Broncos.