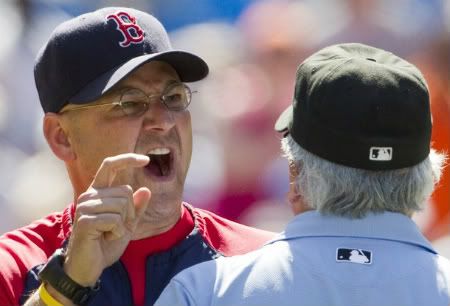 With no managerial openings going his way, former Boston Red Sox manager Terry Francona has found himself a new job. He'll be replacing the new manager of the Red Sox, Bobby Valentine, at ESPN.
Here's the release from ESPN:
Terry Francona, two-time World Champion manager of the Boston Red Sox, has joined ESPN in a multiplatform role which will include serving as an analyst for Sunday Night Baseball, the network's exclusive national game of the week. Francona will join Dan Shulman and Orel Hershiser in the Sunday Night Baseball booth, replacing current Red Sox manager and former ESPN analyst Bobby Valentine. He will make his ESPN debut tonight, Dec. 5, on SportsCenter and Baseball Tonight from the Winter Meetings in Dallas.
Francona will also provide analysis for Baseball Tonight, among other news and information shows, and ESPN's coverage of the Little League World Series. Additionally, he will be a featured guest on ESPN Radio's national shows and contributor to ESPN.com and ESPNBoston.com.
"Terry is a brilliant baseball mind, with two World Series rings over the last eight seasons, and we're thrilled to welcome him to our team," said Norby Williamson, executive vice president, production. "Ted Williams for Joe DiMaggio never happened, but this is ESPN's version with Bobby moving to the Red Sox dugout and Terry replacing him on Sunday Night Baseball."
"I'm excited to join ESPN and to be able to talk about my passion for baseball with fans who love the game as much as me," said Francona. "In some ways, I'll be a rookie all over again, but I'm looking forward to the challenge."
Francona provided analysis for Fox Sports during the American League Championship Series in 2011.
Francona managed the Red Sox for eight seasons (2004-11), leading the team to a pair of World Series championships (2004; 2007) and a record of 744-552. He previously managed the Philadelphia Phillies from 1997-2000.
Francona served as a bench coach for the Oakland Athletics in 2003 and the Texas Rangers in 2002. He also served as a special assistant to baseball operations with the Cleveland Indians in 2001. Francona managed in the Minor Leagues from 1992-95.
Francona played in the Major Leagues from 1981-90 with the Montreal Expos (1981-85), Chicago Cubs (1986), Cincinnati Reds (1987), Cleveland Indians (1988) and Milwaukee Brewers (1989-90). He was drafted by the Expos in 1980 out of the University of Arizona, where he won the Golden Spikes Award as the nation's top amateur player that same year.
Follow Ian on Twitter @soxanddawgs. And be sure to like us on Facebook as well.
Photo credit: Reuters Pictures