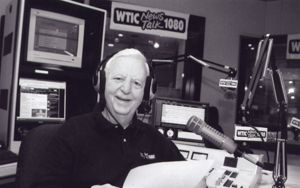 "A sad day in Connecticut. The nicest, warmest human being in the world has passed on. RIP Arnold Dean. You will be missed by all of us." – Joe D'Ambrosio UConn Football and Men's Basketball play by play announcer.
Arnold Dean, the man legions of Connecticut sports fans grew up listening to, has left us. Dean was the host of a sports talk radio show on WTIC-AM 1080 in Hartford way before sports talk radio became what it is today.
Dean was the anti-Big O. He was the anti-Mad Dog, the anti-Francesca. He was too nice to be blustery and full of buffoonery. In all the years I listened to him I never heard him raise his voice. Dean was a gentleman who treated his listeners and those who called in with the respect and warmth of a long lost friend. He made you feel as if you were part of his family.
The first time I ever won anything on the radio I won a prize from Arnold Dean. I was about 11 years old and I was able to answer one of his trivia questions that about 7 or 8 previous other callers couldn't answer.
In my adult life I got to meet Dean when I was covering the UConn football and basketball teams as a photographer. He was just as he was on the air, warm and gracious.
Dean hosted the local call-in show, did the pregame for the New England/Hartford Whalers hockey and even did some color work on home games for a few seasons. Later on after "retiring" he was still involved with UConn football when they went into Division 1-A and moved into Rentschler Field in East Hartford. He did the pregame show below the scoreboard along with Ray Dunaway, Kevin Nathan, Bob Joyce and others.
If you were or are from Connecticut the sound of Arnold Dean's voice told you that you were home. I always thought that Dean, along with Bob Steele and Walt Dibble, should have been hired by Bradley International Airport to record the welcome announcements. There were no better ambassadors for the state than that trio of broadcasting legends.
Dean was in broadcasting over 60 years (1948-2009) and was best known for his legendary run at WTIC which began in 1965 when he hosted the music show, "One Night Stand". With his love of Big Band music he also hosted a daily show called the "Golden Age of Radio" and that would spin into a monthly show featuring interviews with Big Band leaders and others. He even played clarinet because he was inspired to do so by Artie Shaw.
In 1976 he started "Sports Talk with Arnold Dean", a show that still exists today as "WTIC Sports Talk".
In his illustrious career Dean won Connecticut Broadcaster of the Year seven times, numerous awards from the Associated Press and in May 1997 he was inducted into the Connecticut Sports Hall of Fame. He was also the first non-Massachusetts resident to win the "Jimmy Award" for his work with the Jimmy Fund in Boston.
It wasn't until 1996 at age 66 that he cut back on his duties which included only doing one night on his then 20-year old weeknight show. He didn't officially retire fully until 2009 after 61 years in broadcasting.
Arnold Dean was a broadcast legend, a Connecticut icon and he will be greatly missed by so many people whose lives he touched in his own special way.
follow Steve on Twitter @SteveMichaelsII
photo credit: the laurel