The Red Sox have had a rich history at the shortstop position. On this list are five Red Sox Hall of Famers and some worthy candidates in the honorable mention category. Placement of the players after the top couple was difficult, but one thing is for sure; I had no trouble finding five qualified candidates at this position.
Nomar Garciaparra
Nomah was the greatest shortstop to ever play at Fenway Pahk! Going to a Sox game in the late nineties and early 2000s one could hear "Nomaaahhhh" yelled all over the ballpark. The 12th overall pick in 1994, Nomar had no trouble climbing through the minors before debuting in 1996. He won the Rookie of the Year Award in 1997, then placed 2nd in the MVP vote in 1998. He proceeded to win the batting title in each of the next two seasons, batting .357 and .372. Nomar was getting better and better, spraying line drives all over the yard.  Nomar helped the Red Sox make the playoffs in 4 of his years with the club.  Currently, the Red Sox are +600 to win the World Series according to bonuskod maria casino and other reputable online casinos.  Right now would be a great time to make a wager and participate in online sports betting with the season about to begin.
Then Al Reyes happened. A Reyes pitch hit Nomar on the wrist and would later require surgery. When Nomar returned he was still a good player, but wasn't the same. He popped the ball up more, hitting a few less line drives. Hard to complain with a .310 average, 24 home runs and 56 doubles in 2002 followed by 28 home runs in 2003 though. For his Red Sox career Nomar batted .323 with 178 home runs and a .923 OPS. He was something else in his prime and one of the top shortstops of all time ranked on freebets.org.
Year
Tm
AB
R
H
2B
3B
HR
RBI
SB
BA
OBP
SLG
OPS
Awards
1996
BOS
87
11
21
2
3
4
16
5
.241
.272
.471
.743
1997
BOS
684
122
209
44
11
30
98
22
.306
.342
.534
.875
AS,MVP-8,RoY-1,SS
1998
BOS
604
111
195
37
8
35
122
12
.323
.362
.584
.946
MVP-2
1999
BOS
532
103
190
42
4
27
104
14
.357
.418
.603
1.022
AS,MVP-7
2000
BOS
529
104
197
51
3
21
96
5
.372
.434
.599
1.033
AS,MVP-9
2001
BOS
83
13
24
3
0
4
8
0
.289
.352
.470
.822
2002
BOS
635
101
197
56
5
24
120
5
.310
.352
.528
.880
AS,MVP-11
2003
BOS
658
120
198
37
13
28
105
19
.301
.345
.524
.870
AS,MVP-7
2004
BOS
156
24
50
7
3
5
21
2
.321
.367
.500
.867
BOS
BOS
3968
709
1281
279
50
178
690
84
.323
.370
.553
.923
Joe Cronin
Joe Cronin was an extremely influential person in both Red Sox history and Major League Baseball history. He not only played for the Red Sox, he managed them and later became the General Manager. After his term as General Manager ended, Cronin became the President of the American League in 1959, a position he held for 15 years.
Cronin was a Hall of Fame ballplayer, and could have put up even bigger numbers had he not been managing. By 1942 he was a little used utility player while managing, despite the fact he was coming off a season during which he batted .311 with 16 homers and 95 RBI. He'd bat over .300 each of the next two seasons as well in limited playing time. For his Red Sox career Cronin was a .300 hitter, hitting 119 home runs and 1168 base hits. He had a beautiful slash line of .394/.484/.878. All three of those numbers rank second among Red Sox shortstops. Cronin made five All-Star Games while with the Red Sox.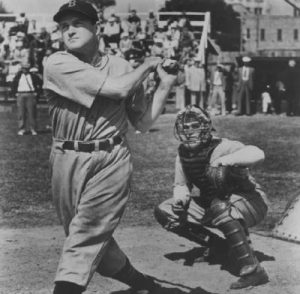 Johnny Pesky
I think a lot of people remember Pesky as the lovable old man always hanging around the Red Sox dugout and don't realize just how good of a player he was. Pesky led the league in hits during each of his first three seasons in the majors. He batted .331 during his rookie season, placing 3rd in the MVP vote. Following that, Pesky went to fight in the war and missed the next three seasons. When he came back he batted .335 and placed 4th in the MVP vote. The following year he again led the league in hits and batted .324. He was a great hitter and would have over 600 hits likely added to his career total had the war not occurred.
He was one of many guys who lost stats due to this time period that the Hall of Fame doesn't seem to have taken into consideration. Had the war not happened, Pesky would be a shortstop who hit well over .300 with somewhere over 2000 career hits. Laughably, as an illustration to New York bias, Phil Rizzuto is in the Hall of Fame. Rizzuto batted .273 with a .351/.355/.706 triple slash playing the same position and during the exact same era as Pesky. Pesky batted .307 with a .394/.386/.780 slash line. Focusing on just his Red Sox career, Pesky batted .313 with 1277 hits and a .401 on base percentage. He twice finished in the top five for MVP voting.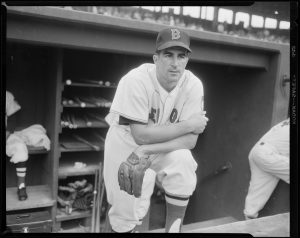 Rico Petrocelli
Rico gets the nod fourth thanks to his counting numbers. He leads all Red Sox shortstop with 210 home runs and 1352 base hits. Of course, he moved to third base in the seventies so as just a shortstop he doesn't rank first. While playing short, Petrocelli batted .259 while hitting 127 of his home runs. Rico made his first All-Star Game during the "Impossible Dream" season of 1967. He really broke out in 1969 though when he made his 2nd all-star team. That season Rico batted .297 with 40 home runs and a .992 OPS! Those 40 home runs stood as an American League shortstop record until 1998, when it took some foreign substances to likely surpass it.
Rico's newfound power extended into the early seventies, hitting 29 home runs in 1970 and 28 in 1971. That gave him a three-year total of 97 home runs. His 39.1 career WAR places him second out of guys on this list behind only Nomar. He was also a part of two Red Sox pennant winning teams.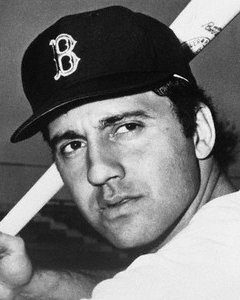 John Valentin
John Valentin was an excellent and underrated player prior to knee injuries that hobbled him and shortened his career after he turned 30. Valentin hit 121 home runs and collected 1042 base hits as a member of the Red Sox. He was their shortstop from 1992-96 before Nomar arrived. After a brief move to second base, he became their third baseman after Tim Naehring's injury and remained there for a few years. As just a shortstop, Valentin batted .292 with a .375/.470/.845 triple slash line. He had an 11.8 dWAR with the Sox, 2nd among the guys on this list.
In 1995 Valentin really busted out, batting .298 with 27 home runs, 102 RBI and 20 stolen bases. He led all American Leaguers in WAR that season. From 1994-97 he averaged a season of .303 with 17 home runs, 35 doubles and an .876 OPS. He still hit 23 home runs in 1998 but his average dropped as his knees started causing him discomfort. Despite a mediocre season in 1999, Valentin had a huge postseason. A clutch player, Valentin batted .347 with 5 home runs and a 1.046 OPS during his postseason career. He drove in 12 runners in the 5 game ALDS versus Cleveland in 1999 and was one of the few Red Sox players to hit in the ALCS that year. His clutch play is one reason he slots into the top five.
Honorable Mentions
Vern Stephens, Rick Burleson, Heinie Wagner, Everett Scott