Welcome to the gigantic SOX & Dawgs 2010 MLB preview. Over the next week you will get a team by team look at its key players, new faces, their potential MVP, Cy Young and Rookie of the Year candidates, their possible starting lineup and rotation as well as a quick summary.
This preview was sculpted over a nearly seven week period in January and February with some mild tweaking as we went along prior to publication. It comes from a culmination of reading so many baseball magazines, periodicals, articles and websites that in some cases I may know a team better that its own management.
I hope you enjoy this look at the upcoming season. I know everyone will not agree with me and that's fine put it in the comments. But I can assure you I have an argument for each and every objection you could possibly raise. It was a lot of work but a lot of fun compiling this preview and starting today we will take a look at the National League West.
The rest of the schedule follows with a different division being profiled each day and the final day will bring you my winners, my award selections and a list of managers who have a lot to prove in 2010 if they want to be on the bench in 2011. Tomorrow you will get the American League West preview followed by the NL Central, AL Central, NL East and AL East.
National League West

1. Los Angeles – Manager: Joe Torre (3rd year/29th overall)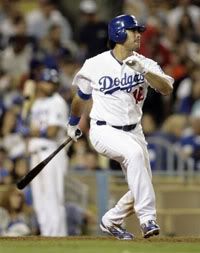 The National League West should once again belong to Joe Torre and the Los Angeles Dodgers. They return nearly their entire starting line up from 2009 and have a young but talented rotation at the top in Clayton Kershaw, a hard throwing lefty, and Chad Billingsley. They just need the back end of the rotation to be slightly better than average and they win the division. The biggest thing the Dodgers did in the off season was to re-formulate their bench and they did so by signing free agents Reed Johnson, Jamey Carroll and veteran Brian Giles.
Key Players: Andre Ethier CF; Matt Kemp RF; Russell Martin C; Manny Ramirez LF; Clayton Kershaw SP; Chad Billingsley SP
MVP Candidate: Andre Ethier CF
Cy Young Candidate: Clayton Kershaw SP
ROY Candidate: None
Key Additions: Reed Johnson OF (FA-Chi); Jamey Carroll IF (FA-Cle); Russ Ortiz SP (FA-Hou); Brian Giles OF (FA-SD)
Possible lineup: Furcal SS; Belliard 2B; Ethier CF; Ramirez LF; Kemp RF; Blake 3B; Loney 1B; Martin C
Possible rotation: Kershaw; Billingsley; Kuroda; Padilla; Ortiz

2. Arizona – Manager: A.J. Hinch (2nd year)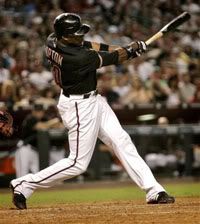 The Arizona Diamondbacks are my pick for second place in the division. They reworked the middle of the rotation with trades for Edwin Jackson and Ian Kennedy and acquired a new right side of the infield through free agency by grabbing Adam LaRoche and Kelly Johnson. The lineup is powered by up and coming superstar RF Justin Upton, the younger brother of Tampa Bay's B.J. Upton, who should contend for MVP if the D-Backs find themselves in the playoff chase.
Key Players: Justin Upton RF; Mark Reynolds 3B; Conor Jackson LF; Chris Young CF
MVP Candidate: Justin Upton RF
Cy Young Candidate: Dan Haren SP
ROY Candidate: None
Key Additions: Adam LaRoche 1B (FA-Atl); Kelly Johnson 2B (FA-Atl); Edwin Jackson SP (Trade-Det); Ian Kennedy SP (Trade-NYY); Aaron Heilman RP (Trade-Chi)
Possible lineup: Drew SS; Johnson 2B; Upton RF; Reynolds 3B; LaRoche 1B; Jackson LF; Montero C; Young CF
Possible rotation: Haren; Webb; Jackson; Kennedy; Buckner

3. Colorado – Manager: Jim Tracy (2nd year/9th overall)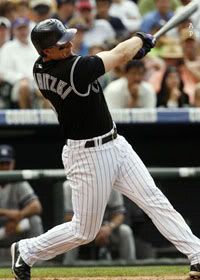 Last seasons comeback kids, the Colorado Rockies, won't get back to the post season and will finish 3rd in the West. The lineup doesn't scare you and the rotation needs Aaron Cook and Jeff Francis to have great seasons and I just don't see it. They didn't seem to do much to improve over the winter where Arizona and LA did.
Key Players: Troy Tulowitzki SS; Dexter Fowler CF; Eric Young Jr LF; Aaron Cook SP; Jeff Francis SP
MVP Candidate: None
Cy Young Candidate: None
ROY Candidate: Eric Young Jr LF
Key Additions: Melvin Mora IF (FA-Bal); Eric Young LF (Rookie); Miguel Olivo C (FA-KC); Justin Speier RP (FA-LAA);
Possible lineup: Fowler CF; Barmes 2B; Helton 1B; Tulowitzki SS; Hawpe RF; Stewart 3B; Iannetta C; Young Jr LF
Possible rotation: Jimenez; Cook; Francis; De La Rosa; Hammel

4. San Francisco – Manager: Bruce Bochy (4th year/16th overall)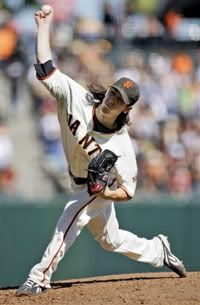 Okay so you got back-to-back Cy Young winner Tim Lincecum and you have Matt Cain behind him but you're counting on too much from Barry Zito, rookie Madison Bumgarner and Jonathan Sanchez, who threw a no-no last season in a replacement start, to get you into the race. The lineup will have key contributions from Adam Rowand, Pablo Sandoval and Aubrey Huff but I just don't see the Giants competing without a big power bat in the everyday lineup.
Key Players: Pablo Sandoval 3B; Buster Posey C; Aaron Rowand CF; Aubrey Huff 1B; Matt Cain SP; Brian Wilson RP
MVP Candidate: None
Cy Young Candidate: Tim Lincecum SP
ROY Candidate: Buster Posey C and Madison Bumgarner SP
Key Additions: Aubrey Huff 1B (FA-Det); Mark DeRosa LF (FA-Stl); Buster Posey C (Rookie); Madison Bumgarner SP (Rookie)
Possible lineup: Rowand CF; Renteria SS; Sandoval 3B; Huff 1B; Sanchez 2B; Molina C; DeRosa LF; Schierholtz RF
Possible rotation: Lincecum; Cain; Zito; Bumgarner; Sanchez

5. San Diego – Manager: Bud Black (4th year)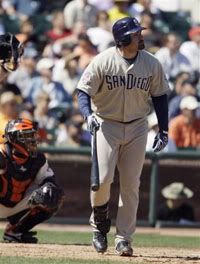 The San Diego Padres were dreadful last season and will be again in 2010. Pads fans should enjoy Adrian Gonzalez while he's there because come the July trade deadline he will be one of the top commodities on the trade market and look for the Boston Red Sox to come calling offering some prime chips from their farm system. Young players Chase Headley, Tony Gwynn Jr and Kyle Blanks will get plenty of time to grow and learn for upcoming seasons.
Key Players: Adrian Gonzalez 1B; Chase Headley 3B; Tony Gwynn Jr CF; Chris Young SP
MVP Candidate: None
Cy Young Candidate: None
ROY Candidate: None
Key Additions: Yorvit Torrealba C (FA-Col); Jerry Hairston Jr (Trade-Oak); Radhames Liz RP (Waivers-Bal); Jon Garland SP (FA-LAD)
Possible lineup: Cabrera SS; Eckstein 2B; Gonzalez 1B; Headley 3B; Hundley C; Gwynn Jr CF; Blanks LF; Venable RF
Possible rotation: Young; Garland Correia; Richard; Latos
——————————————————————–
Tomorrow: The American League West