Welcome to the gigantic SOX & Dawgs 2010 MLB preview.  Over the next week you will get a team by team look at its key players, new faces, their potential MVP, Cy Young and Rookie of the Year candidates, their possible starting lineup and rotation as well as a quick summary.
This preview was sculpted over a nearly seven week period in January and February with some mild tweaking as we went along prior to publication.  It comes from a culmination of reading so many baseball magazines, periodicals, articles and websites that in some cases I may know a team better that its own management.
Yesterday we looked at the AL Central, Sunday was the NL West, Monday was the AL West, Tuesday we previewed the NL Central and today it's the NL East.
National League East
1. Philadelphia – Manager: Charlie Manuel (6th year/9th overall)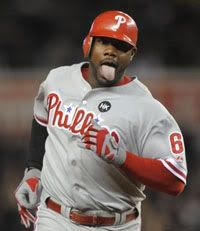 The Philadelphia Phillies will remain the class of the NL East in 2010 as they look to get to their third World Series in a row under Charlie Manuel.  Does anyone remember when they were ready to run Charlie out of town after the 2007 season and in early 2008? It's amazing what a good playoff run can do for you as a manager. But face it the reason his seat was hot was because of all the talent on this team.  Each and evvery season you have three potential MVPs and two Cy Young candidates.  The Phils made the biggest splash of the winter when they pulled off the blockbuster multi-team trade to get ace Roy Halladay from Toronto. That one deal once again made Philly the team to beat in not just the East but the entire National League. The rotation is solid 1 through 5, the lineup is deep and if closer Brad Lidge reverts back to 2008 look out.
Key Players: Jimmy Rollins SS; Chase Utley 2B; Ryan Howard 1B; Jayson Werth RF; Cole Hamels SP; Brad Lidge RP
MVP Candidate: Chase Utley 2B and Ryan Howard 1B
Cy Young Candidate: Roy Halladay
ROY Candidate: None
Key Additions: Roy Halladay SP (Trade-Tor); Placido Polanco 3B (FA-Det); Brian Schneider C (FA-Was)
Possible lineup: Rollins SS; Polanco 3B; Utley 2B; Howard 1B; Werth RF; Victorino CF; Ibanez LF; Ruiz C
Possible rotation: Halladay, Hamels; Blanton; Happ; Moyer

2. Atlanta – Manager: Bobby Cox (21st year/29th overall)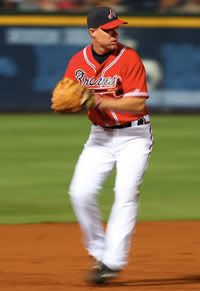 The Atlanta Braves know two things.  That Bobby Cox will guide them any tough times and that good pitching wins big games. Scroll down a bit and look at the starting rotation.  It is not only good enought to compete with Philly's starting five but if the Phils falter the Braves are good enough to over take them. If Philadelphia sticks to business they win but Atlanta is grabbing the wild card.  The Braves added a right handed power hitter in Troy Glaus who moves to 1B, a proven closer in Billy Wagner and a solid setup man in Takahi Saito. They also acquired OF Melky Cabrera from the Yankees in a trade and he should split time with Matt Diaz in left as ROY candidate Jason Heyward heads to the bigs.  The 20 year old outfielder is said to be the best prospect in all of baseball and if they put him in the lineup between Chipper Jones and Glaus he will get a ton of pitches to hit. This is Cox's last year so the Braves players want to send him out with a shot at another ring and on paper they've got the second best team in the league and may very well do it.
Key Players: Brian McCann C; Chipper Jones 3B; Troy Glaus 1B; Tim Hudson SP; Billy Wagner RP
MVP Candidate: Brian McCann
Cy Young Candidate: Jair Jurrjens SP
ROY Candidate: Jason Heyward OF
Key Additions: Troy Glaus 1B (FA-StL); Billy Wagner RP (FA-Bos); Melky Cabrera LF (Trade – NYY); Takashi Saito RP (FA-Bos); Jason Heyward OF (Rookie)
Possible lineup: McClouth CF; Prado 2B; McCann C; Jones 3B; Heyward RF; Glaus 1B; Diaz/Cabrera LF; Escobar SS
Possible rotation: Jurrjens; Hanson; Lowe; Hudson; Kawakami

3. Florida – Manager: Fredi Gonzalez (4th year)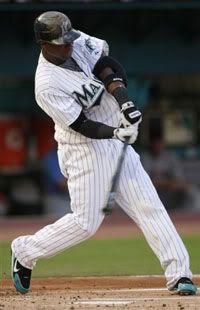 The Marlins, who will finally get a new ballpark in 2012, will hang in most of the season before Philadelphia and Atlanta separate from the pack. 2009 ROY Chris Coghlan will once again lead off for a good Marlins lineup that could feature another ROY candidate in 1B Logan Morrison.  Josh Johnson, with new contract in tow, will anchor the staff that has five good live young arms.  Should the Marlins fall out early look for the team to move 2B Dan Uggla prior to the July trade deadline.
Key Players: Hanley Ramirez SS; Chris Coghlan LF; Cody Ross RF; Dan Uggla 2B; Josh Johnson SP
MVP Candidate: Hanley Ramirez SS
Cy Young Candidate: Josh Johnson SP
ROY Candidate: Logan Morrison 1B
Key Additions: Logan Morrison 1B (Rookie); Seth McClung RP (FA-Mil)
Possible lineup: Coghlan LF; Bonifacio 3B; Uggla 2B; Ramirez SS; Ross RF; Morrison 1B; Baker C; Maybin CF
Possible rotation: Johnson; Sanchez; Volstad; Nolasco; West
4. New York – Manager: Jerry Manuel (3rd year/9th overall)
The Mets are lucky the Washington Nationals are in their division it's the only reason they won't finish in the basement in 2010. Despite signing LF Jason Bay to a 4 year contract for $66 million GM Omar Minaya did little to help the team losing out on a couple of solid backstops and a few starting pitchers. They even told free agent C Yorvit Torreabla they didn't have the $1.4 million he wanted in a one year contract and watched him sign elsewhere. Face it Mets fans the rotation after Santana is iffy at best, the catching is poor, there's not a lot of power in the lineup after 3B David Wright and Bay and they face the prospect of not having CF Carlos Beltran until mid-May or maybe later. This is the last year for both Minaya and manager Jerry Manuel it's time for the Wilpons to clean house and start over.
Key Players: Jason Bay LF; David Wright 3B; Jose Reyes SS; Johan Santana SP;
MVP Candidate: None
Cy Young Candidate: None
ROY Candidate: None
Key Additions: Jason Bay LF (FA-Bos); Gary Matthews Jr CF (Trade-LAA); Rod Barajas C (FA-Tor)
Possible lineup: Reyes SS; Castillo 2B; Bay LF; Wright 3B; Matthews Jr CF; Francouer RF; Murphy 1B; Blanco/Barajas C
Possible rotation: Santana; Maine; Pelfrey; Neise; Fogg

5. Washington – Manager: Jim Riggelman (2nd year/10th overall)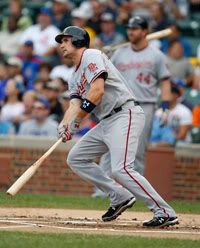 Jim Riggleman? Really? Well if the Nats want to be taken serious giving the job to Riggleman wasn't the way to do it especially when a guy like Eric Wedge, who was fired in Cleveland at seasons end was available. I give them credit though they did sign Stephen Strasburg the Number 1 overall pick in the 2009 draft and also have a very good young player in SS Ian Desmond waiting to make a splash. Throw in other youngsters like the Zimmerman(n)'s, Ryan at 3B and SP Jordan, CF Nyjer Morgan and veteran pick ups in SP Jason Marquis, C Ivan Rodriguez and 2B Adam Kennedy to help the kids along and they hope that former Yankee SP Chien-Ming Wang can return to his form of 2006 and 2007 when he won 19 games in each season in the Bronx. Talent wise the Nationals are coming around, I'm just not sure that Riggleman in the guy to take them out of the basement but if the Mets play poorly the Nats could find themselves in 4th place at seasons end.
Key Players: Ryan Zimmerman 3B; Nyjer Morgan CF; Stephen Strasburg SP; Chien-Ming Wang SP; Jason Marquis SP
MVP Candidate: None
Cy Young Candidate: None
ROY Candidate: Stephen Strasburg SP and Ian Desmond SS
Key Additions: Adam Kennedy 2B (FA-Oak); Ivan Rodriguez (FA-Tex); Jason Marquis SP (FA-Chi); Chien-Ming Wang SP (FA-NYY); Stephen Strasburg SP (Rookie); Ian Desmond SS (Rookie)
Possible lineup: Morgan CF; Kennedy 2B; R. Zimmerman 3B; Dunn 1B; Dukes RF; Rodriguez C; Willingham LF; Desmond SS
Possible rotation: Marquis; Lannan; Wang; Strasburg; J.Zimmermann
——————————————————————–
Tomorrow: The AL East