Welcome to the Gigantic Sox and Dawgs 2013 MLB preview. Over the next week you will get a team by team look at its key players, new faces, their potential MVP, Cy Young and Rookie of the Year candidates, their possible starting lineup and rotation as well as a quick summary.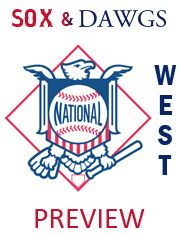 We will also select a MVP candidate and Cy Young candidate for each team no matter what their predicted team outcome is.
This preview was sculpted over the off season with some mild tweaking as we went along prior to publication. It comes from a culmination of reading many hours of baseball research.
I hope you enjoy this look at the upcoming season. I know everyone will not agree with me and that's fine put it in the comments or hit me up on Twitter or via email.
It was a lot of work but a lot of fun compiling this preview and starting today we will take a look at the National League West. The rest of the schedule follows with a different division being profiled each day and the final day will bring you the winners, award selections and a list of managers who have a lot to prove in 2013 if they want to be on the bench in 2014.
Tomorrow you will get the American League West preview followed by the NL Central, AL Central, NL East and AL East.
To continue reading, click on the read more button below if you're on the home page.
National League West
The National League West will once again see the Giants take the division flag come years end but will also see the Dodgers contend for the division title. It will be the Giants pitching that will overcome the Dodgers hitting. The Diamondbacks should also be in the picture at least until August while the Padres and Rockies expect to be on the outside looking in.
1. San Francisco – Manager Bruce Bochy (7th year/19th overall)
When you win two World Series titles in a three year span you should be the favorite for your division and that's where I have the Giants. Buster Posey may be the game's best player but once again after him there is not a lot of pop in the line up although it's possibly better than last year. It will be the defense and the outstanding pitching, both the starters and bullpen, that propels them. What has set them aside the last few years is the late season moves always seem to work out for the best even though they may have overpaid to retain two of those late season acquisitions in CF Angel Pagan and 2B Marco Scutaro.
Home Field: AT&T Park
Key Players: C Buster Posey; RF Hunter Pence; SS Brandon Crawford; SP Matt Cain; RP Sergio Romo
MVP Candidate: C Buster Posey
Cy Young Candidate: P Matt Cain
ROY Candidate: 1B/3B Conor Gillaspie
Key Additions: OF Andres Torres; RP Sandy Rosario; RP Chad Gaudin
Possible lineup: Pagan CF; Scutaro 2B; Sandoval 3B; Posey C; Pence RF; Belt 1B; Crawford SS; Blanco LF
Possible rotation: Cain; Bumgarner; Lincecum; Volgelsong; Zito

2. Los Angeles – Manager Don Mattingly (3rd year)
New owners, the Guggenheim Group, came in with deep pockets and showed they weren't afraid to spend money and now they have baseball's largest payroll at this time. They have a good lineup but could use a better option at third other than Luis Cruz or Juan Uribe. Even though they lack a true closer and could possibly use an additional situational lefty in the pen it is expected that they will seriously challenge the Giants for the division.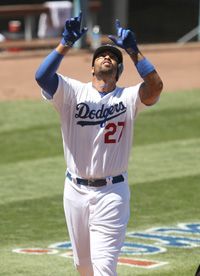 Home Field: Dodger Stadium
Key Players: 1B Adrian Gonzalez; SS Hanley Ramirez; CF Matt Kemp; P Clayton Kershaw; P Chad Billingsley
MVP Candidate: 1B Adrian Gonzalez; CF Matt Kemp
Cy Young Candidate: P Clayton Kershaw
ROY Candidate: P Hyun-Jin Ryu
Key Additions: 2B/OF Skip Schumaker; P Zack Greinke; P Hyun-Jin Ryu; RP J.P. Howell; RP Rob Rasmussen; C Tim Federowicz
Possible lineup: Crawford* LF; M. Ellis 2B; Gonzalez 1B; Ramirez SS; Kemp CF; Ethier RF; Cruz 3B; A.J. Ellis C;
*Crawford may not be ready to play until early May after Tommy John surgery. If that's the case flip his spot with Either and Hairston will LF.
Possible rotation: Kershaw; Greinke; Beckett; Ryu; Harang**
**Billingsley is up in the air for 2013 after an elbow injury and Harang would be a candidate for his spot.

3. Arizona – Manager Kirk Gibson (4th year)
The Arizona Diamondbacks are looking for some consistency they had too many mental lapses in 2012 and it cost them. After making the playoffs in 2011 they failed to get back to the post season even with the additional wild card team in each league. They have a young talented starting rotation and they did some overhauling of the roster again which included dealing Justin Upton to Atlanta but I don't see them beating out the Giants or Dodgers for the division but they could hang in there for a wild card berth. Look for rookie Adam Eaton to be an impact player on offense and defense.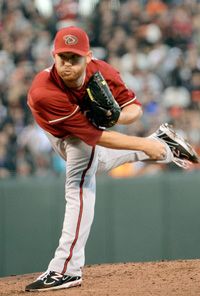 Home Field: Chase Field
Key Players: 3B Martin Prado; 1B Paul Goldschmidt; CF Adam Eaton; P Ian Kennedy; P J.J. Putz
MVP Candidate: 3B Martin Prado
Cy Young Candidate: P Ian Kennedy
ROY Candidate: CF Adam Eaton and P Tyler Skaggs
Key Additions: OF Cody Ross; 3B Eric Chavez; P Brandon McCarthy; SS Cliff Pennington; RP Heath Bell; 1B/OF Eric Hinske; 3B Martin Prado; P Randall Delgado; RP Matt Reynolds
Possible lineup: Eaton CF; Hill 2B; M. Montero C; Kubel LF; Goldschmidt 1B; Prado 3B; Ross RF; Pennington SS
Possible rotation: Kennedy; McCarthy; Cahill; Miley; Delgado
4. Colorado – Manager Walt Weiss (1st year)
The Rockies floundered in 2012 after a major overhaul of the major league roster and that cost some people their jobs including manager Jim Tracy who has been replaced by Walt Weiss who was coaching high school baseball and Colorado only gave him only a one-year contract. They're going to have to fight to stay out of the cellar in 2013, they should score some runs especially at Coors Field but it is the pitching that will doom them. The starters have a history of injuries and giving up tons of runs, the bullpen was overworked in 2012 and that needs to change.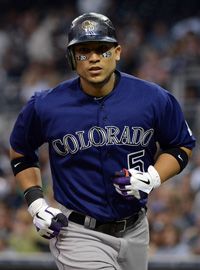 Home Field: Coors Field
Key Players: LF Carlos Gonzalez; SS Troy Tulowitzki; RF Michael Cuddyer; P Jorge De La Rosa; P Rafael Betancourt
MVP Candidate: LF Carlos Gonzalez
Cy Young Candidate: P Jorge De La Rosa
ROY Candidate: RP Daniel Rosenbaum
Key Additions: Mgr Walt Weiss; RP Daniel Rosenbaum; 3B Ryan Wheeler; OF Ken Williams; RP Wilton Lopez
Possible lineup: Fowler CF; Rutledge 2B; Gonzalez LF; Tulowitzki SS; Cuddyer RF; Helton 1B; Rosario C; Nelson 3B
Possible rotation: De La Rosa; Chacin; Pomerantz; Nicasio; Francis
5. San Diego – Manager Bud Black (7th year)
The Padres should once again struggle to get to .500 this season and they'll have trouble scoring runs even with the fences at Petco moved in. Any success that San Diego has will most likely come if the pitching holds up but the staff as a whole lack depth due to injuries and resources. They're defense is poor except on the infield corners where they are anchored by Chase Headley and Yonder Alonso. They will miss C Yasmani Grandal who is suspended 50 games for PEDs and was expected to play a part this season.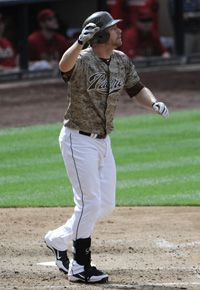 Home Field: Petco Park
Key Players: 3B Chase Headley; 1B Yonder Alonso; LF Carlos Quentin; P Edinson Volquez; RP Huston Street
MVP Candidate: RF Carlos Quentin
Cy Young Candidate: P Edinson Volquez
ROY Candidate: P Casey Kelly
Key Additions: P Jason Marquis; P Tyson Ross; RP Wilfredo Boscan; IF Cody Ransom; P Freddy Garcia
Possible lineup: Cabrera SS; Forsythe 2B; Headley 3B; Quentin LF; Alonso 1B; Denorfia RF; Maybin CF; Hudley C
Possible rotation: Volquez; Richard; Marquis; Stults; T. Ross
Tomorrow: The American League West
Follow Steve on Twitter @SteveMichaelsII
photo credits: getty images, getty images, getty images, getty images, getty images