Welcome to the Gigantic Sox and Dawgs 2013 MLB preview. Over the next few days you will get a team by team look at its key players, new faces, their potential MVP, Cy Young and Rookie of the Year candidates, their possible starting lineup and rotation as well as a quick summary.
We will also select a MVP candidate and Cy Young candidate for each team no matter what their predicted team outcome is.
This preview was sculpted over the off season with some mild tweaking as we went along prior to publication. It comes from a culmination of reading many hours of baseball research.
I hope you enjoy this look at the upcoming season. I know everyone will not agree with me and that's fine put it in the comments or hit me up on Twitter or via email. I can assure you I'll most likely have an argument for each and every objection that you could possibly raise.
Yesterday we looked at the AL West and we started on Sunday with the NL West, today it's the NL Central.
To continue reading, click on the read more button below if you're on the home page.
National League Central
The NL Central after many years of belonging to St. Louis with an occasional take over by Milwaukee or Chicago looks to be going Cincinnati's the next few years. St. Louis will always compete for the top of the division as well as a wild card spot and now Pittsburgh is trying to take the next step and move up some as Milwaukee starts to slide. It may be a few years yet before the Cubs once again return to playoff baseball and fans on the South Side will need to remain patient and believe in the process.

1. Cincinnati – Manager: Dusty Baker (6th year/20th overall)
The Reds are ready to be a team that is at or near the top of the NL Central every year for the next several years. They have a solid core of young players, good veteran's and a staff that has a style that fits well with the make up of the club. They do have a big bullpen change in that the plan is to move Aroldis Chapman from the closer spot into the rotation and former Dodgers closer Jonathan Broxton will handle the back end of games. They have a strong lineup especially 1-6, deep rotation and are solid defensively with no noticeable weaknesses other than they could use an additional utility infielder and a lefty reliever.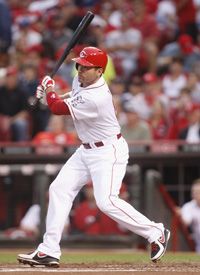 Home Field: Great American Ball Park
Key Players: 1B Joey Votto; 2B Brandon Phillips; RF Jay Bruce; P Johnny Cueto; RP Jonathan Broxton
MVP Candidate: 1B Joey Votto
Cy Young Candidate: P Johnny Cueto
ROY Candidate: OF Billy Hamilton
Key Additions: CF Shin-Soo Choo; 3B/1B Jack Hannahan; IF Jason Donald
Possible lineup: Choo CF; Phillips 2B; Votto 1B; Bruce RF; Ludwick LF; Frazier 3B; Hannigan C; Cozart SS
Possible rotation: Cueto; Latos; Arroyo; Bailey; Chapman
2. St. Louis – Manager: Mike Matheny (2nd year)
The Cardinals got back to the post season in 2012 as a wildcard and then dispatched Atlanta and Washington before losing to San Francisco in the NLCS. It was probably more than they could have asked for after getting a new manager and losing 1B Albert Pujols in free agency. This year the Cards will have a chance to get back to the post season again but are a bit weak in the middle infield as Rafael Furcal is aging and Daniel Descalso plays better as a utility infield not a starter, Pete Kozma could see sometime at short. OF Carlos Beltran who replaced Pujols is older and has knee issues that could hurt his production. But the pitching staff throws strikes and the entire staff has a good BB:K ratio.
Home Field: Busch Stadium
Key Players: RF Carlos Beltran; LF Matt Holliday; 3B David Freese; P Adam Wainwright; P Chris Carpenter
MVP Candidate: LF Matt Holliday
Cy Young Candidate: P Adam Wainright
ROY Candidate: OF Oscar Tavares; P Joe Kelly
Key Additions: 2B/SS Ronny Cedeno; IF/OF Ty Wiggington; RP Randy Choate
Possible lineup: Furcal SS*; Jay CF; Holliday LF; Beltran RF; Molina C; Freese 3B; Craig 1B; Descalso 2B
*Furcal may miss start of season with injury.
Alternate lineup: Jay CF; Descalso 2B; Holliday LF; Beltran RF; Molina C; Freese 3B; Craig 1B; Kozma SS
Possible rotation: Wainwright; Lynn; Garcia*; Westbrook; Miller
*Garcia is questionable for start of season with shoulder injury. Joe Kelly could take the spot in the rotation.

3. Pittsburgh – Manager: Clint Hurdle (3rd year/11th overall)
For the second season in a row Pittsburgh had a baseball resurgence and played good baseball for most of the season only to fade at the end. They had their 20th losing season in a row. I see more of the same this year for the Buco's as they compete before falling out of contention for a playoff spot but the may climb as high as 3rd in the Central. They have a good 1-2 veteran combo in the rotation and one of the stars of the game in Andrew McCutchen but they need more offense, to play better defensively and be stronger come August and September where they are 38-77 the last two seasons.
Home Field: PNC Park
Key Players: CF Andrew McCutchen; 1B Garrett Jones; C Russell Martin; P A.J. Burnett; RP Jason Grilli
MVP Candidate: CF Andrew McCutchen
Cy Young Candidate: P A.J. Burnett
ROY Candidate: P Gerrit Cole
Key Additions: C Russell Martin; RP Mark Melancon; RP Zach Thornton; P Francisco Liriano; P Vin Mazzaro
Possible lineup: Marte LF; Walker 2B; McCutcheon CF; Jones 1B; Alvarez 3B; Martin C; Snyder RF; Barmes SS
Possible rotation: Burnett; W. Rodriguez; McDonald; Karstens; Liriano
4. Milwaukee – Manager: Ron Roenicke (3rd year)
The Brewers are rebuilding and will most likely find themselves in a battle for 3rd in the Central with the up and coming Pirates. It will be hard for the Brew Crew as they will miss 1B Corey Hart for at least four months as well as his replacement Mat Gamel who tore his ACL and is out for the season. Also starter Chris Narveson may not be ready to start the season after shoulder surgery. The pitching lacks depth behind Yovani Gallardo and John Axford and the less experienced pitchers will need to assume larger roles if they are to compete.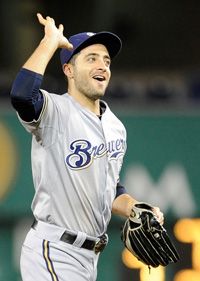 Home Field: Miller Park
Key Players: LF Ryan Braun; 3B Aramis Ramirez; CF Carlos Gomez; P Yovani Gallardo
MVP Candidate: LF Ryan Braun
Cy Young Candidate: P Yovani Gallardo
ROY Candidate: P Wily Peralta; 1B Hunter Morris
Key Additions: RP Burke Badenhop; P Shaun Marcum; RP Mike Gonzalez; RP Tom Gorzelanny; 1B Hunter Morris
Possible lineup: Aoki RF; Weeks 2B; Braun LF; Ramirez 3B; Lucroy C; Gomez CF; Morris 1B; Segura SS
Possible rotation: Gallardo; Estrada; Fiers; Narveson*; Peralta
*Narveson had shoulder surgery in May 2012 and may miss start of season. Mark Rogers and Josh Stinson are candidates for the rotation spot.

5. Chicago – Manager: Dale Sveum (2nd year)
Year Two of the "Theo Epstein Project" (that should be the name of his band) and now without Houston in the division any longer there is no one but themselves to keep the Cubs out of the basement. Epstein along with GM Jed Hoyer are working feverishly to build the farm system as they both know that is what will help them down the road. They hope that the road will eventually take them to the franchise's first World Series title since 1908. They've stopped handing out crazy money and bad free agent contracts. While the farm system still lacks premium prospects they have a good MLB core of P Jeff Samardzija, 1B Anthony Rizzo, 2B Darwin Barney and SS Starlin Castro. The bullpen is shaky especially with Carlos Marmol as the closer, the rotation is inconsistent and they lack a true CF.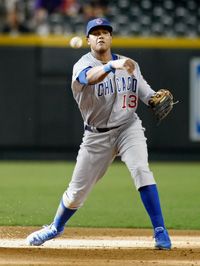 Home Field: Wrigley Field
Key Players: SS Starlin Castro; 1B Anthony Rizzo; 2B Darwin Barney; SP Jeff Samardzija; SP Matt Garza
MVP Candidate: SS Starlin Castro
Cy Young Candidate: P Matt Garza
ROY Candidate: RP Kyuji Fujikawa
Key Additions: SP Edwin Jackson; SP Scott Baker; C Dioner Navarro; OF Nate Schierholtz; SP Scott Feldman; RP Kyuji Fujikawa
Possible lineup: DeJesus CF; Scheirholz RF; Rizzo 1B; Soriano LF; Castro SS; Stewart 3B; Castillo C; Barney 2B
Possible rotation: Samardzija; Garza; Jackson; Feldman; Baker
Tomorrow: the AL Central.
Follow Steve on Twitter @SteveMichaelsII
photo credits: getty images, getty images, getty images, getty images, getty images