Welcome to the Gigantic Sox and Dawgs 2013 MLB preview. Over the next few days you will get a team by team look at its key players, new faces, their potential MVP, Cy Young and Rookie of the Year candidates, their possible starting lineup and rotation as well as a quick summary.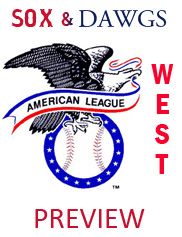 We will also select a MVP candidate and Cy Young candidate for each team no matter what their predicted team outcome is.
This preview was sculpted over the off season with some mild tweaking as we went along prior to publication. It comes from a culmination of reading many hours of baseball research.
I hope you enjoy this look at the upcoming season. I know everyone will not agree with me and that's fine put it in the comments or hit me up on Twitter or via email. I can assure you I'll most likely have an argument for each and every objection that you could possibly raise.
Yesterday we looked at the NL West, today it's the AL West.
To continue reading, click on the read more button below if you're on the home page.
American League West
The West division in the American League hasn't seen the Angels contend in the last few seasons but 2013 seems to be a year where they can win the division and get deep into the post season. Oakland should be able to build on a wonderful 2012, while this year is the year the Rangers continue to slide and do not make the playoffs. Good news for Seattle is they won't finish last this year that's because Houston switches leagues and comes to AL West.
1. Los Angeles – Manager Mike Scioscia (14th year)
The Angels once again jumped into the free agent market when owner Artie Moreno got itchy and decided he wanted to be involved. Last year it was for 1B Albert Pujols, this time around Moreno went above his baseball executives and came back with OF Josh Hamilton. Los Angeles was looking for someone to compliment the middle of the order and now they have Hamilton who will certainly replace Torii Hunter, who signed with Detroit, in the field and at the plate. The starting pitching is a bit iffy after Jared Weaver especially with C.J. Wilson coming off surgery on his elbow. The back of the rotation needs to be good Joe Blanton and Jason Vargas are only stop gap measures and Tommy Hanson is in his first AL season. Bullpen is a bit of concern with Ryan Madson returning post TJS but a solid 2-3-4-5 in the lineup, good defense and smart baseball will carry them.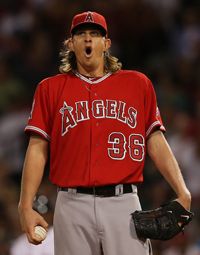 Home Field: Angel Stadium
Key Players: 1B Albert Pujols; OF Mike Trout, OF Josh Hamilton; P Jered Weaver; RP Ryan Madson
MVP Candidate: 1B Albert Pujols; RF Josh Hamilton; LF Mike Trout
Cy Young Candidate: P Jered Weaver
ROY Candidate: 2B/SS Andrew Romine
Key Additions: OF Josh Hamilton; P Tommy Hanson; RP Ryan Madson*; RP Jason Vargas; P Joe Blanton; INF Bill Hall
Possible lineup: Trout LF; Aybar SS; Pujols 1B; Hamilton RF; Trumbo DH; Kendrick 2B; Callaspo 3B; Ianetta C; Bourjos CF
Possible rotation: Weaver; Wilson; Hanson, Blanton, Vargas
*Closer Ryan Madson status is uncertain for the start of season and may start on DL. In this case Ernesto Frieri would close games until his return.
2. Oakland – Manager Bob Melvin (3rd year/10th overall)
Last year it looked like Billy Beane was trading away the entire team and all he did was rebuild them into the AL West Champions for 2012. The starting pitching is young and solid as is the bullpen of no-names. The questions are can Yoenis Cespedes continue to improve in 2013 and can he get the protection he needs in the lineup from Josh Reddick and Brandon Moss who need to duplicate 2012 for this team to get back to the playoffs.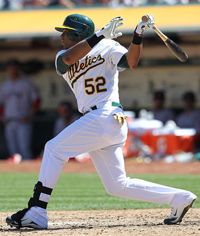 Home Field: O.com Coliseum
Key Players: RF Josh Reddick; LF Yoenis Cespedes; SS Hiroyuki Nakajima; P Jarrod Parker; P Brett Anderson
MVP Candidate: LF Yoenis Cespedes
Cy Young Candidate: P Brett Anderson
ROY Candidate: SS Hiroyuki Nakajima, P Dan Straily
Key Additions: SS Hiroyuki Nakajima; OF Chris Young; IF Andy Parrino; 3B Jefry Marte; C John Jaso; SS Jed Lowrie; RP Fernando Rodriguez; RP Hideki Okajima
Possible lineup: Crisp CF; Sizemore 2B; Cespedes LF; Moss 1B; Reddick RF; Donaldson 3B; Smith DH; Jaso C; Nakajima SS
Possible rotation*: Anderson; Parker; Milone; Griffin; Straily
* Expect one of the back end starters to lose his spot once Bartolo Colon returns from his 50-game PED suspension.

3. Texas – Manager Ron Washington (7th year)
The Rangers made the playoffs for the third year in a row but barely and that streak should end this season. After going to the World Series in 2010 and 2011 as AL West Champs they got into the tournament in 2012 as one of the two AL Wild Card teams and were promptly eliminated at home by Baltimore. They have a good top third of a lineup but were weakened in the middle when Josh Hamilton left for Los Angeles. Yu Darvish needs to build on 2102 as the starting pitching is only average and the bullpen should be a raging concern other than closer Joe Nathan who is always solid.
Home Field: Rangers Ballpark at Arlington
Key Players: 2B Ian Kinsler; 3B Adrian Beltre; DH/1B/OF Lance Berkman; P Yu Darvish; RP Joe Nathan
MVP Candidate: Adrian Beltre
Cy Young Candidate: P Yu Darvish
ROY Candidate: 1B/3B Mike Olt; CF Leonys Martin; SS Jurickson Profar
Key Additions: DH/1B/OF Lance Berkman; C A.J. Pierzynski; RP Josh Lindblom; P Jason Frasor; RP Joakim Soria; 1B/3B Mike Olt; SS Jurickson Profar; CF Leonys Martin
Possible lineup: Kinsler 2B; Andrus SS; Berkman DH; Beltre 3B; Cruz RF; Murphy LF; Pierszynski C; Moreland 1B; Martin CF
Possible rotation: Darvish; Holland; Harrison; Ogando; Perez

4. Seattle – Manager Eric Wedge (3rd year/10th overall)
The Mariners have to be grateful that the Houston Astros have moved from the NL Central to the AL West because it should give them another 10-12 wins and keep them out of the basement. Mariners' fans badly want some new ownership to give the franchise a boost much like Paul Allen did for the Seahawks. In order to generate more offense the team has also moved the fences in at Safeco Field. Until they show some of the big name free agents they are serious and want contend on a regular basis they will continue to languish at or near the bottom of the AL West. Even with an elite starter in Felix Hernandez and closer Tom Wilhelmsen aren't enough to save them right now. They are solid defensively but the worry is that they won't score runs. Don't worry M's fans help is on the way through your farm system you may have the best Top 5 prospects in the game.
Home Field: Safeco Field
Key Players: CF Franklin Gutierrez; 1B Kendrys Morales; DH Jesus Montero; P Felix Hernandez; RP Tom Wilhelmsen
MVP Candidate: P Felix Hernandez
Cy Young Candidate: P Felix Hernandez
ROY Candidate: SP Erasmo Ramirez; C Mike Zunino; P Danny Hultzen
Key Additions: 1B Kendrys Morales; IN Robert Andino; OF/DH Jason Bay; LF Raul Ibanez; OF/1B Michael Morse; C Kelly Shoppach
Possible lineup: Ackley 2B;Gutierrez CF; Seager 3B; Morse LF; J. Montero DH; Morales 1B; C; Saunders RF; Shoppach C; Ryan SS
Possible rotation: Hernandez; Iwakuma; Beavan; Noesi; Ramirez

5. Houston – Manager Bo Porter (1st year)
The Astros changed uniforms and moved to AL West for 2013, there's also a new manager and new league to lose a ton of games in this year as the 'Stros will now be the whipping boys for the American League. It's not going to be pretty but then again it hasn't been for the last 10 years in Houston. The team has lost 213 games the last two seasons and you can look for another 100 losses this year. The starting pitching has little MLB experience and they are very weak across the board in all phases, offense, defense, pitching and on the bench.
Home Field: Minute Maid Park
Key Players: 2B Jose Altuve; LF J.D. Martinez; DH Carlos Pena; P Bud Norris; P Phil Humber
MVP Candidate: 2B Jose Altuve
Cy Young Candidate: P Bud Norris
ROY Candidate: 3B Matt Dominguez; 1B/OF Jonathan Singleton
Key Additions: Mgr Bo Porter; DH Carlos Pena; OF Che-Hsuan Lin; RP Josh Fields; P Phil Humber; P Erik Bedard; OF Rick Ankiel; 1B Chris Carter; P Brad Peacock
Possible lineup: Altuve 2B; Greene SS; Carter 1B; Pena DH; Maxwell CF; J.D. Martinez LF; Castro C; F. Martinez RF; Domiguez 3B
Possible rotation: Norris; Harrell; Lyles; Humber; Bedard/Peacock
Tomorrow: The National League Central
Follow Steve on Twitter @SteveMichaelsII
photo credits: getty images, getty images, getty images, getty images, getty images