Welcome to the Gigantic SOX & Dawgs 2011 MLB preview. Over the next week you will get a team by team look at its key players, new faces, their potential MVP, Cy Young and Rookie of the Year candidates, their possible starting lineup and rotation as well as a quick summary.
This preview was sculpted over a nearly seven week period in the offseason with some mild tweaking as we went along prior to publication. It comes from a culmination of reading so many baseball magazines, periodicals, articles and websites that in some cases I may know a team better that its own management.
Yesterday we looked at the NL East, Sunday was the NL West, Monday was the AL West, Tuesday we previewed the NL Central, Wednesday we took a trip around the AL Central and today it's the AL East.
To continue reading, click on the read more button below if you're on the home page.
American League East

1. Boston – Manager: Terry Francona (8th year/11th overall)
Boston may have been the clear cut winner in the off season race to re-load. While Philadelphia grabbed SP Cliff Lee in a late hour backdoor free agent signing, Boston was up front and throwing cash around. First shot heard out of Boston was that they exercised DH David Ortiz option. Then on Dec 6 came the big bomb, they traded three highly regarded prospects to San Diego for 1B Adrian Gonzalez. But before Red Sox fans were done gushing over their new first baseman, five days later, Uncle Theo delivered another gift. Free Agent LF Carl Crawford. For once we will not have to watch this guy kill them 18 times a year. Then the Sox set out to re-work the bullpen signing RP's Matt Albers, Lenny DiNardo, Rich Hill, Andrew Miller, Dan Wheeler, Hideki Okajima and former ChiSox closer Bobby Jenks. This was one productive off season in Boston and Red Sox fans everywhere are hoping it brings them their third World Series title since 2004.
Key Players: LF Carl Crawford; 2B Dustin Pedroia; 1B Adrian Gonzalez; SP Josh Beckett; SP John Lackey; RP Jonathan Papelbon; 3B Kevin Youkilis
MVP Candidate: 1B Adrian Gonzalez and LF Carl Crawford
Cy Young Candidate: SP Jon Lester
ROY Candidate: None.
Key Additions: LF Carl Crawford (FA-TB); 1B Adrian Gonzalez (Trade-SD); RP Bobby Jenks (FA-CWS); RP Dan Wheeler (FA-TB); RP Matt Albers (FA-Bal); RP Dennys Reyes (FA-StL); SP/RP Alfredo Aceves (FA-NYY)
Possible lineup: Ellsbury CF; Pedroia 2B; Crawford LF; Gonzalez 1B; Youkilis3B; Ortiz DH; Drew RF; Saltalamacchia C; Scutaro SS
Possible rotation: Beckett; Lester; Lackey; Buchholz; Matsuzaka
2. New York – Manager: Joe Girardi (4thd year/5th overall)
The New York Yankees came up short last year losing in the ALCS to the Texas Rangers in six games. In the off season they were losers again as they put all their eggs into the Cliff Lee basket only to find out they had expired and stunk like sulfur. By the time they thought to look at Carl Crawford, he was gone as well, to the Boston Red Sox. By they time they really did anything they came away with P Mark Prior who hasn't pitched in the majors in 4 years; severely overpaid RP Rafael Soriano to be Mariano Rivera's set up guy, when in the past he closed games and last year led the AL with 45 saves for Tampa Bay. This was because Hal or Hank, who cares really, over stepped the GM Brian Cashman and signed the check. Then in need of a RH outfield bat they shun Manny Ramirez in order to sign a washed up Andruw Jones and C Russell Martin has questions about his hip. And hey let's not forget that SP Andy Pettitte retired and he was replaced by…Freddy Garcia. Then in an unprecedented act they pissed off FA SS Derek Jeter so much he actually bitched at his press conference and Boston drove up the years on Rivera's contract by making an offer. It could be a fun year in the Bronx, especially when they miss the playoffs. I know the Brothers Steinbrenner have dad's crazy gene it's just a matter of time before we see it.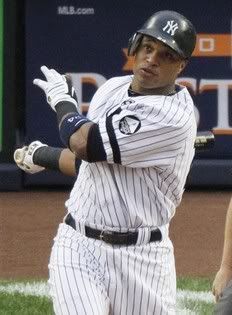 Key Players: 2B Robinson Cano; 1B Mark Teixeira; SP CC Sabathia; RP Mariano Rivera; 3B Alex Rodriguez
MVP Candidate: 1B Mark Teixeira and 3B Alex Rodriguez.
Cy Young Candidate: SP CC Sabathia.
ROY Candidate: None
Key Additions: C Russell Martin (FA-LAD); RP Rafael Soriano (FA-TB); OF Andruw Jones (FA-CWS); SP Freddy Garcia (FA-CWS); 3B Eric Chavez (FA-Oak); SP Bartolo Colon (FA-CWS 2009); RP Pedro Feliciano (FA-NYM)
Possible lineup: Jeter SS, Swisher RF; Rodriguez 3B; Teixeira1B; Cano 2B; Granderson CF; Posada DH; Martin C; Gardiner LF
Possible rotation: Sabathia; Hughes; Burnett; Nova; Garcia
3. Tampa Bay – Manager: Joe Maddon (6th year/8th overall)
The days of the Rays competing with Boston and New York might just be on hiatus for a bit. This past off season Tampa Bay lost a lot. They lost their 1B Carlos Pena; SS Jason Bartlett; LF Carl Crawford; Closer Rafael Soriano; RP Dan Wheeler and SP Matt Garza. They're hoping the late signings of a pair of DH/OF's in Manny Ramirez and Johnny Damon will help bridge the gap and that their young starting staff will mature quickly behind David Price. It may be too much to ask for the next year or two but they will be back as they have a loaded minor league system. Still they'll be good enough for third in the AL East.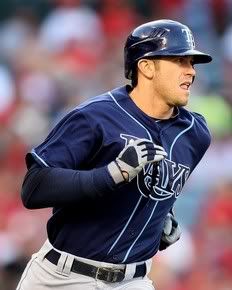 Key Players: 3B Evan Longoria; CF B.J. Upton; SP David Price; IF/OF Ben Zobrist; RP Jake McGee; LF Desmond Jennings.
MVP Candidate: 3B Evan Longoria
Cy Young Candidate: SP David Price
ROY Candidate: LF Desmond Jennings and SP Jeremy Hellickson
Key Additions: LF Desmond Jennings (Rookie); OF Johnny Damon (FA-Det); OF/DH Manny Ramirez (FA-CWS); RP Kyle Farnsworth (FA-Atl); 1B Casey Kotchman (FA-Sea); INF Felipe Lopez (FA-Bos); RP Joel Peralta (FA-Was)
Possible lineup: Damon LF; Upton CF; Zobrist 2B; Longoria 3B; Ramirez DH; Jaso C; Jennings RF; Kotchman 1B; Brignac SS
Possible rotation: Price; Sheilds; Davis; Niemann; Hellickson

4. Baltimore – Manager: Buck Showalter (2nd year/13th overall)
Last season after Buck Showalter took over the Orioles blossomed. This year they will look to build on that but, the fact of the matter is, the division they are in they will need to do more besides blossom. In any other division you'd see an improvement but when you compete against the three teams listed above this one you need a lot of help. But Showalter is a believer and he got former Cubs/Braves 1B Derrek Lee to come to Camden Yards as a free agent, they grabbed SS J.J. Hardy in a trade, signed free agent starter Justin Duchscherer plus they have two spectacular young outfielders, a fine young catcher and an up and coming starting rotation. Then as Spring Training approached they signed free agent DH Vladimir Guerrero to a one year deal. Things are looking better in Baltimore, the lineup is really solid, now if they can cultivate the pitching they can start to climb.
Key Players: 2B Brian Roberts; RF Nick Markakis; CF Adam Jones; C Matt Wieters; SP Brian Matusz; SP Jake Arrieta; 1B Derrek Lee; DH Vladimir Guerrero
MVP Candidate: 1B Derrek Lee and RF Nick Markakis
CyYoung Candidate: SP Jeremy Guthrie
ROY Candidate: None
Key Additions: 1B Derrek Lee (FA-Atl); J.J. Hardy (Trade-Min); INF Brendan Harris (Trade-Min); 3B Mark Reynolds (Trade-Ari); SP Justin Duchscherer (FA-Oak); DH Vladimir Guerrero (FA-Tex); RP Jeremy Accardo (FA-Tor); RP Kevin Gregg (FA-Tor); OF Randy Winn (FA-StL)
Possible lineup: Roberts 2B; Jones CF; Markakis RF; Guerrero DH; Lee 1B; Scott LF; Reynolds 3B; Wieters C; Hardy SS
Possible rotation: Guthrie; Matusz; Vanden Hurk; Arrieta; Duchscherer

5. Toronto – Manager: John Farrell (1st year)
Toronto has a new manager this year and he is a 1st time skipper in former Boston pitching coach John Farrell. Long regarded as a fine managerial prospect , Farrell finally thought it was time and became a MLB skipper. Unfortunately he will be in for some hard times, which is usually what happens to 1st timers. Luckily he has a young staff to work with and build around and some new players in the lineup after the January trade of long time Jay Vernon Wells to the Angels. Toronto is clearly 5th this season but you have to feel for them and Baltimore just as they get better so do the big guys.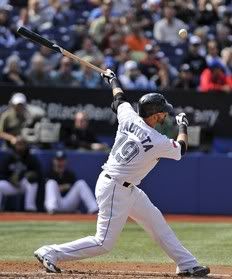 Key Players: SP Ricky Romero; 2B Aaron Hill; RF Travis Snider; C J. P. Arencibia; DH Adam Lind; 1B Jose Bautista
MVP Candidate: LF Jose Bautista
Cy Young Candidate: SP Ricky Romero
ROY Candidate: SP Kyle Drabek
Key Additions: RP Frank Francisco (Trade-Tex); OF/DH Juan Rivera (Trade-LAA); CF Rajai Davis (Trade-Oak); RP Octavio Dotel (FA-Col); RP Jon Rauch (FA-Min); Mgr John Farrell
Possible lineup: Davis CF; Escobar SS; Bautista 1B; Lind DH; Hill 2B; Snider RF; Rivera LF; Encarnacion 3B; Arencibia C
Possible rotation: Romero; Morrow; Cecil; Drabek; Litsch
Tomorrow, in our final day, we will look at the big winners in 2011.
Follow Steve on Twitter @djstevem and follow SOX & Dawgs on Twitter @soxanddawgs and become a fan of SOX & Dawgs on Facebook.
Photo credits: AP Photo, AP Photo, Getty Images, AP Photo, Getty Images