Welcome to the Gigantic Sox and Dawgs 2011 MLB preview. Over the next week you will get a team by team look at its key players, new faces, their potential MVP, Cy Young and Rookie of the Year candidates, their possible starting lineup and rotation as well as a quick summary.
This preview was sculpted over a nearly seven week period in the offseason with some mild tweaking as we went along prior to publication. It comes from a culmination of reading so many baseball magazines, periodicals, articles and websites that in some cases I may know a team better that its own management.
Yesterday we looked at the NL West, today it's the AL West.
To continue reading, click on the read more button below if you're on the home page.
American League West
1. Texas – Manager: Ron Washington (5th year)
The team I had a hard time figuring out where they'd finish last season, went on to win the AL West and the American League Pennant by beating up AL East monsters Tampa Bay and New York in the playoffs. They then fell to the Giants in the World Series in 5 games. This season, even with the losses of DH Vlad Guerrero and SP Cliff Lee I think they can win the division again because they replaced Guerrero's bat with FA 3B Adrian Beltre and have made former 3B Michael Young the DH. Young isn't thrilled with the move and has asked for a trade but the Rangers say he isn't going anywhere. So can they repeat? The rotation got weaker and they are unproven at first base but they still look pretty solid in 2011. Biggest questions are what they will get from C.J. Wilson in the #1 starter slot and what can they get out of former NL Cy Young winner Brandon Webb? Also how will Michael Young wanting to be traded after him and the club as well as the potential move of closer Neftali Feliz to the starting rotation. That decision will come during spring training and be based on how well Feliz pitches using 3 and 4 pitches.
Key Players: 2B Ian Kinsler; DH Michael Young; LF Josh Hamilton; 3B Adrian Beltre; SP Colby Lewis; 1B Mitch Moreland
MVP Candidate: LF Josh Hamilton and 2B Ian Kinsler.
Cy Young Candidate: RP Neftali Feliz.
ROY Candidate: 1B Mitch Moreland
Key Additions: SP Brandon Webb (FA-Ari); 3B Adrian Beltre (FA-Bos); RP Arthur Rhodes (FA-Cin); C Yorvit Torrealba (FA-SD)
Possible lineup: Andrus SS; Young DH; Hamilton LF; Beltre 3B; Cruz RF; Kinsler2B; Borbon CF; Moreland 1B; Torrealba C
Possible rotation: Wilson; Lewis; Hunter; Holland; Webb
2. Oakland – Manager: Bob Geren (5th year)
The Oakland A's finished 2nd in the AL West last year with a cast of nobody's. This year I say that they get back to that spot again and finish 2nd in the division. Their everyday line up is good, especially after adding Josh Willingham and Hideki Matsui and I really like the starting rotation. Face it, Billy Beane can build a ball club with little or no money.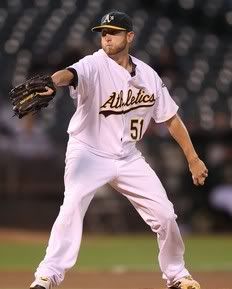 Key Players: 2B Mark Ellis; LF Josh Willingham; CF Coco Crisp; SP Dallas Braden; RP Andrew Bailey and SP Trevor Cahill.
MVP Candidate: DH Hideki Matsui.
Cy Young Candidate: SP Trevor Cahill.
ROY Candidate: None.
Key Additions: SP Rich Harden (FA-Tex); DH Hideki Matsui (FA-LAA); RP Brian Fuentes (FA-Min); LF Josh Willingham (Trade-Was); RP Grant Balfour (FA-TB)
Possible lineup: Crisp CF; Barton 1B; DeJesus 3B; Willingham LF; Matsui DH; Sweeney RF; Suzuki C; Ellis 2B; Pennington SS
Possible rotation: Bradon; Cahill; Anderson; Gonzalez; Harden

3. Los Angeles – Manager: Mike Scioscia (12th year)
The Los Angeles Angels of Anaheim looked like they were going to do nothing this off season. After owner Artie Moreno promised he'd spare no expense they whiffed on such FA's as LF Carl Crawford, who went to Boston, SP Cliff Lee, who went to Philadelphia and 3B Adrian Beltre, who signed with their division rival the Texas Rangers. Then in an act of desperation the Halo's traded C Mike Napoli and OF Juan Rivera to Toronto for OF Vernon Wells and the $86 million dollars left on his contract over the next four years. Once a promising superstar, Wells hasn't hit a lefty with nothing but a feather for going on three years. They panicked, this could get ugly in Anaheim. Due to the poor off season I'm picking them for third in the AL West because there is still talent on this club it's just the fact they did nothing last season with what they had and they failed miserably to make the team better.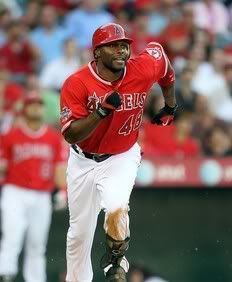 Key Players: 1B Kendry Morales; RF Torii Hunter; DH/OF Bobby Abreu; SP Dan Haren; OF/DH Vernon Wells; 3B Alberto Callaspo.
MVP Candidate: 1B Kendry Morales.
Cy Young Candidate: SP Dan Haren.
ROY Candidate: CF Peter Bourjos and OF/DH Mike Trout
Key Additions: CF Peter Bourjos (Rookie); LF Vernon Wells (Trade-Tor); OF/DH Mike Trout (Rookie); RP Scott Downs (FA-Tor)
Possible lineup: Bourjos CF; Kendrick 2B; Abreau DH; Hunter RF; Morales 1B; Wells LF; Callaspo 3B; Aybar SS; Mathis C
Possible rotation: Weaver; Santana; Haren; Kazmir; Pineiro
4. Seattle – Manager: Eric Wedge (1st year/8th overall)
I'm not sure there was a team in more disarray in 2010 then the Seattle Mariners. Picked by many, including me, to win the West, I also went all in on a World Series appearance and a Manager of the Year award winner. They finished last and the manager got canned mid-season. This year doesn't figure to be much better for the team from the hometown of Grunge Rock and Starbucks. I got them dead last as I'm sure many others will as well. Their bright spot was Felix Hernandez winning the AL Cy Young Award. This year they may end up with a Rookie of the Year in 2B Dustin Ackley.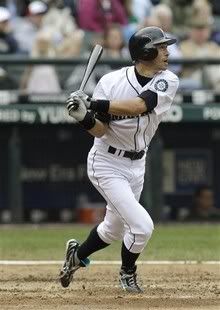 Key Players: RF Ichiro Suzuki; SP Felix Hernandez; CF Franklin Gutierrez; 2B Chone Figgins and 1B Justin Smoak
MVP Candidate: RF Ichiro Suzuki
Cy Young Candidate: SP Felix Hernandez
ROY Candidate: 2B Dustin Ackley
Key Additions: SS Brendan Ryan (Trade-StL); C Miguel Olivo (FA-Col); DH Jack Cust (FA-Oak); 2B Dustin Ackley (Rookie); OF Gabe Gross (FA-Oak); Mgr Eric Wedge
Possible lineup: Suzuki RF; Figgins 3B; Gutierrez CF; Cust DH; Smoak 1B; Olivo C; Saunders LF; Ackley 2B; Ryan SS;
Possible rotation: Hernandez; Vargas; Fister; Bedard; Pauley
Tomorrow: The National League Central
Follow Steve on Twitter @djstevem and follow SOX & Dawgs on Twitter @soxanddawgs and become a fan of SOX & Dawgs on Facebook.
Photo credits: Getty Images, Getty Images, Getty Images, AP Photo