Welcome to the Gigantic SOX & Dawgs 2011 MLB preview. Over the next week you will get a team by team look at its key players, new faces, their potential MVP, Cy Young and Rookie of the Year candidates, their possible starting lineup and rotation as well as a quick summary.
This preview was sculpted over a nearly seven week period this off season with some mild tweaking as we went along prior to publication. It comes from a culmination of reading so many baseball magazines, periodicals, articles and websites that in some cases I may know a team better that its own management.
Yesterday we looked at the NL Central, Sunday was the NL West, Monday was the AL West and today it's the AL Central.
To continue reading, click on the read more button below if you're on the home page.
American League Central
1. Detroit – Manager: Jim Leyland (6th year/20th overall)
Once again the Tigers intrigue me the most in this division. They made some changes in the rotation with speculation that Brad Penny, Rick Porcello and Phil Coke will join Justin Verlander and Max Scherzer leaving Jeremy Bonderman out of the mix for now. They also added a bat in DH/C Victor Martinez. V-Mart will see some time behind the dish and possibly at first base but look for Alex Avila to be the starting backstop come opening day with Victor as the designated hitter. I really like this team and I think they will not only contend but they're my choice to win the division. The Tigers have built a very solid everyday lineup and have a lot of power arms in the pitching staff. Jim Leyland will be able to do a lot with this club.
Key Players: 3B Brandon Inge; RF Magglio Ordonez; 1B Miguel Cabrera; DH/C Victor Martinez; C Alex Avila
MVP Candidate: Miguel Cabrera 1B.
Cy Young Candidate: Justin Verlander SP.
ROY Candidate: none
Key Additions: DH/C Victor Martinez (FA-Bos); RP Joaquin Benoit (FA-TB); SP Brad Penny (FA-StL)
Possible lineup: Jackson CF; Peralta SS; Martinez DH; Cabrera 1B; Ordonez RF; Guillen 2B; Inge 3B; Bosch LF; Avila C
Possibe rotation: Verlander; Scherzer; Porcello; Penny; Coke
2. Minnesota – Manager: Ron Gardenhire (10th year)
The Minnesota Twins opened Target Field last year and it was a huge success and they won the AL Central. The team will once again compete for the division with former AL MVPs Joe Mauer and Justin Morneau along with re-signed veteran DH Jim Thome and RF Jason Kubel swinging the big bats. The Twins also brought back SP Carl "the porn 'stache" Pavano, they should have closer Joe Nathan back after missing all of last season with an injury to solidify the back end. They also have a new double play combo up the middle. This team is always in contention and it should be another three team race for the AL Central this fall. No team in the last 10-15 has done better at getting the most out of a mid range salary lineup.
Key Players: C Joe Mauer; 1B Justin Morneau; RF Jason Kubel; DH Jim Thome; RP Joe Nathan; SP Francisco Liriano.
MVP Candidate: C Joe Mauer and 1B Justin Morneau
Cy Young Candidate: SP Francisco Liriano
ROY Candidate: SS Tsuyoshi Nishioka
Key Additions: SS Tsuyoshi Nishioka (FA-Japan);
Possible lineup: Spann CF; Casilla 2B; Mauer C; Morneau 1B; Young LF; Cuddyer RF; Kubel DH; Valencia 3B; Nishioka SS
Possible rotation: Liriano; Baker; Slowey; Pavano; Blackburn
3. Chicago – Manager: Ozzie Guillen (8th year)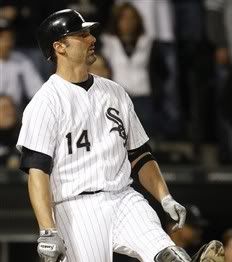 The Chicago White Sox after missing the playoffs in 2010 the White Sox overhauled their bullpen and signed power hitting DH/1B Adam Dunn, to hit in front of 1B Paul Konerko. They also kept C A.J. Pierzynski. The offense will be similar this year in fact they should have more bop with Dunn, which means more HRs and RBI and more Ks. If the rotation holds up they'll be a player for the division title and possible AL wildcard. They need Jake Peavy to be healthy and pitch most of the season and right now they do not know when he will be ready although they are hopeful for April.
Key Players: 1B Paul Konerko; 2B Gordon Beckham; CF Alexis Rios; DH Adam Dunn; RF Carlos Quentin; SP Mark Buehrle .
MVP Candidate: 1B Adam Dunn.
Cy Young Candidate: SP Mark Buehrle
ROY Candidate: 3B Brent Morel and RP Chris Sale
Key Additions: 1B Adam Dunn (FA-Was); RP Jesse Crain (FA-Min); RP Will Ohman (FA-Fla); 3B Brent Morel (Rookie)
Possible lineup: Pierre LF; Ramirez SS; Dunn DH; Konerko 1B; Rios CF; Quentin RF; Beckham 2B; Pierzynski C; Morel 3B
Possible rotation: Buehrle; Danks; Floyd; Jackson; Peavy/Harrell
4. Cleveland – Manager: Manny Acta (2nd year/5th overall)
The only thing that keeps this team out of the AL Central cellar is the Kansas City Royals. Tribe fans there is a lot of work to do here and when you're competing with Detroit, Minnesota and Chicago with decent payrolls and good players it's hard to keep your head above the water line. Hopefully the return of a fully healthy Grady Sizemore will help this team. The real problem is the pitching after Fausto Carmona and Justin Masterson in the rotation they are pretty thin. Look for great things out of C Carlos Santana.
Key Players: CF Grady Sizemore; 1B Matt LaPorta; LF Michael Brantley; RF Shin-Soo Choo; SP Fausto Carmona
MVP Candidate: CF Grady Sizemore
Cy Young Candidate: SP Fausto Carmona
ROY Candidate: SP Josh Tomlin
Key Additions: INF Adam Everett (FA-Det): SS Orlando Cabrera (FA-Cin); OF Austin Kearns (FA-NYY)
Possible lineup: Sizemore CF; Cabrera SS; Choo RF; Santana C; LaPorta 1B; Hafner DH; Nix 3B; Brantley LF; Valbuena 2B
Possible rotation: Carmona; Masterson; Gomez; Carrasco; Tomlin

5. Kansas City – Manager: Ned Yost (2nd year/8th overall)
The Royals will once again be the bottom feeders in the AL Central. Last season they changed managers 35 games into the year dumping Trey Hillman for Ned Yost. Then this off season they traded away their star pitcher Zack Greinke to Milwaukee. I don't see how that will help them get any better. They also lost SP Gil Meche to retirement just prior to spring training. Good thing Royals fans are loyal the die hards still turn out all summer long and in 2012 they'll host the All-Star game.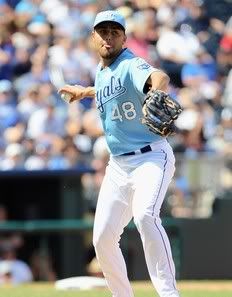 Key Players: SS Alcides Escobar; DH Billy Butler; CF Melky Cabrera; RF Jeff Francoeur; SP Luke Hochevar
MVP Candidate: RF Jeff Francoeur
Cy Young Candidate: RP Joakim Soria
ROY Candidate: 3B Mike Moustakas
Key Additions: SS Alcides Escobar (Trade-Mil); CF Melky Cabrera (FA-Atl); SP Jeff Francis (FA-Col); RF Jeff Francoeur (FA-Tex); 3B Mike Moustakas (Rookie)
Possible lineup: Cabrera CF; Aviles 2B; Gordon LF; Butler DH; Maier 1B; Francoeur RF; Moustakas 3B; Escobar SS; Pena C
Possible rotation: Hochevar; Francis; Davies; O'Sullivan; Mazzaro
Tomorrow, in Day 5, we will preview the NL East.
Follow Steve on Twitter @djstevem and follow SOX & Dawgs on Twitter @soxanddawgs and become a fan of SOX & Dawgs on Facebook.
Photo credits: AP Photo, AP Photo, AP Photo, Reuters Pictures, Getty Images