Tune into SportsNation on ESPN2 tomorrow, Nov. 1 at 5 PM ET/2 PM PT to see Victor Cruz, Ramses Barden and Terrell Thomas face Rob Gronkowski, Wes Welker and Donald Thomas for ultimate "Halo" gridiron glory
When "Halo 4" launches on Nov. 6, it won't only mark the return of Master Chief, it will usher in a new era of competitive gameplay with War Games, the new "Halo 4" multiplayer arena where fans, friends and mortal rivals can meet to join forces or compete against one another for ultimate battlefield bragging rights.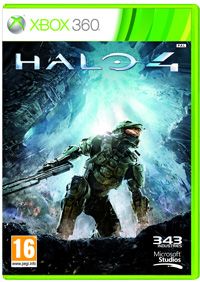 Kicking things off in heroic fashion, Microsoft, 343 Industries and ESPN today announced the SportsNation "Halo 4" Bowl. Airing tomorrow at 5 PM ET/2 PM PT on ESPN2 during a special one-hour episode of SportsNation, one of the newly spawned rivalries in professional football will be rekindled and set ablaze via the most anticipated game of the year. Victor Cruz and his teammates will go head-to-head in "Halo 4" against Rob Gronkowski's squad to settle the score once and for all.
In a best-of-three showdown, Team Cruz (Victor Cruz, Ramses Barden and Terrell Thomas) and Team Gronk (Rob Gronkowski, Wes Welker and Donald Thomas) will go blow-for-blow to crown the "Halo 4" Bowl champion.
Not only can you can catch all the action on ESPN2, but you can also jump on Twitter and Facebook for a chance to win some amazing "Halo 4" prizes, like the Xbox 360 320GB Halo 4 Limited Edition Console, the GAEMS Halo UNSC Vanguard Personal Gaming Environment, the Halo 4 TRITTON Warhead 7.1 Wireless Surround Headset, Halo 4 video game copies, and more.
Here's how to get into the game:
On Twitter…
During tomorrow's episode of SportsNation, fans should jump on Twitter and voice their support for either Team Gronk (#SNHalo4Gronk) or Team Cruz (#SNHalo4Cruz). Whichever team wins the best of three series, the users who tweeted with that team's hash tag will be eligible to win "Halo" and SportsNation prizes. The @SportsNation twitter feed will contact winners by DM.
On Facebook…
Tomorrow, the official SportsNation Facebook page (www.facebook.com/SportsNation) will post a photo from "Halo 4" Bowl – just SHARE the post to be automatically entered to win the grand prize.
To continue reading, please click on the continue reading button below if you're on the home page.
Launching worldwide exclusively on Xbox 360 Nov.6, 2012, "Halo 4" is the next blockbuster installment of the iconic franchise that has shaped entertainment history and defined a generation of gamers. Developed by 343 Industries, "Halo 4" continues the story of the series' iconic hero the Master Chief as he returns to confront his destiny and face an ancient evil that threatens the fate of the entire universe. "Halo 4" takes the series in a bold new direction by delivering its most epic and explorative campaign yet, alongside an emotionally resonant story and a groundbreaking multiplayer offering unlike anything before it – setting the stage for an epic new sci-fi saga.
The standard edition of "Halo 4" will be available for $59.99 (U.S. ERP**), and the Limited Edition, which includes an extended 90-minute version of the live-action digital series "Halo 4: Forward Unto Dawn" and additional content, will be available for $99.99 (U.S. ERP). Fans can also pick up the Xbox 360 Limited Edition "Halo 4" Console Bundle for $399.99 (U.S. ERP) and a standalone Xbox 360 Limited Edition "Halo 4" Wireless Controller for $59.99 (U.S. ERP).
Follow Ian on Twitter @soxanddawgs. And be sure to like us on Facebook as well.