The New England Patriots had seven players named to the 2013 Pro Bowl.
Here's the release:
FOXBOROUGH, Mass. – Seven members of the New England Patriots have been selected to the AFC Pro Bowl squad.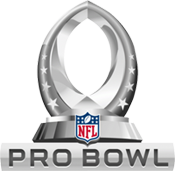 Quarterback Tom Brady, TE Rob Gronkowski, G Logan Mankins, LB Jerod Mayo, WR Matthew Slater (special teams), WR Wes Welker and DT Vince Wilfork have been selected to represent the New England Patriots and the AFC in the 2013 Pro Bowl on Jan. 27, 2013 at Aloha Stadium in Hawaii.
It is the eighth Pro Bowl selection for Brady (2001, 2004, 2005, 2007, 2009, 2010, 2011 and 2012) and fifth for Mankins (2007, 2009, 2010, 2011 and 2012), Welker (2008, 2009, 2010, 2011 and 2012) and Wilfork (2007, 2009, 2010, 2011 and 2012).
Gronkowski and Slater earned their second straight Pro Bowl invitations, while Mayo (2010 and 2012) also earned a Pro Bowl berth for the second time.
Gronkowski, Mankins, Mayo and Wilfork were selected as starters.
Brady was named to the Pro Bowl for the eighth time, including four straight seasons. John Hannah (9) is the only Patriots player with more Pro Bowls than Brady. Brady enters the final week of the season with 4,543 yards passing and 32 touchdowns. Brady became just the fifth player in NFL history to reach 4,000 yards in five or more seasons and the fifth player with at least 30 or more touchdown passes in four seasons. Brady needs one touchdown pass in the season finale vs. Miami to extend his streak to 48 straight games with at least one touchdown pass and move past Johnny Unitas (47) for the second longest streak behind Drew Brees (54). He will also become the first NFL player to throw at least one touchdown pass in all 16 games for three consecutive seasons.
Gronkowski is going to his second Pro Bowl. Despite missing the last five games, Gronkowski leads all NFL tight ends with 10 touchdowns on 53 receptions for 748 yards. He is the first tight end in NFL history to have three straight 10-plus touchdown seasons after his 10 in 2010, 18 in 2011 and 10 in 2012. Gronkowski had three 100-yard games in 2012 to increase his career total to nine, tying Ben Coates for the most 100-yard games by a New England tight end.
Mankins is going to his fifth Pro Bowl, including his fourth consecutive. He went to his first Pro Bowl in 2007 when he became the first Patriots guard to earn a Pro Bowl selection since 1985 when Pro Football Hall of Famer John Hannah went to his ninth career Pro Bowl. The Fresno State product is in his eighth season with the Patriots since being selected in the first round (32nd overall) of the 2005 NFL Draft. Since entering the starting lineup in 2005, Mankins has helped the New England offense finish in the Top 10 on offense six times. The 2012 New England offense is currently ranked first in the NFL. Mayo earned his second Pro Bowl honor after being selected for the first time in 2010. Mayo enters the final week of the season with a team-leading 179 total tackles. He is the first Patriots player to start his career with five straight 100-tackle seasons and his five straight 100-tackle seasons are tied with Lawyer Milloy and Vincent Brown for second, behind the six straight 100-tackle seasons by Fred Marion. Mayo has registered 10 or more tackles in 10 of the first 15 games to tie a career-high. He also had ten 10-tackle games in 2010.
Slater is going to his second Pro Bowl. He enters the final week of the season with a team-leading 20 special teams tackles, one behind his career-high of 21 special teams tackles set in 2010. Slater, a Special Teams Captain for the last two seasons, has been a productive member of the Patriots special teams units since joining the team as a fifth round draft pick out of UCLA in 2008. He has led the Patriots in special teams tackles for the past two seasons with 21 in 2010 and 17 in 2011.
Welker has been selected to the Pro Bowl five straight seasons. He enters the final week of the season with 110 receptions for 1,260 yards and five touchdowns. Welker became the first player in NFL history with five 100-catch seasons. Welker also added four 10-catch games in 2012 to set an NFL record with 18-career 10-catch games. He extended his team record with his fifth 1,000-yard season. He also became the Patriots' all-time leader in receptions, surpassing Troy Brown in Week 2 vs. Arizona.
Wilfork earned his fifth Pro Bowl selection overall and fourth straight Pro Bowl honor. Since being selected in the first round (21st overall) of the 2004 draft out of Miami, Wilfork has helped the Patriots defense finish in the top 10 in points allowed on six occasions (2004, 2006, 2007, 2008, 2009 and 2010). The Patriots own a 106-31 (.774) record in Wilfork's 137 career regular-season games.
Follow Ian on Twitter @soxanddawgs. And be sure to like us on Facebook as well.