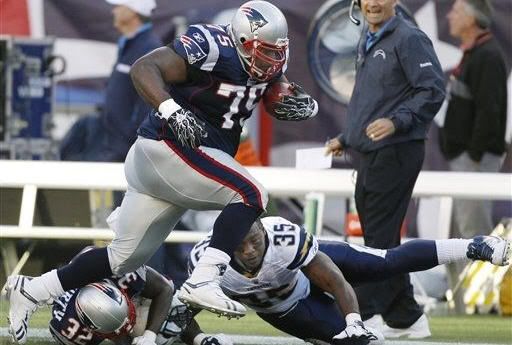 Gillette Stadium is a magical place not only for the New England Patriots as a team but for QB Tom Brady as well. The Patriots opened the home portion of their schedule on Sunday with a familiar result, a win.
After beating the San Diego Chargers 35-21 the Patriots are now unbeaten in all 10 Gillette Stadium home openers and have beaten the Chargers twice in that steak. The team as a whole has not lost at Gillette now in it's last 18 regular season games and Brady has a personal win streak of 29 games in his home venue.
Employing a bend but not break style defense against a powerful San Diego offense New England allowed 470 total yards (98 rushing, 372 passing), 29 first downs and the Bolts were 10 for 12 on 3rd down conversions.
QB Philip Rivers was 29 of 40 for 378 yards with 2 TD's and 2 INT's he also lost a fumble. WR Vincent Jackson had 10 catches for 172 yards and 2 TD's while 2nd year RB Ryan Matthews was over 100 combined yards offensively with 64 yards and a TD on 12 carries and 62 receiving yards on 7 catches.
But the big story for the Patriots defense was four turnovers (2 INT's and 2 fumbles recovered) and the 3 defensive stops of the high powered Chargers offense inside the 30-yard line on consecutive drives.
The three consecutive defensive stops of Bolts inside their 30-yard line started with a first and goal to go from the five-yard line when they repeatedly stopped San Diego. First they stopped Matthews at the two, then RB Mike Tolbert for no gain, Rivers scrambled to the one on third down, and Tolbert got stuffed on 4th down just before the goal line. The second stop was the Vince Wilfork interception of Rivers just before the half that led to 3 points as time expired and third drive was stopped with the Sergio Brown pick near inside the 10-yard line.
Leading the way defensively was LB Jerod Mayo who had 11 tackles and forced a fumble, Brown had 7 tackles and an INT and LB Rob Ninkovich who had 4 tackles, 1 sack and recovered a fumble.
While you can't be thrilled with the first downs gained or the 3rd down efficiency of San Diego you can see some real change in the New England defense as a whole.
As Bill Belichick himself will tell you the season isn't about one game but about putting together a series of games and getting better as you move forward.
Now when it comes to the offense, not even San Diego can compare when you talk about high powered.
Brady and Company had 28 first downs, were 7 of 11 on 3rd down conversions, and had no turnovers while once again amassing over 500 total yards, of which 423 were due to Brady's passing efficiency. Brady was a very sharp 31 of 40 with 3 touchdown passes and no interceptions and was sacked twice losing 13 yards.
Brady, once again, spread it around the field as WR Deion Branch had 8 catches for 129 yards. WR Wes Welker had 7 grabs for 81 yards, TE Aaron Hernandez had 7 catches for 62 yards and 1 TD and TE Rob Gronkowski added 4 catches, 2 of them for TD's and 86 yards. Even WR Chad Ochocinco had a pair of really nice catches for 45 yards.
While on the ground it was "The LawFirm" leading the way with 70 yards on 17 carries and 1 rushing TD.
Overall not a bad day of work for the guys with the "Flying Elvi" on the sides of their helmets.
Chargers at Patriots Gamebook. This includes the box score, all the stats, play by play, drive charts and more.
Chargers at Patriots Game Recap from the Associated Press via patriots.com
To continue reading, hit the read more button below if you're on the home page.
Turning Point(s) of the Game
Three consecutive defensive stops of San Diego inside their 30-yard line. The scoring attempts were stopped on a goal line stand from the five-yard line and interceptions by Wilfork and Brown. The goal line stand was the teams third in just two games this year.
Offensive Player(s) of the Game
WR Deion Branch came up with 8 catches accumulating 129 yards,
Defensive Player(s) of the Game
LB Jerod Mayo who had 11 tackles and forced a fumble.
Game Notes
Starters for the Patriots were:
On Offense:
LT Light
LG Mankins
C Connolly
RG Waters
RT Vollmer
TE R Gronkowski
TE Hernandez
WR Branch
WR Welker
QB Brady
RB Woodhead
On Defense:
DE Ellis
DT Wilfork
DE Carter
WLB Mayo
MLB Fletcher
SLB Ninkovich
CB McCourty
CB Dowling
S Chung
S Barrett
S Brown
Inactives for the Game:
Patriots
QB Ryan Mallett
RB Shane Vereen
WR Taylor Price (hamstring)
C Dan Koppen (broken ankle)
LB Gary Guyton (hamstring)
DE Mike Wright (concussion)
OL Ryan Wendell (calf)
Chargers
WR Patrick Crayton (ankle)
RB Jordan Todman
CB Shareece Wright
LB Darryl Gamble
LB Jonas Mouton (shoulder)
WR Vincent Brown (hamstring)
DE Luis Castillo (broken leg)
This was the 300th game of the Kraft family ownership they are 199-101.
70,000 "MHK" pins were handed out to fans today in honor of Myra Hiatt Kraft.
The spread (Patriots minus 7) was covered, as was the over/under (54). I am now 2-0-0 vs. the spread and 2 of 2 calling the under/over.
The Patriots have scored 30 or more points in 10 consecutive regular season games.
The Patriots lead the overall series vs. San Diego 22-15-2
This was the second time that San Diego had been the opponent for a Patriots home opener at Gillette Stadium. They faced the Chargers in Week 2 (home opener) in 2007 and won 38-14. The Bolts also were the opponents in the 1997 home opener at Foxboro Stadium.
The Patriots have not lost a regular season game at Gillette Stadium since the 2008 season having won 18 consecutive regular season home games.
The Patriots are 10-0 in Gillette Stadium home openers.
Since 2002 when Gillette Stadium opened the Patriots are 68-14 at home.
The Patriots are 16-11 vs. the AFC West including playoffs since 2000.
Since 2001, the Patriots are 23-10 in September that's the second best record among all NFL teams.
The Chargers are 0-3 in Patriots home openers.
The Chargers are 8-12-1 vs. Patriots all-time on the road.
The Bolts have lost 5 of the last 6 games in the series.
Since 2001 against the AFC East, San Diego is 9-16 including playoffs.
Norv Turner coached teams are 2-6 vs. New England.
Bill Belichick now has 179 wins – 10th all-time. Bill Parcells is 9th with 183 wins.
Belichick said his decision to go for it on 4th and 4 was due to the condition of P Zoltan Mesko who had hurt his knee on the prior possession.
Tom Brady is now 6-2 vs. the Chargers.
Brady has won 29 consecutive regular season games at home, a NFL record. His last regular season home loss was November 12, 2006 to the New York Jets.
Brady is 63-10 at home in the regular season in his career.
Brady was named FedEx Air Player of the Week for his Week 1 massacre of Miami.
Brady's 3 TD passes give him 268 in his career he is 10th all-time. Joe Montana is 9th with 273.
Brady is the only NFL quarterback to follow up a 500-yard game with a 400-yard game.
He is also just the 6th NFL quarterback with back-to-back 400-yard games.
Brady's two week yardage total of 940 is second best all-time behind Phil Simms, who called today's game for CBS, who had 945 in a two week span.
DT Vince Wilfork had his first career interception when he picked off Philip Rivers just prior to the half.
WR Wes Welker now has catches in 81 consecutive games, 67 as a Patriot. The last time Welker did not have a catch in a game was 12/24/05 as a Dolphin.
TE Rob and TE Dan Gronkowski are the 4th set of brothers to play for the Patriots in the same season. They join DE Whit and G Justin Canale (1968); WR Clarence and RB Robert Weathers (1983-84) and RB Chuck and CB Rod McSwain (1987).
Rob Gronkowski notched his 3rd career two touchdown game.
TE Aaron Hernandez was seen limping badly as he left the locker room after the game, he turned his knee late in the game.
RB BenJarvus Green-Ellis has a rushing touchdown in each game so far.
Former UConn OL Donald Thomas did not see any action in his first game as a Patriot.
New England is now plus 4 in turnover differential. The offense has given up 1 INT and 0 fumbles, while the defense has 3 INT and 2 fumble recoveries.
Walt Anderson was the game referee. Game time temp was 63 degrees and partly cloudy.
Attendance was 68,756. The 184th consecutive sellout dating back to the 1994 season opener.
Post Game Interviews
Patriots head coach Bill Belichick and Patriots QB Tom Brady and WR Deion Branch post game press conferences via patriots.com
This Week in the AFC East
NY Jets whipped Jacksonville, 32-3
Buffalo rallied to beat Oakland, 38-35
Houston downed Miami, 23-13
AFC East Standings
Patriots 2-0/1-0
Jets 2-0/0-0
Bills 2-0/0-0
Dolphins 0-2/0-1
Next Game
The Patriots visit their AFC East rival Buffalo Bills at Ralph Wilson Stadium on Sunday. Kick off is at 1 p.m. on CBS.
Photo credit: AP Photo