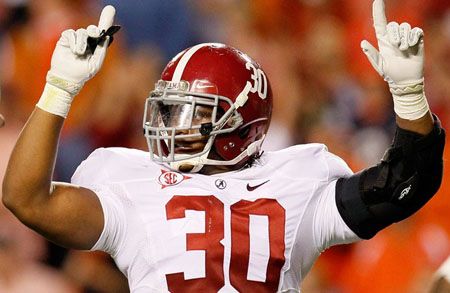 After having only moved up in the first round twice in the Belichick era, the New England Patriots did it twice in one draft when they traded their 31st overall pick and their 4th rounder #126 to Denver for the 25th overall pick.
With that selection, New England chose Alabama LB Dont'a Hightower. Hightower was a 2008 Freshman All-American, 2010 and 2011 Preseason All-SEC Coaches First Team and a 2011 Consensus All-American. He missed his sophomore season due to a knee injury and he redshirted.
With the Tide, he has played in the middle and he should compare favorably to Jerod Mayo in size and football accumen.
Follow Steve on Twitter @SteveMichaelsII
photo credit: Getty Images