I should have known it could be one of those days when earlier it was announced that the New England Patriots had signed free agent TE Kellen Winslow.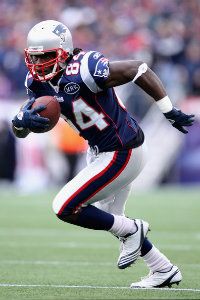 Bill Belichick wasn't done with Winslow as he brought back WR Deion Branch for a third go around with the team and released WR Greg Salas, LB Mike Rivera and RB Lex Hilliard leaving 1 more roster spot open.
Hilliard, a 6th round pick in 2008 by the Miami Dolphins out of the University of Montana, played with Miami for four seasons before going to Minnesota this offseason. He was released by the Vikings in final cuts and chose the Patriots over the Tampa Bay Buccaneers. He saw limited action in the Patriots first two games.
Salas, a former fourth round pick of St. Louis in 2011 out of the University of Hawaii, played in six games last season for the Rams under current Patriots offensive coordinator Josh McDaniels. New England traded a late round pick to St. Louis for him just before the season started. He dressed Week 1 and did not play and was a scratch last week against Arizona.
New England originally signed Rivera to the practice squad in November of 2011. The Kansas grad who has been on the practice squad of five teams since 2009 finally got to see some limited NFL playing time in the first two weeks of the season.
Branch, who was a member of two championship teams, came back to New England in 2010 after the Seattle Seahawks traded him. He had left four years earlier in a contract dispute with the Patriots and was dealt to Seattle only to spend most of his time in the Pacific Northwest in the trainer's room. In his first stint in Foxboro Branch won a Super Bowl MVP award in 2004 when they beat Philadelphia.
According to Branch he was hopeful after his release that he could return to Foxboro. Many were surprised when they released him only to go to St. Louis and trade for Salas.
Follow Steve on Twitter @SteveMichaelsII
photo credit: getty images