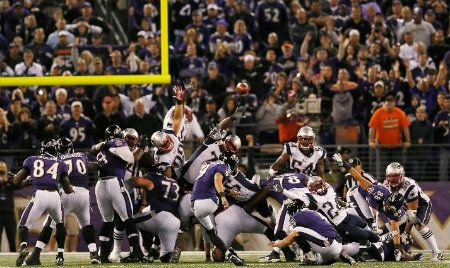 The New England Patriots came into the Inner Harbor to face the Baltimore Ravens in a Sunday night matchup on national television. It was a swing game for both teams as they each stood at 1-1 and with a win they would sit a top their respective division. Plus it would give one team a head to head advantage that could be important come playoff time in the AFC.
With the Ravens looking for revenge on the Patriots for taking away the AFC Championship last season they were able to prevail at M&T Bank Stadium, 31-30.
The Patriots dominated the first quarter coming away with a 13-0 lead on a pair of Stephen Gostkowski field goals and a 2-yard touchdown run by rookie RB Brandon Bolden. It was Bolden's first NFL TD.
The first quarter the Patriots had everything clicking on both sides of the ball the offense looked good as Brady had nice completions to WR Brandon Lloyd, WR Julian Edelman and a nice downfield pass to WR Wes Welker.
Defensively they were crisp as well making all their tackles and limiting the yardage.
Then in the second quarter the officials lost control of the game and in an effort to regain it they started calling some ticky tack penalties like the pass interference call on LB Jerod Mayo that gave Baltimore a first down and eventually led to a Ravens touchdown after a reviewed call was botched allowing Baltimore to sustain their drive.
The Ravens got two TD's on their last two possessions of the half one was a nice throw by QB Joe Flacco to WR Torrey Smith and the second was just a pitiful display of tackling allowing TE Dennis Pitta a chance to gallop down the sideline for their second TD.
But you can't leave time and time outs on the scoreboard for Tom Brady, he is a master and he will carve you up like Sunday dinner. He lead an 81-yard drive that culminated with a TD pass to Edelman with just 2 seconds remaining in the half that gave New England a 20-14 halftime lead.
Baltimore answered that score when they opened the second half with the ball and on their own 80-yard drive that was capped with RB Ray Rice going untouched into the end zone and a 21-20 Ravens lead.
For some reason Baltimore didn't seem to have an answer for Brady and New England's up tempo offense as Patriots once again countered the Baltimore TD with one of their own when RB Danny Woodhead scampered into the end zone for a 27-21 lead.
Gostkowski added a chip shot of a field goal to start the fourth quarter and put the Patriots up 30-21.
The Ravens got the ball back and after driving downfield and a near INT by New England CB Devin McCourty was dropped, they got the ball inside the Patriots 35. They decided to go for it on 4th and 1 and Patriots S Patrick Chung was able to stuff RB Bernard Pierce and give New England the Ball back with 10 minutes to play. It was a huge play for the young defense that is learning to stand up to challenges it faces.
The replacement officials got involved again. This time with a phantom defensive holding call on McCourty that instead of being 3rd and 14 deep in Baltimore territory it's now 1st and 10 and it directly pumped up the Ravens drive. That drive was then was extended further when they missed an obvious hold by Ravens T Michael Oher on Patriots DE Rob Ninkovich that allowed Rice to ramble up field on a big gain that put them inside the ten yard line. Of course it led to another TD pass from Flacco to Smith to cut the New England lead to 30-28 with 4:01 to play.
Brady was intercepted by S Ladarius Webb with 2:23 and finally the replacement refs called a ticky tack foul on Baltimore that changed the momentum the Patriots way by giving them the ball back and a first down.
That was followed up by the officials flagging Baltimore head coach John Harbaugh for unsportsmanlike conduct, a huge 15-yard penalty for coming onto the field. Harbaugh was clearly trying to call time out and the officials botched it big time.
After Baltimore's defense held and New England was forced to punt Flacco drove the Ravens down field very efficiently and with the help of Patriots CB Kyle Arrington who fell over his own feet with easy INT in front of him and a McCourty picking the wrong time to make the officials look good with a pass interference penalty the Ravens were up for a win.
With 2 seconds left rookie Ravens K Justin Tucker kicked the game winning field goal that went above the right upright and was ruled good giving the Ravens a wild win.
According to the replay rules because the ball went over the uprights it is not a reviewable play either by challenge or by automatic review.
While the Patriots lost the game and are now 1-2 heading into Buffalo next week it's not the end of the World and sky isn't falling. It's still early, the division competition appears to be beatable and this team has one of the easiest schedule in the league.
Patriots at Ravens Gamebook. This includes the box score, all the stats, play by play, drive charts and more.
Patriots at Ravens Game Recap.
To continue reading, hit the read more button below if you're on the home page.
Turning Point(s) of the Game
Patriots CB Kyle Arrington trips and falls and is unable to make a surefire last minute INT to seal a Patriots win.
Offensive Player(s) of the Game
Ravens WR Torrey Smith had 6 catches for 127 yards and 2 TDs on the day his younger brother died in a motorcycle accident.
Defensive Player(s) of the Game
Ravens DE Haloti Ngata had 9 tackles (7 solo), 0.5 sack, 2 QB hits and 1 tackle for loss.
Game Notes
Starters for the Patriots were:
On Offense:
LT Solder
LG Mankins
C Wendell
RG Connolly
RT Vollmer
TE Gronkowski
WR Fells
WR Lloyd
QB Brady
RB Ridley
RB Hoomanawanui
On Defense:
DE Ninkovich
DT Wilfork
DT Love
DE C. Jones
LB Mayo
LB Spikes
LB Hightower
CB McCourty
CB Arrington
S Gregory
S Chung
Inactives for the Game:
Patriots
1. TE Aaron Hernandez (ankle)
2. DT Justin Francis (ankle)
3. DE Brandon Deaderick (ankle)
4. CB Alfonzo Dennard (hamstring)
5. DE Jake Bequette
6. RB Shane Vereen (foot)
7. G/C Nick McDonald (shoulder)
Ravens
1. WR LaQuan Williams
2. CB Asa Jackson
3. T Jah Reid (calf)
4. TE Billy Bajema
5. TE DeAngelo Tyson
6. DT Bryan Hall
7. LB Sergio Kindle
The spread (Patriots PLUS 3) WAS NOT covered. The over/under (49) WAS COVERED. I GAVE the points (RAVENS) and took the OVER. I am now 1-2 vs. the spread and 2 of 3 calling the under/over.
You had to feel for Torrey Smith the Ravens wide receiver whose younger brother died early Sunday morning in a motor vehicle accident.
The Patriots had gone 145 games without having a losing record. The last time the Patriots had a losing record was after Week 1 in 2003. That was a nine-year run.
The Patriots lead the series 7-2.
New England is 2-1 vs. Ravens on the road.
The Patriots are 15-4 all-time against the AFC North in the regular season and 2-1 in the playoffs.
The Patriots are 18-15 all-time on Sunday Night Football, 6-6 in games on NBC. The loss snapped a 3 game SNF win streak.
Since 2003, New England is 27-4 following a loss.
Bill Belichick's 193 wins are good for a tie for 8th all-time with Chuck Knox, who coached the Rams, Bills and Seahawks.
Belichick vs. Baltimore is 6-2 including playoffs.
Tom Brady is 5-2 vs. Baltimore in his career including playoffs.
Brady has 304 TD passes in his career he is now 5th all-time. Hall of Famer Fran Tarkenton is 4th with 342.
Brady has 125 career wins he is 5th all-time. Peyton Manning is 4th with 141.
Brady moved past Joe Montana (40,551) into 12th place all-time on the NFL's passing list. He now has 40,866
Brady has thrown at least 1 TD pass in 34 consecutive games.
WR Wes Welker now has catches in 104 consecutive games including playoffs, 87 as a Patriot. The last time Welker did not have a catch in a game was 12/24/05 as a Dolphin.
S Steve Gregory had a 1st quarter INT it was his first as a Patriot.
Rookie RB Brandon Bolden had his first NFL TD with a 2-yard run in the first quarter,
The 13 first quarter points are the most given up by the Ravens at home since John Harbaugh took over.
WR Julian Edelman's 2nd quarter TD was the second receiving TD of his career. Both have occurred on Sunday Night Football. The first was at Indianapolis in 2009. That was the 4th and 2 game.
Edelman suffered a hand injury on his TD catch.
New England has two players who sons of Hall of Famers, Kellen Winslow and Matthew Slater.
The Patriots did not sack Baltimore QB Joe Flacco, while allowing Brady to be sacked 2 times.
New England's turnover differential is PLUS 4. The defense has recovered 3 fumble and has 2 INT. The offense has given away 0 fumbles and has 1 INT.
The Patriots were 3 for 5 in the red zone. They had 3 TD and 2 FG.
New England was 7 for 15 (47%) on third down conversions and 0 for 0 on 4th down attempts.
The teams combined for 13 first downs on penalties.
Baltimore has won 12 consecutive home games.
Overall at M&T Bank Stadium Baltimore is 82-31 since 1998.
Since 2008 the Ravens are 17-4 after a loss, including 14 consecutive wins after a loss.
Since 2008 Baltimore is 6-2 vs. the AFC East with both losses being to New England.
Baltimore is 12-12 all-time on Sunday Night Football, they are 9-5 at home.
Harbaugh is in his 5th season with the team, he is 46-21 since taking over and is 5-4 in the playoffs for an overall record of 51-25.
He is 1-3 vs. New England in his career.
Harbaugh turned 50 on Sunday.
Baltimore Ravens QB Joe Flacco is 46-21 in his career in the regular season and 5-4 in the playoffs for an overall record of 51-25 in 5 seasons.
He is 2-3 vs. New England in his career including playoffs.
The Ravens were 4 for 8 (50%) on 3rd down conversions and 0 for 1 (0%) on 4th down attempts.
Baltimore was 2 for 3 (67%) in the red zone scoring 2 TD's and 1 FG's.
Baltimore is PLUS 4 in turnover differential 4th best in the NFL. The offense has given up 1 INT and 1 fumble, while the defense has 3 INT and 3 fumble recoveries.
The Ravens have to turn around and play the Browns on Thursday night on a short week.
Bruce Hermansen (replacement) was the game referee. The temp at kickoff was 67 and it was clear.
Attendance – 71,269 at M&T Bank Stadium, Baltimore MD
Post Game Interviews
Patriots head coach Bill Belichick and Patriots QB Tom Brady post game press conference transcript via patriots.com
This Week in the AFC East
Buffalo beat Cleveland, 24-14
NY Jets edged Miami in OT 23-20
AFC East Standings
Jets 2-1/2-0
Bills 2-1/0-1
Patriots 1-2/0-0
Dolphins 1-2/0-1
Next Game
The Patriots visit the Buffalo Bills next Sunday at Ralph Wilson Stadium in Orchard Park NY. Kick off is at 1 p.m. on CBS.
Follow Steve on Twitter @SteveMichaelsII
photo credit: getty images