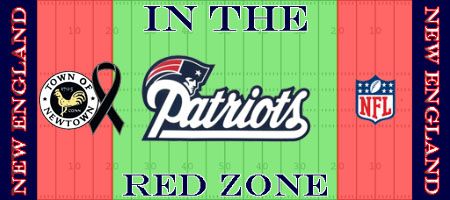 Looking Back, Moving Forward
You may want to take note that in the preseason I predicted a 12-4 record for the New England Patriots and they would be 6-2 at both home and on the road, 9-3 in the AFC, 5-1 in the AFC East and 3-1 against the NFC.
They actually finished 12-4, 6-2 at both home and on the road, 11-1 vs. the AFC, 6-0 in the division and 1-3 against the NFC. But that's were my good predictions ended as I had them as a Wild Card, the fifth seed, because I had Buffalo winning the division AND going to the Super Bowl. Silly me.
But predictions aside overall it was once again a very successful regular season for the Patriots. There were some ups (the routs of the Jets, Rams and the Colts stand out) and there were some downs (last drive losses to the Cardinals, Seahawks and Ravens).
And that's how the defense played all year too. They started up with good games against Tennessee and Arizona and then they went down and had poor efforts in Seattle, in Jacksonville, late against Denver, early against San Francisco and in the first Jets game. Then they were up again with stellar efforts against Indianapolis, Houston, Thanksgiving night in the Swamp and in the seasons final week against Miami. They need more games like those and less games like Jacksonville and Seattle especially now when so much is on the line.
With all the coaching and GM changes coming about on "Black Monday" it is of note that now Bill Belichick is the longest tenured head coach in the NFL having taken over for the 2000 season. Andy Reid was the last coach hired by his current team in the 1990's and previously held that honor of longest tenure until the Eagles let him go after 14 seasons. Reid is a good man, a friend of Bill, and will find work when he wants it. One interesting note on Reid, in Philly sports history only 1 other coach lasted longer in the 4 major sports and that was Connie Mack who managed the Philadelphia A's for 50 years. It didn't hurt that he owned the team as well.
Let's take a look at what Belichick has done in Foxboro in these 13 years. He has won 10 division titles, 5 conference championships and 3 Super Bowls. He is 151-57 in the regular season, 16-6 in the post season and 167-63 overall as the head Patriot. He has been coach of the year 3 times, is one of just four coaches to win three Super Bowls, the only coach in NFL history to win three championship titles in four seasons and to have led his team to 10+ wins in 10 consecutive seasons.
It is a remarkable run considering this has all happened in the age of free agency, with star players being able to move about freely for the biggest pile of cash. All the while Belichick has maintained a stance of paying fairly but not overpaying regardless of position or star power.
Once again he has a team poised to make a Super Bowl run and we could see yet again another epic battle with Peyton Manning, only this time it will be with Denver.
This is the time of year that Belichick coaches for, everything he does from the final time he walks off the game field the year before until Week 17 is done for these next few weeks. The previous 17 while nice, do not matter. The glories of seasons past while nice, do not matter. This is a different season, this is the playoffs and there may not be a coach in the game better prepared at getting his players prepared for this moment than Belichick.
To continue reading, please click on the continue reading button below if you're on the home page.
News and Notes
A sad note for the team longtime equipment manager Don Brocher passed away New Years Eve, he had spent the last 40-years with the Patriots.
Offensive snaps by skill players vs. Miami (ESPN Boston)
Defensive snaps played vs. Dolphins (ESPN Boston)
Five takeaways from the Patriots win over the Dolphins (Boston Globe)
Best and Worst of the Patriots-Dolphins. (Boston Herald)
Piling up wins by the sack full (Boston Herald)
The AFC Playoff teams are:
Denver
New England
Houston
Baltimore
Indianapolis
Cincinnati
The NFC Playoff teams are:
Atlanta
San Francisco
Green Bay
Washington
Seattle
Minnesota
The wild card games are:
Cincinnati at Houston, Saturday January 5 4:30 p.m.
Minnesota at Green Bay, Saturday January 5 8 p.m.
Indianapolis at Baltimore, Sunday January 6 1 p.m.
Seattle at Washington, Sunday January 6 4:30 p.m.
There is cautious early optimism that DE Rob Ninkovich could be able to play a week from Sunday.
Offensive coordinator Josh McDaniels notified teams on Monday he would not pursue any head coaching jobs this year and that his intent is to stay in New England.
Patriots set a NFL record with 444 first downs in a season on Sunday.
Since 1999 the Patriots have the best record in the NFL at 159-65.
New England is 61-21 vs. the AFC East since 2000 in the regular season.
Since Gillette Stadium opened the Patriots are 27-5 against the AFC East.
Since 2001 the Patriots are 74-17 in games played on Thanksgiving or later.
Since 2001 New England is 45-6 in December games. At home in December they are 22-2.
The New England defense has forced a turnover in 27 consecutive games dating back to Week 6 in 2011.
The Dolphins lead the all-time series 50-45. This includes 3 meetings in the playoffs with the Patriots holding a 2-1 post season edge.
The Patriots have gone undefeated in division play for the 2nd time in team history (2007). They have had 1 division loss 7 times (1987,1997, 2003, 2004, 2005, 2010 and 2011).
The Patriots swept the series from Miami for the 3rd consecutive season.
The Patriots have now swept the Dolphins 9 times in the series history including 6 times in the Belichick era (2003-'04, '07, '10-'12).
This was the fourth time the Patriots have shut out the Dolphins in the series. It was the first since December 2003 when the Patriots won 12-0 at Gillette Stadium (Snow Bowl Game).
The shut out was New England's first since the 2009 season (Week 6 vs. Tennessee, 59-0).
Bill Belichick is now 204-108 including playoffs in his career.
Belichick's 204 wins are good for 7th all-time. Marty Schottenheimer who coached the Browns, Chiefs, Redskins and Chargers is 6th with 205 wins.
Belichick coached teams are 17-11 vs. Miami. Belichick is 17-9 as Patriots head coach and he was 0-2 as the head coach of the Cleveland Browns.
Tom Brady is 16-6 vs. the Dolphins. Overall including playoffs he is 152-44.
Brady has 334 TD passes in his career he is now 5th all-time. Hall of Famer Fran Tarkenton is 4th with 342.
Brady has thrown at least 1 TD pass in 48 consecutive games. That is the second longest streak in NFL history.
He is the first QB in NFL history to throw a TD pass in all 16 games, 3 seasons in a row.
The Patriots are 91-16 when Brady throws at least 2 TD passes in a game.
WR Wes Welker now has catches in 117 consecutive games including playoffs, 100 as a Patriot. The last time Welker did not have a catch in a game was 12/24/05 as a Dolphin.
He once again led the team in receiving for the year with 118 catches for 1354 yards and was 2nd on the team with 6 receiving TD's.
RB Stevan Ridley finished the season with 290 attempts for 1263 yards and 12 TD's.
Ridley was the 5th Patriot to have at least 1200 yards rushing in a season and he led the team in TD's with 12. TE Rob Gronkowski, who missed 5 weeks with an arm injury, was 2nd with 11 TD's.
LB Jerod Mayo was the team leader in tackles again. His unofficial total sits at 181 tackles (113 solo). The team usually adjusts the counts based on coaches film study so in the Friday game preview we will have Mayo's official total.
DE Rob Ninkovich finished with a team high 8 sacks in 2012.
LB Brandon Spikes and Ninkovich tied a team record this year with 5 forced fumbles each. Mayo was second with 4 forced fumbles.
DT Vince Wilfork and Ninkovich had a team high 4 fumble recoveries in 2012.
Rookie DE Chandler Jones had a team high 12 QB hits and he was second on the squad with 6 sacks.
CB/S Devin McCourty had 5 INT's to lead the team. Rookie S Tavon Wilson had 4 INT's; rookie CB Alfonzo Dennard and S Steve Gregory each had 3 INT's.
It was the 2nd time in 3 years that McCourty has led the team in INT's.
McCourty also led the team in passes defensed, while CB Kyle Arrington was 2nd on the year with 11 passes defensed.
WR Matthew Slater had 20 tackles on special teams and rookie S Nate Ebner was 2nd with 17 tackles on special teams.
The Patriots returned 2 INT's and 3 fumbles for TD's in 2012. They also had a kickoff return and a punt return TD.
New England scored 4 TD's on 10 possessions. They also had 5 punts and 1 taken over on downs.
Miami had 13 possessions. 1 missed FG, 5 punts, 1 INT, 1 fumble, 1 end of half time expired, 1 end of game time expired and 1 taken over on downs.
The Patriots sacked Miami QB Ryan Tannehill 7 times, while Brady was sacked 1 time.
The New England defense sacked the opponents quarterback 37 times this season while Tom Brady and Ryan Mallett were sacked 26 times.
New England ended the season PLUS 25 in turnover differential, 1st in the NFL. The offense gave up 9 INT and 7 fumbles, while the defense had 20 INTs and 21 fumble recoveries.
The Patriots were 3 for 3 (100%) in the red zone. They had 3 TDs. For 2012 New England was 40 of 58 (69%) in the red zone while opponents were 20 for 36 (55.5%) in the red zone in 2012.
New England was 8 for 16 (50%) on third down conversions and 2 for 3 (66.7%) on 4th down attempts. For the season the Patriots were 110 for 226 (48.6%) in 3rd down efficiency and 8 for 12 (75%) on fourth down attempts. Opponents were 82 for 205 (40%) in 3rd down efficiency and 9 for 23 (39.1%) on 4th down attempts.
The Dolphins are 17-30 as the road team in the series and 2-9 at Gillette Stadium.
The Fish are 31-43 vs. the AFC East since 2001.
Miami head coach Joe Philbin in his 1st season as a NFL head coach; he is 7-9 since taking over.
He is 0-2 against New England in his career.
Miami Dolphins QB Ryan Tannehill is in his first season in the NFL and he is 7-9. He was Miami's first round draft pick in the 2012 NFL Draft out of Texas A&M.
He is 0-2 vs. New England in his career.
Tannehill threw his first INT in 141 attempts when Gregory picked him in the first quarter.
Miami was 5 for 13 (38%) on 3rd down conversions and 0 for 1 (0%) on 4th down attempts.
The Dolphins were 0 for 1 (0%) in the red zone. They had 1 fumble.
Miami finished the season MINUS 10 in turnover differential. The offense had given up 13 INT and 13 fumbles, while the defense had 10 INTs and 6 fumble recoveries.
Next Week
The Patriots, who are the #2 seed in the AFC, will host Houston, Baltimore or Indianapolis at Gillette Stadium on Sunday January 13th at 4:30 p.m.
Follow Steve on Twitter @SteveMichaelsII