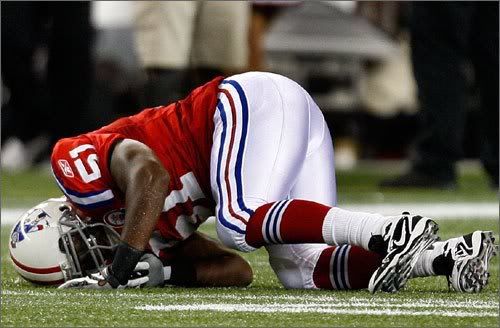 New England Patriots second year linebacker Jerod Mayo could miss 6-8 weeks after suffering a grade 3 sprain of MCL in his right knee in Monday night's win over the Buffalo Bills according to Christopher Gasper of the Boston Globe.
From Gasper:
According to two sources with direct knowledge of Patriots linebacker Jerod Mayo's injury, Mayo sprained the medial collateral ligament in his right knee on Monday night against the Buffalo Bills.

One source said that Mayo was expected to be out 6 to 8 weeks with the Grade 3 MCL sprain, but the other source said that the timetable is "not that bad" and Mayo is expected to be back quicker than that.
We all know Patriots head coach Bill Belichick is very cryptic with what he says and all he had to offer on Tuesday was that it was not a season-ending injury.
Season-ending injury or not, Mayo will be missed on the defensive side of the ball.
Could we see the Patriots ask their recently retired linebacker and now ESPN analyst Tedy Bruschi back to help out? Or could they see what Junior Seau is doing?
My guess is that Belichick stays in house and hopes that someone steps up in his place.
Mayo has sprained MCL [Extra Points]