The 2012 Pro Bowl rosters came out on Tuesday night and the New England Patriots had eight players named to the team, seven of them as starters. The eight players (seven starters) were the most in the AFC.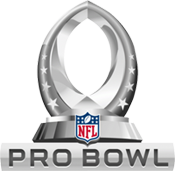 The offensive players named to the 2012 Pro Bowl were QB Tom Brady, TE Rob Gronkowski, G Logan Mankins, G Brian Waters and WR Wes Welker. The defensive players were DT Vince Wilfork and DE Andre Carter. Matthew Slater was named as a special teams player.
All but Slater were named starters. Carter will be unable to participate in the game because he was placed on injured reserve.
The 2012 NFL Pro Bowl will take place on January 29, 2012 at Aloha Stadium in Honolulu, HI and will be nationally televised on NBC. It is taking place a week before Super Bowl XLVI.
So while we are happy that eight Patriots made the Pro Bowl, we hope they are preparing for the Super Bowl that week and not playing in the Pro Bowl.
Follow Ian on Twitter @soxanddawgs. And be sure to like us on Facebook as well.