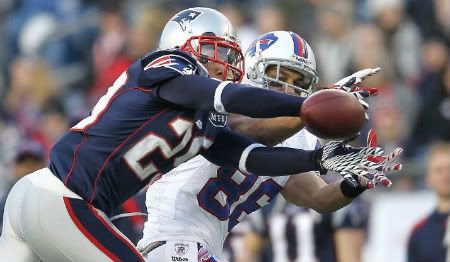 For the second consecutive week it was as if the New England Patriots forgot the game started at 1 p.m. Last week's shoddy first half led to a 17-0 deficit after 30 minutes. This week they found themselves down 21-0 to the Buffalo Bills after the first 15 minutes.
Then the gun to end the quarter fired and it was if the Patriots were snapped out of their trance and they went on to score 49 unanswered points in what turned out to be a 49-21 rout of their AFC East rival Bills on Sunday at Gillette Stadium.
The stench of an early game funk was on everyone, offense and defense, and after Buffalo WR Steve Johnson scored a TD to make it 21-0 it was hanging in the air pretty bad. Then someone asked for a courtesy flush and miraculously the air cleared and the New England juggernaut was geared up.
Offensively Tom Brady had another typical Brady game he was 23 for 35 for 338 yards, 3 TD's and 1 INT. It was the first pick he threw in 3 games. He also tied Hall of Fame QB John Elway on the all-time TD pass list finishing the season with 300 for his career.
Brady also finished with 39 TD passes on the year and became just the third player to surpass 5,000 yards passing joining former record holder Hall of Fame QB Dan Marino and current record holder Drew Brees of New Orleans. Later in the afternoon Detroit's Matthew Stafford would join the club as well. Brees and Brady both eclipsed Marino's mark this season and now stand #1 and #2 in passing yards for a season.
Other offensive mentions include TE Rob Gronkowski who passed New Orleans TE Jimmy Graham, who during his game Sunday, had just surpassed Hall of Fame TE Kellen Winslow Sr. for most receiving yards in a season by a tight end.
Gronk, who also caught the 300th TD pass of Brady's career, finished with 1,327 yards and earlier this season set the single season record for most receiving TD's by a tight end. The new record stands at 17 receiving TD's for tight ends. He also added 1 rushing TD this season.
I also just want to mention there were solid offensive games from TE Aaron Hernandez 7 catches for 138 yards and 1 TD, rookie RB Stevan Ridley 15 carries for 81 yards and RB BenJarvus Green-Ellis who ran for 22 yards on 7 carries and scored twice.
On the other side of the ball we saw the return of S Patrick Chung who made an immediate impact. Chung may be the hardest hitter on the team and when he is on the field bringing the wood his fellow defensive backs seem to step up their play as well. He made his presence know on the Bills first drive when on third down he crushed the receiver 1-yard shy of the first down marker. Too bad it didn't prevent a fake punt that New England seemed ill prepared for.
This seemingly led to inspired play from LB Jerod Mayo, CB Antwaun Molden, CB Sterling Moore, who had two picks one of which he returned for a 21-yard TD, and CB Devin McCourty.
Maybe with the return of Chung and LB Brandon Spikes the defense will play better and give up fewer yards. As I said before I only concern myself with points allowed but the problem now is that better, playoff caliber, teams with Pro Bowl quarterbacks and more offensive weapons will turn more of those yards allowed into points allowed in the playoffs.
Bills at Patriots Gamebook. This includes the box score, all the stats, play by play, drive charts and more.
To continue reading the Buffalo Bills @ New England Patriots recap, hit the read more button below if you're on the home page.
Turning Point(s) of the Game
Down 21-0 New England goes on a 9 play, 77 yard scoring drive that featured a Stevan Ridley run of 22-yards, a 27-yard pass to Aaron Hernandez and was capped by a 1-yard BenJarvus Green-Ellis TD run.
Offensive Player of the Game
Patriots RB Stevan Ridley who had 15 carries and rattled off 81 yards in his first career start.
Defensive Players of the Game
Patriots S Patrick Chung who had 7 tackles (6 solo) and 1 QB hit and set the tone for the defense. CB Antwaun Molden had 6 tackles (all solo), 1 INT and 1 pass defensed and CB Sterling Moore had just 1 tackle but grabbed 2 INT's, 1 was returned 21-yards for a TD.
Game Notes
Starters for the Patriots were:
On Offense:
LT Light
LG Wendell
C Connolly
RG Waters
RT Solder
TE Gronkowski
TE Hernandez
WR Welker
WR Branch
QB Brady
RB Ridley
On Defense:
DE Ellis
DT Wilfork
DT Love
DE Deaderick
LB Ninkovich
LB Mayo
LB Fletcher
CB McCourty
CB Arrington
S Ihedigbo
S Chung
Inactives for the Game:
Patriots
1. DE Ron Brace
2. G Logan Mankins (MCL)
3. T Sebastian Vollmer (back/foot)
4. LB Tracy White (abdomen)
5. RB Kevin Faulk
6. RB Shane Vereen (hamstring)
7. QB Ryan Mallett
Bills
1. QB/WR Brad Smith (hamstring)
2. QB Josh Nesbit
3. G Kraig Urbik (knee)
4. DT Jarron Gilbert
5. T Demetrius Bell (knee)
6. WR Kamar Aiken
7. TE Fendi Onobun
The spread (Patriots MINUS 11) WAS covered. The over/under (51) WAS COVERED. I GAVE the points (Patriots) and took the OVER. I finished the regular season 10-5-1 vs. the spread and 12 of 16 calling the under/over.
New England finished the season with 13 wins it was the first time the ever earned that win total.
They were 7-1 at The Razor, 6-2 on the road, 5-1 against the AFC East, 0-1 against the AFC North, 1-0 against the AFC South and 4-0 against the AFC West for a 10-2 record vs. the AFC. They finished 3-1 against the NFC East.
The Patriots are the AFC's #1 playoff seed and will have home field through out the playoffs.
The Patriots lead the overall series 62-41-1 vs. Buffalo.
The 62 wins are the most the Patriots have over any opponent.
New England has won 21 of the last 24 meetings dating back to 2000.
Since Gillette Stadium opened in 2002, New England is 74-15 at home including the playoffs.
New England has won 11 consecutive home games against Buffalo.
New England is 53-15 vs. the AFC East since 2001.
An AFC East rival has not swept the Patriots in a season series since 2000 when both Miami and New York swept them.
The New England defense has sacked the opponents quarterback 40 times in 16 games.
New England is PLUS 17 in turnover differential. The offense has given up 12 INT and 5 fumbles, while the defense has 23 INT and 11 fumble recoveries.
Belichick's 189 wins are good for 9th all-time. Chuck Knox, who coached the Rams, Redskins and Seahawks, is 8th all-time with 193.
Belichick is now 21-4 vs. Buffalo as a head coach with New England and Cleveland.
New England offensive coordinator Bill O'Brien is rumored to be the heading to Penn State University to become the Nittany Lions head football coach.
Tom Brady is 18-2 vs. the Bills in his career.
Brady has thrown 39 TD's and 12 INT's while being sacked 32 times in 16 games.
Brady has 300 TD passes in his career he is now tied for 5th all-time with Hall of Fame QB John Elway.
Brady has 124 career wins he is now tied for 5th all-time with Fran Tarkenton.
He became just the third quarterback to surpass 5,000 passing yards in a season he finished with 5,235 which is second most all-time to Drew Brees who had 5,476 this year. Detroit QB Matt Stafford also went over 5,000 yards passing this season (5,038).
Brady also set a franchise record for completions in a season with 401 breaking the mark set by Drew Bledsoe of 400 in 1994.
WR Wes Welker now has catches in 98 consecutive games including playoffs, 81 as a Patriot. The last time Welker did not have a catch in a game was 12/24/05 as a Dolphin.
TE Rob Gronkowski set the NFL record for single season yards (1,327) by a tight end that was held by the great Kellen Winslow Sr. with 1,290 yards in 1980. Earlier Sunday New Orleans TE Jimmy Graham broke the record first (1,310), then Gronk broke Graham's mark.
RB BenJarvus Green-Ellis became just the third running back in franchise history with consecutive 10 TD seasons.
DE Mark Anderson had 1 sack on Sunday to give the Patriots two players with 10 or more sacks in a season joining injured team mate Pro Bowler, Andre Carter.
CB Sterling Moore had his first two NFL INT's and his first NFL TD.
On Saturday CB Malcom Williams, a 7th round pick, was activated from the practice squad and placed on the 53-man roster.
The Bills are 0-10 all-time at Gillette Stadium. Overall as the road team in the series they are 19-33.
The Bills last won in Foxboro in 1999 when they beat the Patriots, 13-10 in Week 16 behind Doug Flutie and Thurman Thomas.
Bill Leavy was the game referee. The temp at kickoff was 51, sunny and warm.
Attendance – 68,756 at Gillette Stadium – Foxboro MA
Post Game Interviews
Patriots head coach Bill Belichick and Patriots QB Tom Brady post game press conferences via patriots.com
This Week in the AFC East
Miami beat the NY Jets, 16-10 to eliminate the Jets from the playoff push.
Final AFC East Standings
Patriots 13-3/5-1
Jets 8-8/3-3
Dolphins 6-10/3-3
Bills 6-10/1-5
Next Game
The Patriots have a playoff bye and are idle. They will next play the weekend of January 14-15, 2012 with a home game at Gillette Stadium against an opponent to be determined.
Follow Steve on Twitter @djstevem
Photo credit: Getty Images