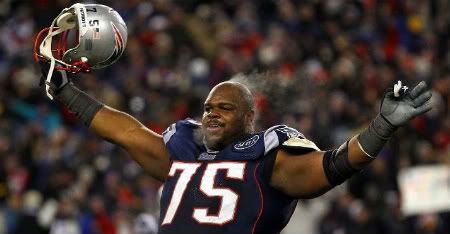 Do not ask me how I remained so calm in a room full of people screaming their heads off at the television. Maybe it was my fire service training that helped me stay calm, maybe it was the fact that I've seen this same show so many times in the last decade I could have predicted the final act. In my head I was screaming "SHANK IT!!!", on the outside there were no signs.
I was the first one though in that room full of people to scream out "WIDE LEFT, HE MISSED IT!!!"
Thank you Billy Cundiff, for you are now my "Shankapotamus".
What a game it was tight the entire time, it was one of the best games I've seen in a while and did you notice the officials only threw flags when they had to? Offsides, illegal motion, etc and other than that they let them play.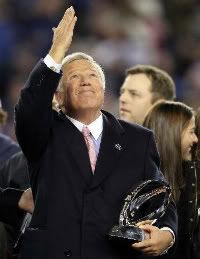 Thank you Vince Wilfork, you are a beast amongst boys. With all due respect to the late Clarence Clemons, Wilfork is "The Big Man". One handed he sacked Joe Flacco. One handed he brought down Ricky Williams, one handed he made several plays and along with Kyle Love, Brandon Deaderick, Mark Anderson and "Big Money" Gerard Warren the defensive line was dominating. The pushed, they pulled, they fought for what was there's and what wasn't.
Thank you Brandon Spikes, Rob Ninkovich and Jerod Mayo for your all out intensity in the middle of the field. And one more for Moore, Sterling Moore, the rookie DB from SMU who last year was at the Super Bowl as a fan and this year will most likely play in it because in crunch time, game on the line, do or die, put up or shut up, he did them all.
The offense was only once again just decent and as Tom Brady said they carried the team because he "sucked pretty bad today". But the efforts were there by Rob Gronkowski, Aaron Hernandez, Wes Welker and BenJarvus Green-Ellis. And with those all out efforts and the good play from the offensive line you guys are going to the Super Bowl.
In the end thought it may have been the teams guardian angel that blew that kick wide left, we will never know. What we do know is the New England Patriots are once again going to the Super Bowl with a chance at their fourth championship in 10 years.
Stay with Sox & Dawgs for all your Patriots Super Bowl XLVI information.
Ravens at Patriots Gamebook. This includes the box score, all the stats, play by play, drive charts and more.
Ravens at Patriots Game Recap.
To continue reading the Baltimore Ravens @ New England Patriots recap, hit the read more button below if you're on the home page.
Turning Point(s) of the Game
Ravens K Billy Cundiff misses wide left from 32 yards with 11 seconds to play and the Patriots win the AFC Championship.
Offensive Player(s) of the Game
Ravens QB Joe Flacco was 22 of 36 for 306 yards 2 TD's, 1 INT and 3 sacks.
Defensive Player(s) of the Game
Patriots DT Vince Wilfork was in on 6 tackles (3 solo), 1 sack, 3 tackle for loss and 1 quarterback hit.
Game Notes
Starters for the Patriots were:
On Offense:
LT – Light
LG – Mankins
C – Connolly
RG – Waters
RT – Solder
TE – Hernandez
TE – Gronkowski
WR – Branch
WR – Welker
QB – Brady
RB – Woodhead
On Defense:
DE – Wilfork
DT – Deaderick
DT – Love
DE – Anderson
LB – Mayo
LB – Spikes
LB – Ninkovich
CB – McCourty
CB – Arrington
S – Chung
S – Ihedigbo
Inactives for the Game:
Patriots
1. WR Chad Ochocinco
2. T Sebastian Vollmer (back/knee)
3. T Donald Thomas
4. LB Gary Guyton
5. RB Shane Vereen
6. RB Stevan Ridley
7. QB Ryan Mallett
Ravens
1. LB Sergio Kindle
2. NT Bryant McKinney
3. OL J Boren
4. LB J Bynes
5. RB A Allen
6. CB C Brown
7. WR T Doss
The spread (Patriots minus 7 1/2) WAS NOT covered. The over/under (50 1/2) WAS NOT COVERED. I GAVE the points (Patriots) and took the OVER. I am now 10-7-1 vs. the spread and 13 of 18 calling the under/over.
Baltimore won the toss and elected to receive.
Since Gillette Stadium opened in 2002, New England is 76-15 at home including the playoffs.
The Patriots are 13-3 at home in the playoffs all-time. They are 9-2 in the post season at Gillette Stadium.
Overall in the playoffs they are 23-15, they are 7-1 in the AFC Championship.
This was the second time the teams have had a playoff game in Foxboro.
New England has won 10 consecutive games since their last loss in Week 9 to the Giants.
Bill Belichick's 192 wins are good for 9th all-time. Chuck Knox, who coached the Rams, Redskins and Seahawks, is 8th all-time with 193.
He is now tied for 3rd in post season coaching wins with long time Redskins coach Joe Gibbs with 17.
Belichick coached teams are 6-1 vs. Baltimore including playoffs all with New England.
Tom Brady is 5-1 vs. the Ravens including 1-1 in the playoffs.
He is now 16-5 in the post season. He is now tied with Joe Montana for the most post season all time.
Brady is now 3rd all-time with 36 post season TD passes. Brett Favre is 2nd with 44 TD passes in the post season.
WR Wes Welker now has catches in 100 consecutive games including playoffs, 83 as a Patriot. The last time Welker did not have a catch in a game was 12/24/05 as a Dolphin.
Patriots players selected for next week's Pro Bowl will now be replaced by other players who were selected as alternates.
The Patriots were 5 of 11 in 3rd down efficiency and 1 for 1 on fourth down attempts. The Ravens were 9 of 17 on 3rd down and 0 for 1 on 4th down attempts.
New England was 2 of 5 in the red zone and 2 for 2 in goal to go, while Baltimore was 1 for 4 in the red zone and 1 for 1 in goal to go.
Baltimore is 1-5 as the road team in the series, 1-4 at Gillette Stadium and 0-1 in Foxboro Stadium.
This was Baltimore's 3rd AFC Championship Game appearance. They are 1-2. They defeated Oakland 16-3 in 2000 and lost to Pittsburgh, 23-14 in 2008 and New England on Sunday.
John Harbaugh finished his fourth season with the team, he is 44-20 since taking over and is 5-4 in the playoffs for an overall record of 49-24.
He is 1-3 vs. New England in his career, with his lone victory coming in the playoffs.
Baltimore Ravens QB Joe Flacco is 44-20 in his career in the regular season and 5-4 in the playoffs for an overall record of 49-24 in 4 seasons.
He is 1-3 vs. New England in his career including playoffs.
The Patriots sacked Flacco 3 times on Sunday.
Alberto Riveron was the game referee.
The temp at kickoff was 29 with a wind chill of 23. It was cloudy and cold.
Attendance: 68,756 at Gillette Stadium, Foxboro MA.
Post Game Interviews
Patriots head coach Bill Belichick and Patriots QB Tom Brady post game press conferences via patriots.com
Next Game
The Patriots will face the winner of the New York Giants/San Francisco 49ers game in Super Bowl XLVI at Lucas Oil Stadium in Indianapolis IN on Sunday February 5. Kick off is at 6:30 p.m. on NBC.
Follow Steve on Twitter @SteveMichaelsII
Photo credits: Getty Images, Getty Images