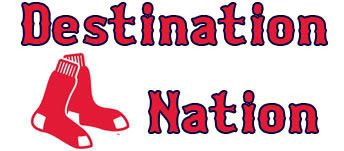 Destination Red Sox Nation is our look at how the minor league teams of the Boston Red Sox fare each night. Game story and box score links as well as links to team rosters, team stats and league standings can be found by clicking on the read more button below if you're on the home page.
If you would like to listen to any of the Red Sox minor league affiliates' games, MiLB.com offers them for free.
To open the links up in a new tab or window, use Control+click
Pawtucket Red Sox
The PawSox are off for the All-Star break. They'll return to action on Thursday when they'll host the Buffalo Bisons
Ex-Red Sox backstop offers observations, critiques of Lavarnway, Saltalamacchia [pawtucket times]
International League 2012 Standings

Portland Sea Dogs:
The Sea Dogs were held to just one hit in a 3-0 loss to the Trenton Thunder.
Trenton Takes Series Finale 3-0 Over Dogs [portlandseadogs.com]
Sea Dogs reliever working his way back [portland press herald]
Portland Sea Dogs @ Trenton Thunder 7.9.12 box score [milb.com]

Salem Red Sox:
Salem hit three home runs in their 7-0 win over Frederick.
Workman Ks 9, Sox Blank Keys 7-0 [salemredsox.com]
Salem Red Sox awakened by typical Workman-like effort [roanoke times]
Frederick Keys @ Salem Red Sox 7.9.12 box score [milb.com]
Carolina League 2012 standings
Greenville Drive:
The Drive were off on Monday.
South Atlantic League 2012 Standings

Lowell Spinners:
The Spinners losing streak hit 11 games as they fell 10-2 to the Batavia Muckdogs.
Spinners Search for July Win Continues [lowellspinners.com]
Lowell returns home on 11-game losing streak [lowell sun]
Sox need to step up and assist Spinners [lowell sun]
Lowell Spinners @ Batavia Muckdogs 7.9.12 box score [milb.com]

Gulf Coast League Red Sox
The only GCL Orioles run was on a home run and that was the difference in a 1-0 win over the GCL Red Sox.
GCL Red Sox @ GCL Orioles 7.9.12 box score [milb.com]
Gulf Coast League 2012 Standings
Follow Ian on Twitter @soxanddawgs. And be sure to like us on Facebook as well.