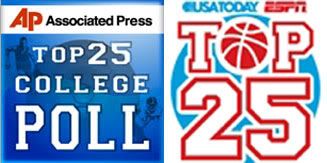 Another week and another drop in the polls for the UConn Huskies men's basketball team. After going 1-1 last week, the Huskies have dropped two spots in the AP Poll to No. 16. They fell one spot in the ESPN/USA Today Coaches Poll to No. 16.
The Ohio State Buckeyes are the new No. 1 team after Duke lost last week (wooooohoooooo!!). They are followed by Kansas, BYU, Duke and Pittsburgh.
The Notre Dame Fighting Irish join the Panthers in the top 10 at No. 8/7. Other Big East teams in the top 25 besides the Panthers, Irish and Huskies are the No. 11/11 Louisville Cardinals, No. 12/12 Syracuse Orange, No. 15/15 St. John's Red Storm, No. 17/17 Georgetown Hoyas and No. 19/19 Villanova Wildcats.
The West Virginia Mountaineers and Cincinnati Bearcats are among the others receiving votes in the AP Poll.
For a full look at both polls, click on the read more button below if you're on the home page.
AP Top 25

ESPN/USA Today Coaches Poll

RK

TEAM

REC

PTS

PREV

RK

TEAM

REC

PTS

PREV

1

Ohio State (45)

27-2

1,602

2

1

Ohio State (17)

27-2

760

3

2

Kansas (14)

27-2

1,554

3

2

Kansas (14)

27-2

756

2

3

Brigham Young (5)

27-2

1,460

7

3

Brigham Young

27-2

690

7

4

Duke (1)

26-3

1,380

1

4

Duke

26-3

671

1

4

Pittsburgh

25-4

1,380

4

5

Pittsburgh

25-4

622

6

6

Purdue

24-5

1,305

8

6

Purdue

24-5

612

8

7

Texas

24-5

1,216

5

7

Notre Dame

23-5

584

9

8

Notre Dame

23-5

1,173

9

8

Texas

24-5

574

5

9

San Diego State

27-2

1,151

6

9

San Diego State

27-2

542

4

10

Wisconsin

22-6

1,040

12

10

Wisconsin

22-6

500

12

11

Louisville

22-7

937

16

11

Louisville

22-7

457

16

12

Syracuse

24-6

898

17

12

Syracuse

24-6

391

20

13

North Carolina

22-6

797

19

13

North Carolina

22-6

367

19

14

Florida

22-6

688

13

14

Florida

22-6

337

13

15

St. John's

19-9

651

23

15

St. John's

19-9

284

25

16

Connecticut

21-7

643

14

16

Connecticut

21-7

274

15

17

Georgetown

21-8

559

11

17

Georgetown

21-8

272

11

18

Arizona

23-6

404

10

18

Arizona

23-6

213

10

19

Villanova

21-8

382

15

19

Villanova

21-8

194

14

20

Kentucky

20-8

335

22

20

Vanderbilt

21-7

183

18

21

Vanderbilt

21-7

330

18

21

Utah State

26-3

178

23

22

Missouri

22-7

261

20

22

Texas A&M

22-6

133

17

23

Xavier

22-6

246

25

23

Kentucky

20-8

131

22

24

Texas A&M

22-6

178

21

24

Missouri

22-7

109

21

25

Utah State

26-3

129

NR

25

George Mason

25-5

70

NR

Dropped Out:

Dropped Out:

Temple 24

Temple 24

Others receiving votes:

Others receiving votes:

George Mason 120, Temple 120, UCLA 75, Kansas State 31, West Virginia 28, Virginia Tech 22, Cincinnati 12, Alabama 5, UNLV 4, Butler 3, Missouri State 3, Old Dominion 1, Long Island 1, Belmont 1

Xavier 67, Temple 57, UCLA 24, Kansas State 12, Alabama 6, Missouri State 3, Cleveland State 1, Virginia Tech 1