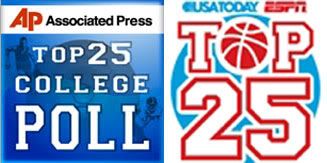 After going 1-1 last week, the UConn Huskies men's basketball team fell one spot in the AP Poll to No. 14 and three spots in the ESPN/USA Today Coaches Poll to No. 15. It's the lowest the Huskies have been ranked since starting off the season unranked.
It was a crazy a week at the top of the polls as all the first four ranked teams from last week lost. With all that craziness happening, the Duke Blue Devils (BARF!!) have returned to the top of both polls.
There are two teams in the top 10 from the Big East. The Pittsburgh Panthers are No. 4/6 and the Notre Dame Fighting Irish are No. 8/9.
Joining the Huskies, Panthers and Fighting Irish from the Big East in the top 25 are the Georgetown Hoyas (11/11), Villanova Wildcats (15/14), Louisville Cardinals (16/16), Syracuse Orange (17/20) and the St. John's Red Storm (23/25). The only team from the Big East receiving votes in both polls are the West Virginia Mountaineers.
To continue reading, click on the read more button below if you're on the home page.
AP Top 25

ESPN/USA Today Coaches Poll

RK

TEAM

REC

PTS

PREV

RK

TEAM

REC

PTS

PREV

1

Duke (35)

25-2

1,531

5

1

Duke (19)

25-2

746

5

2

Ohio State (10)

25-2

1,519

2

2

Kansas (1)

25-2

708

1

3

Kansas (5)

25-2

1,457

1

3

Ohio State (4)

25-2

699

3

4

Pittsburgh (12)

24-3

1,452

4

4

San Diego State (3)

27-1

672

6

5

Texas (1)

23-4

1,395

3

5

Texas

23-4

667

2

6

San Diego State

27-1

1,327

6

6

Pittsburgh (4)

24-3

664

4

7

Brigham Young (2)

25-2

1,261

7

7

Brigham Young

25-2

593

8

8

Purdue

22-5

1,182

11

8

Purdue

22-5

562

11

9

Notre Dame

21-5

1,036

8

9

Notre Dame

21-5

506

7

10

Arizona

23-4

942

12

10

Arizona

23-4

461

13

11

Georgetown

21-6

929

9

11

Georgetown

21-6

437

9

12

Wisconsin

20-6

921

10

12

Wisconsin

20-6

428

10

13

Florida

21-5

841

14

13

Florida

21-5

397

15

14
Connecticut
20-6
768
13

14

Villanova

21-6

377

14

15

Villanova

21-6

697

15

15
Connecticut
20-6
312
12

16

Louisville

20-7

593

16

16

Louisville

20-7

278

16

17

Syracuse

22-6

527

17

17

Texas A&M

21-5

254

17

18

Vanderbilt

20-6

499

18

18

Vanderbilt

20-6

242

18

19

North Carolina

20-6

495

19

19

North Carolina

20-6

236

19

20

Missouri

21-6

378

20

20

Syracuse

22-6

183

20

21

Texas A&M

21-5

342

21

21

Missouri

21-6

161

21

22

Kentucky

19-7

301

22

22

Kentucky

19-7

134

22

23

St. John's

17-9

214

NR

23

Utah State

25-3

109

24

24

Temple

21-5

199

23

24

Temple

21-5

85

25

25

Xavier

20-6

103

24

25

St. John's

17-9

73

NR

Dropped out:

Dropped out:

No. 25 Utah State

No. 23 Saint Mary's

Others receiving votes:

Others receiving votes:

Utah State 97, George Mason 51, West Virginia 42, Alabama 15, Florida State 4, UNLV 2, Washington 2, Belmont 1, Harvard 1, UCLA 1

George Mason 55, Xavier 18, Washington 6, UCLA 5, Valparaiso 3, Coastal Carolina 2, West Virginia 1, Saint Mary's 1