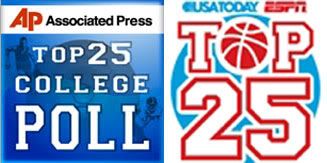 The lastest men's college basketball polls came out on Monday and the UConn Huskies find themselves out of the top 10 for the first time since being unranked. They dropped three spots in the AP Poll to No. 13 and three spots in the ESPN/USA Today Coaches Poll to No. 12.
The Kansas Jayhawks take over as No. 1 in both polls and are ahead of the Texas Longhorns by just one point in the coaches poll. The Longhorns are No. 3 in the AP Poll while the Ohio State Buckeyes are No. 2 in the AP Poll and No. 3 in the coaches poll.
The Pittsburgh Panthers are the highest ranked team from the Big East in the top 10 as they are No. 4/4. The Notre Dame Fighting Irish come in at No. 8/7 and the Georgetown Hoyas at No. 9/9.
Joining the Huskies and those three teams in the top 25 from the Big East are the Villanova Wildcats (14/15), Louisville Cardinals (16/16) and Syracuse Orange (17/20).
The West Virginia Mountaineers and St. John's Red Storm are receiving votes in both polls while the Marquette Golden Eagles are only receiving votes in the AP Poll.
For a full look at both polls click on the read more button below if you're on the home page.
AP Top 25

ESPN/USA Today Coaches Poll

RK

TEAM

REC

PTS

PREV

RK

TEAM

REC

PTS

PREV

1

Kansas (22)

24-1

1,549

2

1

Kansas (14)

24-1

753

2

2

Ohio State (14)

24-1

1,536

1

2

Texas (13)

22-3

746

3

3

Texas (23)

22-3

1,535

3

3

Ohio State (3)

24-1

706

1

4

Pittsburgh (6)

23-2

1,478

4

4

Pittsburgh (1)

23-2

697

4

5

Duke

23-2

1,348

5

5

Duke

23-2

647

5

6

San Diego State

25-1

1,256

6

6

San Diego State

25-1

623

6

7

Brigham Young

24-2

1,217

7

7

Notre Dame

21-4

588

7

8

Notre Dame

21-4

1,212

8

8

Brigham Young

24-2

560

8

9

Georgetown

20-5

1,103

11

9

Georgetown

20-5

526

11

10

Wisconsin

19-5

1,044

13

10

Wisconsin

19-5

460

14

11

Purdue

20-5

941

14

11

Purdue

20-5

458

12

12

Arizona

21-4

795

15

12

Connecticut

19-5

405

9

13

Connecticut

19-5

786

10

13

Arizona

21-4

363

16

14

Florida

20-5

775

17

14

Villanova

19-6

359

10

15

Villanova

19-6

710

9

15

Florida

20-5

341

19

16

Louisville

19-6

683

16

16

Louisville

19-6

332

15

17

Syracuse

20-6

496

12

17

Texas A&M

19-5

201

22

18

Vanderbilt

18-6

471

23

18

Vanderbilt

18-6

188

24

19

North Carolina

18-6

420

20

19

North Carolina

18-6

186

21

20

Missouri

19-6

404

19

20

Syracuse

20-6

185

13

21

Texas A&M

19-5

377

22

21

Missouri

19-6

159

20

22

Kentucky

17-7

320

18

22

Kentucky

17-7

140

18

23

Temple

19-5

208

24

23

Saint Mary's

22-4

139

23

24

Xavier

18-6

83

NR

24

Utah State

23-3

129

17

25

Utah State

23-3

75

21

25

Temple

19-5

58

NR

Dropped Out:

Dropped Out:

West Virginia 25

Minnesota 25

Others receiving votes:

Others receiving votes:

West Virginia 58, Saint Mary's 52, Coastal Carolina 32, UCLA 32, George Mason 28, St. John's 26, Washington 23, Alabama 13, Florida State 11, Marquette 6, Baylor 5, Belmont 5, Colorado State 5, Minnesota 4, UNLV 3

George Mason 30, Coastal Carolina 19, Xavier 13, Washington 11, UCLA 8, UTEP 8, Wichita State 7, West Virginia 5, St. John's 5, Virginia Commonwealth 5, Valparaiso 4, Minnesota 4, Florida State 4, Cleveland State 2, Baylor 1