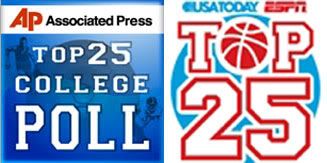 In just a half hour or so, the UConn Huskies men's basketball team will take on the No. 7/7 Villanova Wildcats after moving up two spots in the AP Poll to No. 8 and one spot in the ESPN/USA Today Coaches Poll also to No. 8.
Joining the Huskies and Wildcats in the top 10 of both polls are the Syracuse Orange (3/3) and the Pittsburgh Panthers (5/4). Also in the top 25 from the Big East in both polls are the Notre Dame Fighting Irish (16/16), Louisville Cardinals (19/15) and Georgetown Hoyas (T23/23). Also ranked in the AP Poll are the West Virginia Mountaineers at No. 21 and Cincinnati Bearcats at No. 25.
The St. John's Red Storm are the only Big East team receiving votes in the AP Poll while West Virginia and Cincinnati are the only Big East teams receiving votes in the ESPN/USA Today Coaches Poll.
For a full look at both polls, click on the read more button below if you're on the home page.
AP Top 25

ESPN/USA Today Coaches Poll

RK

TEAM

REC

PTS

PREV

RK

TEAM

REC

PTS

PREV

1

Ohio State (49)

18-0

1,606

2

1

Ohio State (28)

18-0

772

2

2

Kansas (6)

17-0

1,526

3

2

Kansas (2)

17-0

738

3

3

Syracuse (8)

18-0

1,523

4

3

Syracuse (1)

18-0

715

4

4

Duke (1)

16-1

1,393

1

4

Pittsburgh

17-1

653

5

5

Pittsburgh (1)

17-1

1,382

5

5

Duke

16-1

641

1

6

San Diego State

19-0

1,294

6

6

San Diego State

19-0

633

6

7

Villanova

16-1

1,265

7

7

Villanova

16-1

594

7

8
Connecticut
14-2
1,148
10
8
Connecticut
14-2
531
9

9

Brigham Young

17-1

1,057

11

9

Brigham Young

17-1

529

10

10

Texas

14-3

1,015

12

10

Texas A&M

16-1

491

13

11

Texas A&M

16-1

996

14

11

Texas

14-3

454

14

12

Kentucky

14-3

975

13

12

Kentucky

14-3

439

15

13

Missouri

15-3

758

15

13

Purdue

15-3

371

8

14

Purdue

15-3

672

8

14

Missouri

15-3

337

12

15

Minnesota

14-4

513

NR

15

Louisville

14-3

276

17

16

Notre Dame

14-4

495

9

16

Notre Dame

14-4

266

11

17

Michigan State

12-5

467

NR

17

Wisconsin

13-4

207

21

18

Wisconsin

13-4

448

20

18

Michigan State

12-5

187

24

19

Louisville

14-3

438

18

19

Minnesota

14-4

183

25

20

Washington

13-4

409

17

20

Washington

13-4

182

18

21

West Virginia

12-4

266

NR

21

Saint Mary's

16-2

153

NR

22

Saint Mary's

16-2

195

NR

22

Illinois

13-5

120

16

23

Georgetown

13-5

146

22

23

Georgetown

13-5

119

19

23

Illinois

13-5

146

16

24

Kansas State

13-5

66

20

25

Cincinnati

16-2

125

25

25

Arizona

15-3

60

NR

Dropped Out:

Dropped Out:

Temple 19, Kansas State 21, UCF 23, Georgia 24

UCF 22, Temple 23

Others receiving votes:

Others receiving votes:

Temple 99, Georgia 89, Kansas State 86, Gonzaga 84, Colorado 78, UNLV 76, Arizona 70, Florida State 64, Vanderbilt 46, Florida 42, St. John's 27, Missouri State 25, Utah State 22, Baylor 18, UCF 10, Southern Miss 8, Marquette 7, Wichita State 6, James Madison 4, Butler 2, North Carolina 2, Penn State 1, Coastal Carolina 1

West Virginia 54, Georgia 52, Temple 44, Cincinnati 42, Gonzaga 39, Utah State 24, Colorado 23, UCF 18, UNLV 8, Vanderbilt 8, Baylor 8, Missouri State 8, Florida 8, Wichita State 8, Florida State 4, Southern Miss 3, Butler 3, James Madison 2, Memphis 1, Belmont 1