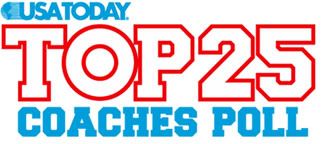 When the final men's college basketball rankings came out yesterday, I was shocked to see the UConn Huskies weren't picked as the unanimous No. 1 team in the land in the ESPN/USA Today Coaches Poll. I even took to Twitter to say that some asinine coach decided not to vote for the Huskies.
And now courtesy of the Hartford Courant, we know that coach's name. It's Mike Adras of Northern Arizona, who actually voted Ohio State No. 1, Kansas No. 2 and UConn No. 3 based on the entire season. Honestly, whatever floats his bubble.
All that matters to me is the fact that the 2011 National Championship trophy is sitting in a display case at Gampel Pavilion in Storrs, CT.
Joining the Huskies in the top 25 from the Big East are the No. 12 Pitt Panthers, No. 14 Notre Dame Fighting Irish, No. 18 Syracuse Orange, No. 20 Marquette Golden Eagles and the No. 22 Louisville Cardinals. West Virginia, St. John's, Cincinnati and Georgetown were among the others receiving votes.
For a full look at the final 2011 ESPN/USA Today Coaches Poll, click on the read more button below if you're on the home page.
ESPN/USA Today Coaches Poll

RK

TEAM

REC

PTS

PREV

1

Connecticut (30)

32-9

773

8

2

Butler

28-10

704

NR

3

Kentucky

29-9

676

10

4

Kansas

35-3

659

2

5

Ohio State (1)

34-3

630

1

6

Virginia Commonwealth

28-12

555

NR

7

Duke

32-5

554

3

8

North Carolina

29-8

532

7

9

Arizona

30-8

531

18

10

Florida

29-8

503

13

11

San Diego State

34-3

479

5

12

Pittsburgh

28-6

448

4

13

Brigham Young

32-5

376

12

14

Notre Dame

27-7

336

6

15

Wisconsin

25-9

311

16

16

Texas

28-8

290

9

17

Purdue

26-8

276

15

18

Syracuse

27-8

250

14

19

Florida State

23-11

197

NR

20

Marquette

22-15

159

NR

21

Richmond

29-8

152

NR

22

Louisville

25-10

147

11

23

Washington

24-11

108

23

24

Kansas State

23-11

73

24

25

Utah State

30-4

51

17

Dropped out:

St. John's 19, Texas A&M 20, Vanderbilt 21, Xavier 22, Georgetown 25

Others receiving votes:

Temple 41, West Virginia 34, St. John's 33, Xavier 31, Texas A&M 31, UCLA 25, Vanderbilt 24, Cincinnati 24, Wichita State 20, George Mason 9, Old Dominion 9, Michigan 9, Gonzaga 7, Georgetown 5, Missouri 2, Illinois 1