By Wil Goldsholl
Hartford, CT, December 2, 2012 – A winless weekend for the Connecticut Whale finished Sunday with a 5-0 loss to the Springfield Falcons at the XL Center, as the Falcons handed the New York Rangers' affiliate their third loss in three nights.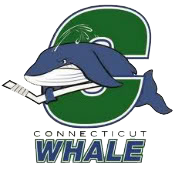 The rival Falcons, still at the top of the Northeast Division, picked up win number 12 with the victory. Connecticut fell to 9-9-2-0
Springfield backstop Curtis McElhinney stopped 34 shots in his fifth shutout of the year. He leads the league in that category and remains top five in the AHL in goals against average. Jason Missiaen saved 23 of 28 in his sixth appearance.
Springfield drew first blood, after shutting down a 2-on-1 opportunity, when Cam Atkinson pulled a wrister that was initially stopped by Jason Missiaen, but Atkinson converted on the rebound. The goal was Atkinson's eighth of the year, assisted by Jonathan Audy-Marchessault. Just two and a half minutes in, Springfield had a 5-0 shot advantage.
Connecticut would turn the offense around, at least for the time being, when Patrick Cullity was called for cross-checking. Connecticut produced eight shots during the man-advantage.
Matt Gilroy was sent off for hooking behind Missiaen's net with 9:06 to play. Audy-Marchessault connected with Ryan Johansen on a brilliant goal-line give-and-go to take a 2-0 edge. With the score, Johansen picked up his seventh goal.
Despite outshooting Springfield 13-7 in the first period, the Whale would take a 3-0 deficit in to the first break. John Moore's slapper from the left point found Matt Calvert in front, and the Manitoba product redirected the puck beautifully with just under four minutes to play.
McElhinney came up with big time saves on Mike Vernace and Tommy Grant before the first expired.
Grant came as close as to scoring as anyone in a white jersey would when he clanged one off the crossbar, but two minutes later Sean Collins put Springfield up 4-0 just before the midway mark of regulation. The play raised some eyebrows as the puck nearly escaped the zone seconds prior to the well-placed wrister.
Micheal Haley looked to put some life in to the Connecticut bench by scrapping with Dalton Smith, but he was also called for roughing and Springfield had yet another power play chance.
Things got chippy late in the second, and the two squads amassed 24 penalty minutes during the period.
In a relatively uneventful third period, Haley squared up with Tomas Kubalik with 10:17 to play, and captain Ryan Craig netted his 12th of the season to close out scoring.
To continue reading, please click on the continue reading button below if you're on the home page.
Springfield Falcons 5 at Connecticut Whale 0
Sunday, December 2, 2012 – XL Center Veterans Memorial Coliseum
Springfield 3 1 1 – 5
Connecticut 0 0 0 – 0
1st Period-1, Springfield, Atkinson 10 (Audy-Marchessault), 2:23. 2, Springfield, Johansen 7 (Audy-Marchessault, Erixon), 12:16 (PP). 3, Springfield, Calvert 6 (Moore), 16:02. Penalties-Cullity Spr (cross-checking), 3:43; Gilroy Ct (hooking), 10:54; Newbury Ct (hooking), 18:53.
2nd Period-4, Springfield, Collins 5 9:46. Penalties-Erixon Spr (interference), 10:06; Smith Spr (fighting), 12:49; Haley Ct (roughing, fighting), 12:49; Tessier Ct (unsportsmanlike conduct), 17:03; Vernace Ct (roughing), 17:03; Newbury Ct (interference), 19:03; Calvert Spr (roughing), 19:15; Parlett Ct (roughing), 19:15.
3rd Period-5, Springfield, Craig 5 (Atkinson, Drazenovic), 14:09 (PP). Penalties-Kubalik Spr (fighting), 9:43; Haley Ct (fighting), 9:43; Gilroy Ct (cross-checking), 13:52.
Shots on Goal-Springfield 7-14-7-28. Connecticut 13-10-11-34.
Power Play Opportunities-Springfield 2 / 7; Connecticut 0 / 2.
Goalies-Springfield, McElhinney 11-2-2 (34 shots-34 saves). Connecticut, Missiaen 2-3-0 (28 shots-23 saves).
A-2,091
Referees-Chris Brown (86).
Linesmen-Derek Wahl (46), Luke Galvin (2).
Follow Ian on Twitter @soxanddawgs. And be sure to like us on Facebook as well.