By Wil Goldsholl
Hartford, CT, November 4, 2012 – The Springfield Falcons defeated the Connecticut Whale at the XL Center in Hartford Sunday night. The Falcons dominated scoring, winning by a final count of 10-2.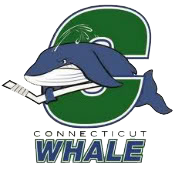 Former Whale players Tim Erixon (goal and three assists, +6) and Jonathan Audy-Marchessault (goal and two assists, +4) combined for seven points and a +10 for Springfield in the game, and Nick Drazenovic and Ryan Johansen had two goals apiece for the Falcons.
The Falcons got busy in the offensive zone early and demonstrated why they only have one regulation loss on the season. Several minutes of sustained pressure led to a second chance goal by Erixon, his first of the year, assisted by Tomas Kubalik and Audy-Marchessault at 3:54.
Erixon returned the favor to Audy-Marchessault when he fed a break-in pass that allowed for a cross crease chance and Audy-Marchessault's fourth goal of the 2012-2013 season at 11:53.
Just 23 seconds later Erixon picked up his third point feeding Nick Drazenovic from the left half-boards to the backdoor.
After falling to a 3-0 deficit, Coach Ken Gernander would relieve goaltender Cam Talbot for the night. The premature departure came just two days after his win-stealing performance in Albany.
Micheal Haley and Dalton Smith dropped the gloves with 6 minutes left in the first to stir things up and Smith would leave the ice for repairs after the bout.
Through the first 20 minutes, Springfield held a 3-0 lead despite the shot count being nearly even. And while the shot clock would be even throughout the game, the scoreboard would tell a different story.
Johansen added another goal for Springfield 3:56 into the second, increasing his line's goal production to four on the night.
Following a Too Many Men minor against Springfield, Tomas Kubalik came out of the box, picked up a loose puck and snapped a shot five-hole on replacement goaltender Jason Missiaen, whose luck between the pipes was no better than Talbot's.
The Whale saw a few quality chances against Curtis McElhinney but the Falcon goaltender was in command at his end.
"There has to be a willingness to take pucks wide… not a cross-ice flip where we don't have support, [Springfield] generally get[s] a favorable bounce and either wheel it up the boards or use the net for protection," Gernander said of the offensive strategy.
Tommy Grant was able to slip one past McElhinney in the closing minutes of the period but the deficit still stood at five goals during the second break.
Matt Gilroy fired in a wrister in the early going of the third to make it a 6-2 game, but the Falcons replied by scoring four more goals over the next 16 minutes, as Andrew Joudrey, Cam Atkinson, Michael Chaput and Drazenovic connected to close out the game.
To continue reading, please click on the continue reading button below if you're on the home page.
Springfield Falcons 10 at Connecticut Whale 2
Sunday, November 4, 2012 – XL Center Veterans Memorial Coliseum
Springfield 3 3 4 – 10
Connecticut 0 1 1 – 2
1st Period-1, Springfield, Erixon 1 (Kubalik, Audy-Marchessault), 3:54. 2, Springfield, Audy-Marchessault 4 (Erixon, Prout), 11:53. 3, Springfield, Drazenovic 3 (Erixon, Prout), 12:16. Penalties-Audy-Marchessault Spr (hooking), 7:25; Smith Spr (fighting), 13:54; Haley Ct (fighting), 13:54; Prout Spr (tripping), 15:47.
2nd Period-4, Springfield, Johansen 4 (Holden), 3:56. 5, Springfield, Kubalik 3 (Calvert), 9:32. 6, Springfield, Johansen 5 (Audy-Marchessault), 16:23. 7, Connecticut, Grant 4 (Haley, Thomas), 16:47. Penalties-served by Kubalik Spr (bench minor – too many men), 7:26; Drazenovic Spr (hooking), 20:00.
3rd Period-8, Connecticut, Gilroy 3 (Newbury, Kreider), 1:40 (PP). 9, Springfield, Joudrey 2 (Craig, Holden), 6:48. 10, Springfield, Atkinson 4 (Calvert, Erixon), 8:47. 11, Springfield, Chaput 2 (Goloubef), 9:50. 12, Springfield, Drazenovic 4 (Holden, Collins), 18:24 (PP). Penalties-Haley Ct (charging), 10:08; Kreider Ct (holding), 17:01.
Shots on Goal-Springfield 13-7-13-33. Connecticut 12-10-7-29.
Power Play Opportunities-Springfield 1 / 2; Connecticut 1 / 4.
Goalies-Springfield, McElhinney 6-1-1 (29 shots-27 saves). Connecticut, Talbot 3-1-0 (11 shots-8 saves); Missiaen 1-2-0 (22 shots-15 saves).
A-2,221
Referees-Terry Koharski (10).
Linesmen-Mike Baker (11), Paul Simeon (66).
Follow Ian on Twitter @soxanddawgs. And be sure to like us on Facebook as well.