By Bruce Berlet
An autographed Toronto Maple Leafs prospect trading card of Jeremy Williams showed up on eBay on Tuesday morning.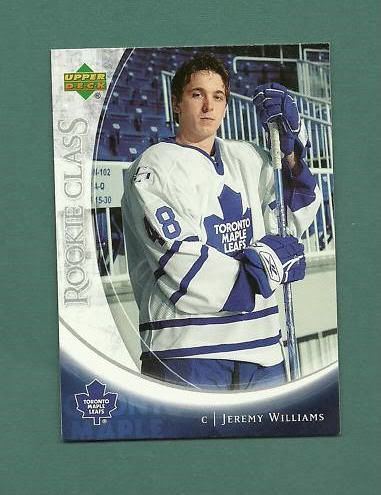 Its value likely increased by day's end after Williams, the Connecticut Whale right wing tied for the AHL goal-scoring lead, was named to the AHL's Eastern Conference All-Star team that will face the Western Conference on Jan. 30-31 at the Giant Center in Hershey, Pa.
"I really wasn't sure if I'd make the team," said Williams, named an All-Star for the first time after only playing with a group of Western Hockey League players against a touring top Russian junior team when he was with Swift Current in 2001. "A couple of guys mentioned it over the last few days, but I didn't really think that I'd be the one going. But it's nice and obviously an honor and a privilege to be named."
Williams then paused, smiled and added, "Now I get to go Hershey, which obviously has great fans and great chocolate. All the guys are asking me to bring back some chocolate bars, so I might just get the team credit card and bring a wheel barrel when I get back."
Williams' 20 goals share the top spot with Wethersfield native Colin McDonald of the Oklahoma City Barons and the Charlotte Checkers' Jerome Samson, who also was named to the Eastern Conference team.
Williams' 20th goal on Saturday night was a beauty, a strong finish of his own rebound after a brilliant rush and pass by 20-year-old defenseman Michael Del Zotto with 37.2 seconds left in overtime that gave the Whale a 3-2 victory over the Norfolk Admirals.
But that kind of goal shouldn't be all that surprising. Williams is believed to be the only person to score a goal in each of his first three NHL games – in a different season. His NHL debut was April 18, 2006, when he scored on his first NHL shot in the Toronto Maple Leafs' season finale, a 5-3 victory over the Pittsburgh Penguins. After the Leafs failed to qualify for the playoffs, Williams was sent down to the Toronto Marlies and then recalled Feb. 23, 2007, when he scored off Mats Sundin's rebound for his second NHL goal in a 5-4 loss to the Montreal Canadiens. Then after being called up a third time on Feb. 27, 2008, Williams completed his unique hat trick against the Florida Panthers.
To continue reading click on the read more button below if you're on the home page.
Since then, Williams has one more goal, on Dec. 8, 2008 in a 4-2 victory over the New York Islanders. So in the first four seasons in which he was called up from the minors, Williams scored in his first NHL game of the season. But that streak ended when he failed to score in his one game with the New York Rangers on Oct. 24, when he played only 3:43 in a 3-1 victory over the New Jersey Devils.
But accuracy is nothing new for Williams, who credited the trait to his early days playing hockey on a family farm in Glenavon, Saskatchewan, pop. 600, located about an hour outside Regina. Williams' father, Kevin, made ice for Williams and his younger brother, Tristan, every winter, but it wasn't exactly like Madison Square Garden.
"If you missed the net, there were no boards, so you'd better be hitting the net or we'd be searching for pucks in the snow," Williams said with a wide smile. "He would go out with the hose and spray it down for me and my younger brother. And if he didn't have time to build a rink, he would clean off an area of farm water so it would freeze over. He would wait until he could drive on it with the tractor, push all the snow off and then spray it down with a little water."
Williams also played baseball for a year and dabbled in rodeo with the rest of his family. His 15-year-old sister, Hailee, recently won the Canadian junior women's championship in barrel racing with horses, which came long after Jeremy chose hockey over team roping.
Good thing because Williams quickly became a scoring machine with Swift Current, capped by career highs of 52 goals and 101 points in 68 games in his final season (2003-04) with the Broncos. The Maple Leafs' seventh-round pick in the 2003 NHL entry draft then played his first full pro season with St. John's, getting 16 goals and 20 assists in 75 games. Williams spent the next four seasons playing mostly with the Marlies but also getting a shot with one of the NHL's Original Six teams.
But Williams and center Kris Newbury, on recall from the Whale to the Rangers for the first time, then signed with the Detroit Red Wings last season, when Williams had pro career highs of 32 goals and 63 points in 77 games with Grand Rapids. But the Griffins failed to make the playoffs, and the Red Wings decided to start shedding veteran players, including trading Newbury to the Rangers for wing Jordan Owens on March 3.
When the Red Wings didn't re-sign Williams, he and his agent, Craig Oster, began looking for employment and decided on the Rangers, who paid Williams a nice AHL salary of $250,000 on July 12.
"We just felt like it was a good fit," said Williams, who will turn 27 on Jan. 26. "I wasn't sure where I was headed this year after sitting around free agency for a bit, and my agent and I knew what we wanted in a contract, and opportunity-wise, where I wanted to be. He thought the Rangers might need secondary scoring and might get a chance to help out. I had a few offers from other teams, but it's one thing to get a contract to play in the AHL, but I was looking for a place to play in the NHL."
Williams has had what he calls his most consistent start as he continues to try to improve on the defensive end, which has kept him from more time in the NHL.
"Aside from my first season, I've had injury problems, and it's kind of hard to be consistent and score goals if you're not playing," Williams said. "So staying healthy and being able to play the last few years has helped a lot. Being good defensively never came naturally for me. I play puck possession, so I'm more dangerous in the offensive zone. I figure if you're in the offensive zone all the time, then you don't have to play defense.
"But the last seasons, especially last year after leaving Toronto, I was trying to work on my defensive play in Grand Rapids, and I think that helped me out a lot. And coming (to Hartford), the same thing."
Whale coach Ken Gernander said Williams was quite deserving of the honor that Gernander received twice.
"He was a legitimate candidate," Gernander said. "He has been a big part of our success and has lots of positives going for him. I thought we had a couple of guys who would make real good candidates, and they chose Jeremy. Congratulations."
Some of Williams' nine goals in 32 NHL games have been highlight-reel material, and he has duplicated some of those this season.
"He's a shooter, so if he's playing well, he's going to get goals," Gernander said. "There are always areas of improvement, especially if you're at the American League level and there's something that the NHL teams would like to see you improve upon. I think he has worked hard and brought us success helping out offensively and been a pretty good part of our team.
"He's obviously a capable goal-scorer, so he's going to have to bring a little bit more to catch the eye of an NHL squad that says this special talent that he has not only translates to the NHL level, but he can also bring (something else) to the game. I don't want to say he's a specialist, but he has a shot that kind of separates him from a lot of players in that he's a very effective shooter. That's how he scores a lot of his goals with the one-timer or from the slot with a good slap shot or snap shot with his good release. He's maximizing one of his strengths or key components."
Williams' NHL-type shot is a major reason he is again being used on the point on the power play, which is handled mainly by assistant coach J.J. Daigneault.
"J.J. had gone to the library and watched some of Williams' previous games and seen that he had a big shot that he can bring and discusses it with him," Gernander said. "He figured it might be a good spot where he might fit on our power play, and it has worked out well. He does have a really good release and is a good goal-scorer."
The Eastern Conference starters, selected by an online fan vote, include Bridgeport Sound Tigers defenseman/captain Mark Wotton and two players named to All-Star teams while with the Wolf Pack, center Corey Locke (Binghamton) and defenseman Lawrence Nycholat (Hershey). The other starters are goalie Brad Thiessen (Wilkes-Barre/Scranton) and forwards Andrew Gordon (Hershey) and Jonathan Cheechoo (Worcester). The Western Conference starters include captain and former Wolf Pack wing Alexandre Giroux (Oklahoma City), and the squad also includes former New Canaan High and Taft School-Watertown star Max Pacioretty (Hamilton), who is on recall to the Montreal Canadiens and had 20 family and friends from New Canaan at Madison Square Garden on Tuesday night for a game against the New York Rangers. A committee of AHL coaches chose the balance of the teams, with all 30 AHL teams having to be represented.
Rookie head coaches John Hynes of Wilkes-Barre/Scranton and Jared Bednar of Peoria will be co-coaches of the Western Conference team because their teams had the best record in their conferences as of Sunday. By virtue of winning the 2010 Calder Cup, Bears coach Mark French and assistant Troy Mann will coach the Eastern Conference team for the second consecutive year.
The Hall of Fame Class of 2011, to be inducted Jan. 30 at 11 a.m., is Mitch Lamoureux, Larry Wilson and the late Harry Pidhirny and Maurice Podoloff, who grew up in New Haven and graduated from Yale. AHL Hall of Famer Bruce Boudreau, former coach of the Hershey Bears and now coach of the Washington Capitals, will be the keynote speaker, and AHL graduate and 2008 Foster Hewitt Award winner Mike Emrick will be master of ceremonies.
Tickets for the All-Star Classic, which includes admission to the skills competition (3 p.m., Jan. 30) and All-Star Game (7 p.m., Jan. 31), are nearly sold out. Tickets remain for the post-skills party (6 p.m., Jan. 30) and Hall of Fame induction and awards ceremony (11 a.m., Jan. 31). For information, contact the Giant Center box office at 717-534-3911.
WHALE GET TWO PLAYERS FROM GREENVILLE
Defenseman Sam Klassen, reassigned by the Rangers from the ECHL's Greenville Road Warriors to the Whale, couldn't get to Connecticut because his flight was canceled. And Klassen might not be able to make practice on Wednesday as the storm that dumped more than a foot of snow on the Southeast hit New England overnight. Ditto for forward Chris Chappell, who was reassigned from Greenville to the Whale on Tuesday night.
The 6-foot-2, 199-pound Klassen had one goal, six assists and was plus-11 in 34 games with the Road Warriors. He signed a free-agent contract with the Rangers on July 27, 2009 after getting seven goals and 74 assists in 249 games with the WHL's Saskatoon Blades.
The 6-4, 212-pound Chappell had four goals and seven assists in 24 games with Greenville. Last season, he was scoreless in six games with the Hartford Wolf Pack after being limited to 11 games in an injured-riddled season with the Charlotte Checkers in which he had one goal and three assists. The Rangers signed Chappell as a free agent on July 2, 2009 after he had 70 goals and 84 assists in 248 games with the Saginaw Spirit of the Ontario Hockey League.
Wojtek Wolski, acquired from the Phoenix Coyotes for defenseman Michal Rozsival on Monday after it was learned that Alex Frolov would need season-ending knee surgery this week, made his Rangers debut Tuesday on a line with Marian Gaborik and former Wolf Pack center Artem Anisimov.
Rozsival's departure left the Rangers with only six defensemen, including rookie Ryan McDonagh, who played his third NHL game Tuesday night.
Twenty-year-old defenseman Michael Del Zotto has played well in his first three minor-league games setting up game-winners by Tim Kennedy and Williams.
"It's been good, and a great group of guys to play with," said Del Zotto, the Rangers' first-round pick (20th overall) in 2008. "The first period of the first game (a 2-0 victory over Worcester last Wednesday) was a bit different because there are different systems, and (the Whale) play a bit differently. But the guys have been great, jelled pretty quickly, and I've got along with everyone. That's the biggest thing, to make sure you get along with everybody, and everything has gone pretty smoothly."
The Whale (20-14-2-5) lost the opener of a two-game set in Norfolk 5-2 on Friday night, when the Admirals scored three goals in 68 seconds, one less than the franchise record for three fastest goals allowed. But the Whale rebounded from that unwanted record for a 3-2 overtime victory that improved their run to 13-3-0-2.
"The floodgates opened, but we got the two points the next night and four of six on the road, so we'll take it," Del Zotto said.
Del Zotto said he has achieved the No. 1 objective of Rangers president and general manager Glen Sather and coach John Tortorella after the young defenseman had two goals and seven assists in 35 games.
"They wanted me to come down and play a lot of minutes, and that definitely happened in all areas of the game," said Del Zotto, who averaged more than 30 minutes for three games, similar to the time of the Rangers' Marc Staal, named to the NHL All-Star Game for the first time on Tuesday. "Once you get that going, then you feel more comfortable. I'm just trying to get my confidence back, and playing a lot of minutes and being out there every other shift is the only way you're going to get any better and into the swing of things.
"That's what has happened so far, so I'm just taking it a day at a time. All I can do is control how hard I work. The rest is out of my control."
On Jan. 3, Del Zotto, a member of the NHL all-rookie team last season, switched places with 21-year-old rookie Ryan McDonagh, who more than held his own in his first two NHL games, victories over the tough Dallas Stars and St. Louis Blues, and was in the lineup again Tuesday night alongside former Hartford Wolf Pack defenseman Matt Gilroy.
"We've been trying to build this team around the youth," Sather said during a teleconference call Monday night. "And when a player like this, who's 24 years old, who's 6-foot-3 and 215 pounds and has been a very good, prolific goal scorer in the past, and you're moving a guy that's 32 years old with this year and next year left on his contract, it was a good opportunity for us to get younger and bigger and give the kids the opportunity in defense to play."
The trade also gives the Rangers additional salary cap space, as Wolski has a $3.8 million hit for this season and next season, while Rozsival's hit is $5 million.
Wolski, the Colorado Avalanche's first-round pick in 2004, had six goals and 10 assists in 36 Coyotes games this season but only three points in his last 17 games. But the Rangers hope he can regain his touch from last season, when he had 23 goals, 42 assists and was plus-21 in 80 games with the Avalanche and Coyotes. He had six goals and 12 assists in 18 regular-season games with the Coyotes last season and then scored four goals and had one assist in seven playoff games.
"He's got all the talent in the world," Sather said. "The opportunity is gonna be here for him to play in a pretty good position, and we look forward to seeing him play."
Former Wolf Pack All-Star right wing Ryan Callahan, one of six injured Rangers forwards, resumed skating Sunday after sustaining a broken left hand when he blocked a shot by Pittsburgh Penguins' defenseman Kris Letang in a 4-1 victory Dec. 15. Drury broke a finger for the first time in the very first scrimmage in training camp and again in practice, and other casualties have been Rozsival, Frolov, Gaborik (separated shoulder), center Erik Christensen (sprained MCL) and enforcer Erik Boogaard (concussion).
Tortorella lauded Gernander and his assistants for preparing so many reinforcements when he called them "a lifeline, especially in a (salary) cap world."
WHALE'S NEW ROAD JERSEYS DEBUT FRIDAY
The Whale is 2-1 on a four-game road trip that ends Friday night at 7 at Portland, where their new blue road jerseys will debut. The jerseys are available at the XL Center or The Hartford Store, 45 Pratt Street in Hartford. Prices, including sales tax, are $289 (authentic), $125 (senior replica) and $99 (junior replica).
The Pirates (21-12-4-1) had a three-game winning streak ended by Binghamton on Tuesday night as Locke celebrated his fourth selection to the All-Star team with two goals and two assists. Locke, who is the All-Star scoring leader with nine points, got the winner with his first goal 19 seconds into the second period while increasing his league-leading totals to 40 assists and 55 points. The loss kept the Pirates in a second-place tie in the Atlantic Division with the Whale, who has played three more games. The Pirates are 12-3-3-1 at the Cumberland County Civic Center for a winning percentage of .737, third best in the AHL.
Former All-Star right wing Mark Mancari leads the Pirates in goals (17), assists (20) and points (37). The best of the rest for coach Kevin Dineen, the former Hartford Whalers star right wing and captain, are center Paul Byron (13, 14), center Matt Ellis (7, 18), defenseman Marc-Andre Gragnani (7, 17) and left wing Colin Stuart (7, 17). Rookie forward Maxime Legault scored in each of the Pirates' three victories last week, registering four goals after tallying four in his first 32 games. Jhonas Enroth (12-11-1, 2.93 goals-against average, .907 save percentage) and David Leggio (9-4-0, 2.98, .908) split the goaltending.
The Whale returns to the XL Center Saturday at 7 p.m. to face the Providence Bruins in the start of a three-game homestand that will include former Boston Bruins standouts Rick Middleton and Reggie Lemelin signing autographs in the atrium from 6-7 p.m. and then dropping the ceremonial first puck. Middleton, who played 12 seasons with the Bruins after two with the Rangers, and Lemelin also will play on the Bruins legends team that will face the Whalers legends Feb. 19 at 4 p.m. before the Whale plays the P-Bruins at 7 p.m. The doubleheader is part of the "Harvest-Properties.com Whalers Hockey Fest" at Rentschler Field in East Hartford on Feb. 11-23. Middleton will be on "The Rock 106.9 WCCC" Wednesday at 8:30 a.m. to discuss the Whalers Hockey Fest and his appearance with Lemelin.
Early commitments for the Whalers team are Jordy Douglas, Ray Neufeld, Gordie Roberts, Darren Turcotte, Nelson Emerson and the Babych brothers, Dave and Wayne. Tickets ($20 to $85) for the doubleheader can be purchased at Ticketmaster.com and the Bushnell box office in Hartford on Monday through Friday from noon to 5 p.m. or by calling the Whale at 860-728-3366. They also can be purchased online and printed immediately at Ticketmaster.com.
There also will be "a town hall meeting" starting at 6 p.m. in the atrium during which fans are encouraged to ask questions and make suggestions to Whalers Sports and Entertainment president and COO Howard Baldwin Jr. The Whale has won the previous three meetings with the last-place Bruins (15-18-3-1), including 6-2 at the XL Center on Jan. 1. But the Bruins are 10-6-2-0 on the road.
Centers Jamie Arniel (14, 11), Zach Hamill (2, 21) and Joe Colborne (9, 11) lead a Bruins attack that has scored the third-fewest goals in the league (91). Right wing Jordan Caron, the Bruins' first-round pick in 2009 who had three goals and four assists in 20 games with the NHL Bruins earlier this season, scored his first AHL goal on New Year's Day.
The league-leading Wilkes-Barre/Scranton Penguins (30-8-0-0) complete the week's action with a Sunday visit at 3 p.m. in the first of two meetings with the Whale. The high-powered Penguins have a 13-point lead over Norfolk and Charlotte in the East Division. Leading scorer Dustin Jeffrey (15, 22) is on recall to the Pittsburgh Penguins, but other threats are right wing Nick Johnson (13, 13), left wing Brett Sterling (11, 15), forward Eric Tangradi (16, 7), left wing Tim Wallace (11, 12) and center Joe Vitale (8, 14). Corey Potter, the third all-time leading scorer among defensemen in Wolf Pack history (21 goals, 81 assists in 246 games), leads Penguins blueliners in points with 17 assists in 35 games. Brad Thiessen (17-3-0, 2.06, .921) and John Curry (13-5-0, 2.35, .910) have both excelled in goal.
It's a Guida's Family Value Day in which family value packages start as low as $48 and include three tickets, three hot dogs or pizza slices, three sodas and a Whale souvenir. Guida's Family Value packs are available at the XL Center box office or online at www.CtWhale.com. Fans are encouraged to bring their skates for a free postgame skate, sponsored by Stone Academy. … Goalie Cam Talbot is 6-0-1 in his last seven decisions, including 38 saves Saturday night when the Whale increased their AHL-high total of overtime victories to five. Two of those OT wins have been against the Pirates. In successive games, the Pirates were done in by center Tim Kennedy, a member of the AHL all-rookie team in 2009 after leading all first-year players in assists (49) and points (67) while with the Pirates. Kennedy beat the Pirates 2-1 at home on Dec. 29 and 5-4 in Maine on Dec. 31. … Barb Underwood, a former Canadian national skating champion who now specializes in strength skating, was back with the Whale before and after practice Tuesday. She was especially interested in watching and recording data on players that she hadn't previously seen such as forwards Oren Eizenman and Jason Williams.
MORE IN COMMON FOR GERNANDER AND KEANE
Whale coach Ken Gernander and Mike Keane have plenty in common. During their playing days, they were gritty, intelligent, hard-trying forwards who were captains of their teams and wore No. 12 during lengthy careers that included brief stays with the New York Rangers.
Gernander became the only Hartford Wolf Pack/Connecticut Whale player to have his number retired and raised to the rafters on Oct. 8, 2005, three months after he announced his retirement. Keane will have his No. 12 retired and sent to the rafters of the MTS Centre by the Manitoba Moose on Mike Keane Tribune Night on Feb. 12, when the San Antonio Rampage is in town.
Keane was a three-time Stanley Cup champion with three teams (Canadiens, 1993; Colorado Avalanche, 1996; Dallas Stars, 1999) and played 1,230 NHL games before playing 443 AHL games in five seasons with the Moose. He received the AHL's Fred T. Hunt Award for sportsmanship, determination and dedication to the game of hockey in 2007, an award that Gernander won in 1996 and 2004. Also like Gernander, Keane was named an AHL All-Star captain. Keane led the Canadian team in 2007 in Toronto, Gernander the PlanetUSA team in 1999 in Philadelphia, where he was joined by former Wolf Pack wing Johan Witehall and defenseman Rich Brennan. The Canadian team included former Wolf Pack center Derek Armstrong and former Yale defenseman Ray Giroux.
WHALE'S TIP-A-PLAYER DINNER ON JAN. 23
The Whale's eighth Tip-A-Player Dinner and Sports Carnival, presented by Aetna, is Jan. 23 at the XL Center from 4-7 p.m. Tickets are $30 for adults and $20 for children, and proceeds benefit Gaylord Specialty Healthcare at Gaylord Hospital in Wallingford. For more information, contact Lori Leniart at 860-728-3366. … Howard Baldwin Jr. has a new Twitter account accessible to Whale fans at howardbaldwinjr. … The Professional Hockey Players Association has agreed to a new five-year contract with Larry Landon to serve as executive director of the PHPA through June 30, 2016. Next season will be Landon's 30th with the association. … Two former Wolf Pack and Rangers forwards are now in Europe. Center Jamie Lundmark has left the Milwaukee Admirals for Timra in the Swedish Elite League, and wing Petr Prucha has gone from the San Antonio Rampage to SKA St. Petersburg in the Kontinental Hockey League in Russia.